Sky_Blue/iStock Unreleased via Getty Images
Tesla stock (NASDAQ:TSLA) continues to confound investors with its incredible price surge over the last two weeks. Its momentum has cooled slightly after "Technoking of Tesla" Elon Musk's share sale proclamation. Nonetheless, its remarkable rise over the previous one month could have sent Tesla's bears, who sold short a month ago, out on stretchers.
We first covered Tesla in July: "Tesla Could Prove the Detractors Wrong Once Again." Since then, we have consistently reminded investors, and Tesla bears to pay attention to its incredible momentum. Astute traders/investors know that adopting a bearish stance against an incredibly strong stock shows a poor understanding of momentum. Since our first Buy rating on Tesla stock at $651 in July, TSLA stock has gained 63.4%.
We discuss whether Tesla stock still has legs on its upward momentum or whether it will reverse.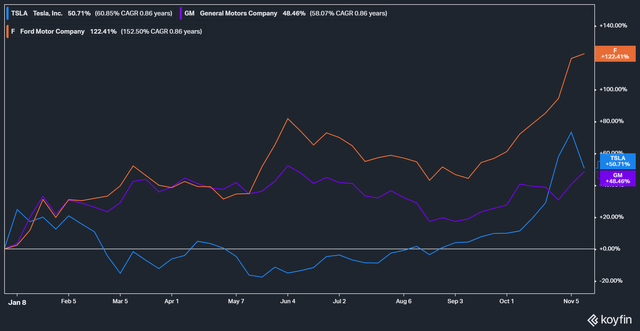 TSLA stock YTD performance (as of 11 November 21).
Following a remarkable recovery in H2'21, TSLA stock's YTD return reached 50.71%. Its stupendous momentum helped it eclipse General Motors (GM) stock's YTD gain in the last month. Notably, TSLA stock has trailed GM stock for almost the entire year until October. At the start of October, TSLA stock YTD gain was just a "measly" 9.9%. Therefore, its meteoric rise over the last month has been nothing short of phenomenal. Notwithstanding, TSLA stock is still significantly underperforming Ford (F) stock's incredible 122.4% YTD gain.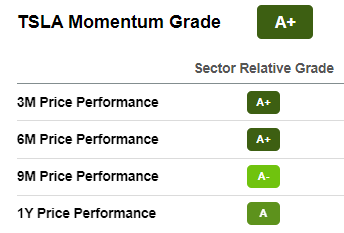 Tesla stock momentum grade. Source: Seeking Alpha
While TSLA stock made the most of its YTD gain in the last month, its momentum has been improving since the start of June. Its recent surge has also lifted its momentum grade across all timeframes here. However, it wasn't so clear back in September. We shared in our September article that TSLA stock's 3M momentum received an A grade. However, its 6M and 9M momentum received only C+ grades. Notwithstanding, it showed that its short-term momentum had recovered robustly. Therefore, the bears should have taken note of it.
Ever since the stock rebounded from its bear-trap in May, its momentum has continued to take off. We have shared this umpteen times in our previous TSLA and Ark Innovation ETF's (ARKK) articles. We reminded investors to pay close attention to the stock's momentum. Investors should understand that there is no way to predict when momentum will spike as we observed over the last month. However, the price action signals have been brewing. We said in July: "…the price is very near its dynamic support level that we expect it to test and hold, coupled with our belief in its strong execution moving forward, we don't think the price is high either for investors who do not have exposure in Tesla yet."
We also ended our article in September with: "Despite that, we have presented our arguments for Tesla's current valuation, arguments for its momentum, price action, and long-term uptrend bias that we think is likely to point Tesla on a path towards $1,000 more than going back to $500. We hope you get our gist."
Therefore, we encourage you to use Seeking Alpha's quant ratings for investors who are not price-action specialists. Getting a bearish thesis right is arguably much more complicated than getting a bullish one right. After all, the broad market tends to trend higher over time. Therefore, for investors who wish to adopt a bearish stance, you must make sure you have gotten all the parameters on the stock in your favor. It must include momentum, which many bearish investors fail to account for as they only focused on its valuation.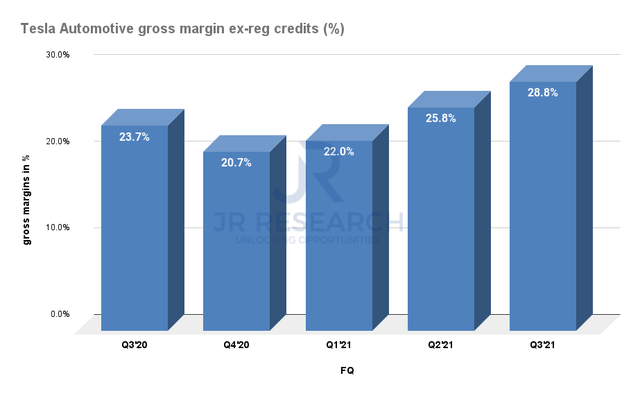 Tesla Automotive gross margins ex-reg credits. Data source: Company filings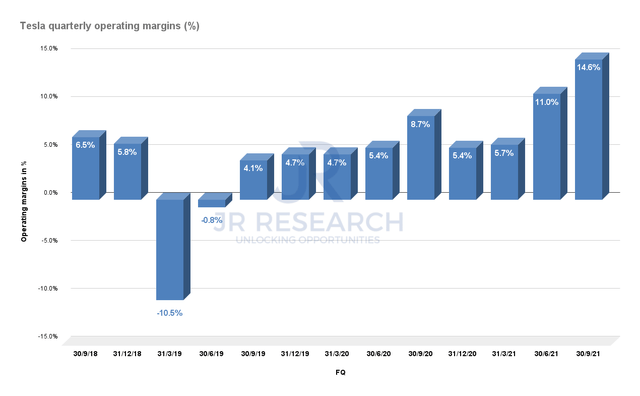 Tesla quarterly operating margins. Data source: S&P Capital IQ
We believe investors who have been sitting on the fence might have joined the Tesla bandwagon in October. In a month filled with plenty of narratives suggesting chip supply disruptions and cost pressures, Tesla has outperformed. Moreover, many Tesla bulls have been pointing to the company's continued improvement in its margins as the company ramps production. Tesla's impressive production ramp saw the company reach a 1M annualized run rate recently. Notably, it has also been gaining tremendous leverage as it moves towards its 2M milestone. While it's still a long way from its 20M long-term target, investors have begun to start taking Tesla's impressive operating leverage very seriously.
Readers can quickly glean Tesla's remarkable automotive gross margins (ex-credits). Tesla has been demonstrating that it can scale EVs profitably. Even though its run rate is still much lower than its ICE counterparts, Tesla has proven that it mattered little. Moreover, the flow-through to its operating margins have also been equally impressive. In FQ3, Tesla posted an operating margin of 14.6%. Notably, FQ3 was also a quarter when many of its automakers' peers reported weak production due to chip supply shortages. However, Tesla showed the world that it has the manufacturing expertise in scaling EVs profitably, and its software capability is also world-class.
Even Volkswagen AG (OTCPK:VWAGY) Chairman Herbert Diess also applauded Tesla for its achievements in production. Moreover, it showed that Tesla's advances and technological capability in software have often been misunderstood and understated. Diess emphasized:
One example for the speed of Tesla: They handle the chip shortage very well – the reason: they are developing their own software. Within just 2-3 weeks they had a new software which allows to use different chips. Impressive. (from Herbert Diess LinkedIn post)
Indeed, Tesla's prowess saw the company claim the #1 position in the automotive sales chart in Europe for September. Its Model 3 outperformed all its peers, ICE or EV. Investors who were on the fence may have started to take Tesla's ambitions seriously in October. First, the company had record production and deliveries in a quarter when its peers complained of chip supply shortages. Then, it took pole position in Europe's automotive sales. Sure, European consumers have been much more forthcoming than their American counterparts in adopting EVs. However, we believe no one saw the tremendous momentum behind Model 3's sales. In addition, investors sitting on the fence could have awakened to the potential of Tesla's prospects. It could be much bigger than what they used to think. Even Ford couldn't resist praising Tesla in its internal meeting. Ford CEO Jim Farley emphasized (edited for brevity):
Tesla maximizes use of electrons in the vehicle. No one does it better than they do. Their customers pay less for a better battery. Their focus … after they launch the vehicle, their obsession after the launch of the vehicle, to make the customer experience better, to re-engineer the electronic components, to simplify, to address quality based on data coming off the vehicles, to reduce the bill of material based on how people actually use the vehicle, to drive vertical integration, so they do more and they solve the hardest problems at Tesla. And they manage every electron so they can be as efficient as possible with the expense of battery…The product itself is highly differentiated from the rest of the ICE field and complexity is tiny, compared to OEMs. That allows them to have enormous reuse. Reuse that we've never seen in our ICE business. Tesla can scale quickly because of that complexity reduction. They can drive cost down, which they have. They can keep processes simple. (from Electrek article)
Therefore, even the legacy automakers have begun to appreciate that Tesla is not just an automaker. They are "just" starting to understand that Tesla is a disruptive technology company. Of course, Tesla's investors have long understood that. But, at least now, the legacy OEMs have started to give due credit to Tesla's technology and manufacturing prowess. These would not have been lost on the fence-sitting investors. Many of them would have noticed it.
In a recent General Motors article, we also highlighted that GM is transforming itself into a platform innovator. GM acknowledges that it's fundamental for the company to move away from being labeled an automaker if it wants its valuation gap with Tesla to close. Therefore, it must show its ambitions and accomplishments in areas that it's not known for. If anything, GM's roadmap looks like it's trying to catch up with Tesla's platform strategy. As such, investors on the sidelines are starting to realize that Tesla's lead could be so massive that they better start jumping on the bandwagon.
We have maintained in our previous articles that we would prefer to add Tesla stock at its next meaningful retracement. However, the stock went on to do a huge momentum spike ever since. Although we took the opportunity to lighten some of our positions and rotated to other undervalued growth stocks, we don't think Tesla is massively overvalued if investors consider their potential ability to scale and improve leverage. That has kept us invested all this while, even though it's a tad overvalued right now. Based on our implied fair value (FV) estimates, the stock seems to be just about 15% to 20% above our blended FV estimate at the time of writing. Therefore, it's not massively overvalued as some may think it is. However, if you value it as a legacy OEM, you are using the wrong valuation model. Tesla has been a disruptive technology company for the longest time. Even GM, Ford, and Volkswagen have recognized it.
Will the stock continue to keep rising or reverse? We want investors to focus on the long-term prospects. In the short term, no one can give you an accurate answer. But, it's not essential. It's more important to recognize that if Tesla meaningfully retraces near to its FV, be sure to add this disruptive technology leader. Remember, its annualized run rate is just 1M now. Please don't wait till it hits 20M before you consider it.
Nonetheless, given its current valuation, we reiterate our Neutral rating on TSLA stock for now. But, we encourage investors to monitor the consolidation from its recent momentum spike closely.
We help you to pick lower-risk entry points, ensuring you are able to capitalize on them with a higher probability of success and profit on their next wave up. Your membership also includes:
24/7 access to our model portfolios
Daily Tactical Market Analysis to sharpen your market awareness and avoid the emotional rollercoaster
Access to all our top stocks and earnings ideas
Access to all our charts with specific entry points
Real-time chatroom support
Real-time buy/sell/hedge alerts
Sign up now for a Risk-Free 14-Day free trial!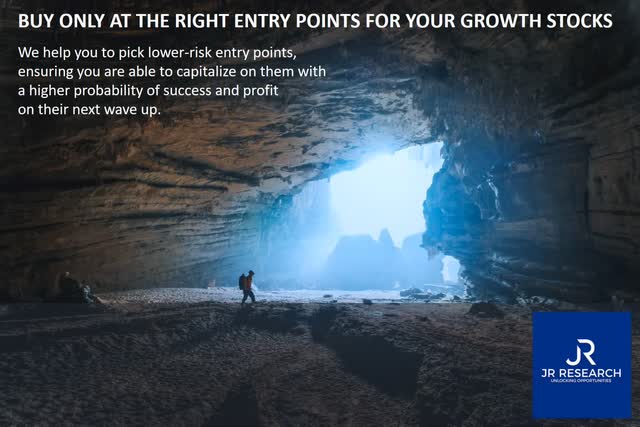 This article was written by
I'm Jere Wang, the principal analyst and founder of JR Research and Ultimate Growth Investing Marketplace service.
Ultimate Growth Investing is curated to help investors achieve 5x to 10x returns over the next five years. 
As a growth-oriented investor myself, I am aware of the challenges investors face in their quest to find the right growth stocks. There are so many high-potential companies in the market. As these are emerging leaders, the due diligence required is even more crucial. All growth investors want multi-bagger returns. Unfortunately, most could hardly find the time to do the necessary work. 
Therefore, our service is here to help these investors. We are full-time investors and traders. We work day-in, day-out to find the best opportunities for ourselves. Now, we are extending those opportunities to these investors through the service. 
If you also prefer someone to do all the hard work for you, I invite you to try out our service. 
Subscribe right now because you get to try out the service for 14 days FREE. Seeking Alpha's unconditional guarantee also protects your free trial. 
Your billing only starts after the free trial. So there's absolutely no risk at all for you to subscribe. Upon subscription, you will have access to all of our investing resources. You will also have access to our Growth Portfolio.
Come and join our community of investors as we navigate the ups and down of the market together. All our best ideas are shared only with our community in the service. Hence, you will not be able to find them on the free site. 
If you have any questions, feel free to send me a direct message. I'm here to help. 
I look forward to connecting with you in Ultimate Growth Investing soon!
More About Me:
I was already a full-time investor and trader before I joined Seeking Alpha as a contributor. I enjoy sharing my experience, knowledge, and mistakes with fellow investors who don't have time to look at the market. It is not a part-time job that I do on the side. I depend on what I do for a living. I take these responsibilities very seriously.
I was previously an Executive Director with a global financial services corporation. I graduated with an Economics Degree from National University of Singapore [NUS]. NUS is Asia's #1 university according to Quacquarelli Symonds [QS] annual higher education ranking. It also held the #11 position in QS World University Rankings 2022.
I'm also a Commissioned Officer (Reservist) with the Singapore Armed Forces. I'm the Battalion Second-in-command of an Armored Regiment. I currently hold the rank of Major.
I love spending time researching high-quality growth companies. That also includes investing time analyzing their price action. In addition, it has allowed me to develop a clear understanding of how institutional investors play their game.
Our best research ideas in the service are highly actionable. We own our best ideas and have skin in the game. Our ideas are not just designed to be a good read. Therefore you wouldn't get abstract theories or concepts from us. You will only get timely and actionable ideas. These are also high probability and workable set-ups with lower-risk entry points. 
My LinkedIn: https://www.linkedin.com/in/jjere/
Disclosure: I/we have a beneficial long position in the shares of TSLA, ARKK, GM either through stock ownership, options, or other derivatives. I wrote this article myself, and it expresses my own opinions. I am not receiving compensation for it (other than from Seeking Alpha). I have no business relationship with any company whose stock is mentioned in this article.