da-kuk/E+ via Getty Images
Produced by Ryan Wilday with Avi Gilburt and Jason Appel
At Crypto Waves, we cover crypto coins and tokens as well as crypto equities, and 2021 has been a great year for trading both. Jason Appel, a senior analyst with Crypto Waves, covered crypto miners in a past article. That article was timely, as it caught the mid-year lows.
Marathon (MARA) really ran ahead and we recently took some profit in the Crypto Waves service between the $60s and $80s. Now we're buying the dip that showed up last week. Riot Blockchain (RIOT) was a little more stubborn but has really been moving in recent weeks.
We also shared our expectation that Bitcoin is on its way to $100,000, possibly by the end of the year or early in 2022. With Bitcoin in the low $60,000s at the time of writing, this gives us a lot of room to continue to make a profit in both our crypto and equity accounts.
One area we haven't covered in public articles is crypto exchange stocks, though this is an area we focus on in the Crypto Waves service. I will highlight three stocks in this article: Coinbase (NASDAQ:COIN), Galaxy Digital (OTCPK:BRPHF), or GLXY.TO, and Voyager Digital (OTCQX:VYGVF) or VOYG.TO. I will cover them in ascending quality of opportunity, from least desirable to most.
Note that all my analysis is based on the Elliott Wave theory and the Fibonacci Pinball Method which is outlined in these articles:
This Analysis Will Change The Way You Invest Forever – Part 1
This Analysis Will Change The Way You Invest Forever – Part 2
This Analysis Will Change The Way You Invest Forever – Part 3
This Analysis Will Change The Way You Invest Forever – Part 4
This Analysis Will Change The Way You Invest Forever – Part 5
This Analysis Will Change The Way You Invest Forever – Part 6
Coinbase is slowly becoming a household name, often being the first exchange that new crypto investors use. It was one of the first exchanges I personally used back in 2013. Coinbase is a giant in this industry, taking in $1.2 billion in revenue in 2021, up nearly 400% over 2020. As well as being the first exchange used by many new crypto investors in the U.S., it also has a thriving institutional business.
Unfortunately, looking at the chart, Coinbase's recent rally appears to be part of a larger bearish structure. This is common in recent IPOs as the market works off the bullish fervor seen in new issues. The drop from its all-time high at $429 was formed in five waves, suggesting the trend is down. The structure off its all-time low at $208 is corrective in nature. Currently, I have a projection down to $145 before I expect a lasting uptrend.
I have an alternate bullish view, which is very suspect. This view is shown in red, and suggests that COIN is in a leading diagonal, which suggests the stock is building a long-term uptrend from the $208 low. This pattern is suspect, and we won't see confirmation until we see five waves that break the all-time high. Tactically speaking, I will not make trades in COIN until the trend is clear, though I look forward to clarity as COIN should be considered a bellwether in this sector.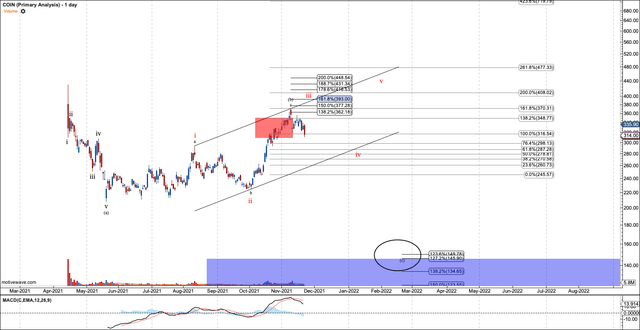 Chart source: Motivewave software
Galaxy Digital (OTCPK:BRPHF)
Galaxy Digital was founded by ex-hedge fund manager Mike Novogratz. It concentrates on institutional business. It started in over-the-counter (OTC) crypto trading for institutions but has expanded to custody, asset management, mining, and prime brokerage services. In the current bullish backdrop for digital assets, Galaxy has seen profit increase by roughly 10X year over year. This seems outlandish, but such wild swings are commensurate with crypto prices. We should expect Galaxy's profitability to be somewhat beholden to digital asset pricing in the future. However, its growing business diversity may buffer it somewhat when crypto prices take a bearish turn.
As for the chart, note that we've had a great year in Galaxy's stock, trading as GLXY on the TSX and BRPHF on the US OTC. While I see Galaxy in the final wave up in this bull market, there is still potential for more than a 200% return. My target is $109 (CAD) and it currently trades at around $36. For the US OTC stock, BRPHF is around $28 (USD) and the target is $157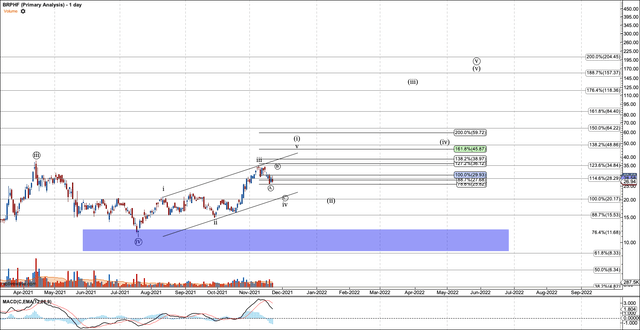 .Chart source: Motivewave software
I saved the best for last. Voyager Digital is basically a crypto exchange on a mobile app. It doesn't manage an exchange for desktop trading. Voyager is one of my main fiat gateways into the crypto sector. That means when I want to add cash from my bank account, I often go through Voyager. It also pays interest income to users for many crypto holdings. From June 2020 to June 2021, Voyager grew from $1.1 million in revenue to $175 million. That's astonishing and is a testament to its ease of use. Just as with Galaxy Digital, this shows the power of crypto bull markets to produce outsized profits.
As for the chart, Voyager has one of the nicest setups we can find in crypto equities. We have a very nice clean impulse formed off 2020 lows, including a very extended third wave. In April the third wave topped and we indicated support for the fourth between $8 and $5 – CAD. In the last few weeks, we saw an impulsive reversal just shy of support, which is indicated as (1) on my chart. Wave (2) is in progress as of writing. This is a great time to accumulate, so long as $13 is not breached. If it's breached I wouldn't consider the chart bearish, but it would open the door to a retest of larger degree support between $8 and $5. Ultimately the target for this setup is $109.
I use the CAD chart because the stock is more liquid in Toronto than on the US OTC. I trade it using TSX access via Interactive Brokers. However, if you are limited to the US OTC, here are some key numbers in USD:
Local support for wave (2): $10
Long-term support if (2) breaks: $3.60 to $6
Long-term target: $82.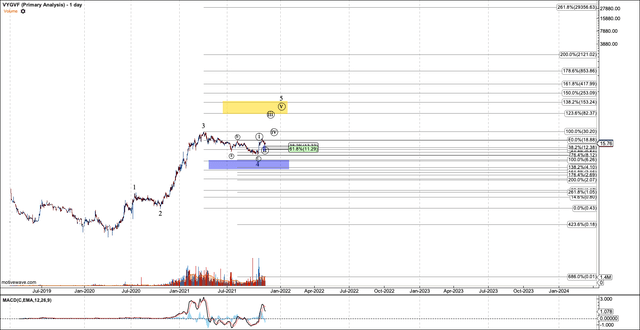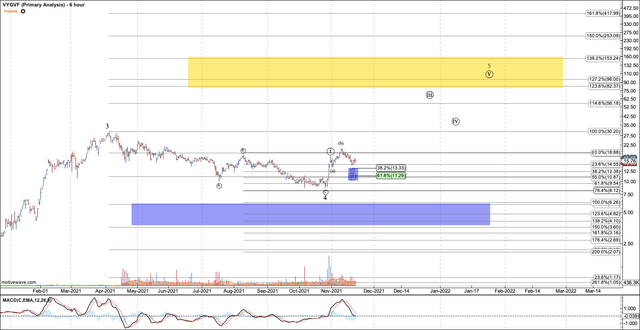 Chart source: Motivewave software
Making money from the crypto bull market need not be limited to coins and tokens. Crypto is a growing and exciting sector that has spawned many profitable businesses. We've covered miners in the past, which has been a very profitable trade. Don't overlook the crypto exchange stocks, as they are growing fast. Particularly, pay attention to Voyager Digital, which has one of the best setups in the space.
Join Crypto Waves!
Profit from our coverage of 20+ cryptocurrencies and crypto stocks … based on our unique strategy for surfing volatility!
"Ryan's tactics have made the difference for me … when to enter and when to update stops – invaluable."
"Been in your service for most part of 2 years…Really value your work :)"
"Gotta love this service, none better."
Click here for FREE TRIAL!
This article was written by
Ryan Wilday has over two decades of experience trading equities, futures and options. He was introduced to cryptocurrency in 2013 by a programmer friend and began mining and trading shortly thereafter. Though he read Prechter's Elliott Wave Principle in the early 2000's, he didn't make practical use of the theory until joining EWT in 2015. He has used the theory to call many of the most important turns in Bitcoin and other cryptos since 2017. Of late, Ryan has developed many quantitative systems for trading crypto which he has deployed in this service to the benefit of subscribers. Ryan is a popular speaker at financial forums and conferences in the U.S., including The Traders Expo and The Money Show, and widely syndicated on sites including Seeking Alpha, MarketWatch, and Nasdaq.com. He is the author of two eBooks: "The Risks & Rewards of Cryptocurrencies" and "10 Rules To Be A Successful Crypto Trader."
Disclosure: I/we have a beneficial long position in the shares of BRPHF, VYGVF either through stock ownership, options, or other derivatives. I wrote this article myself, and it expresses my own opinions. I am not receiving compensation for it. I have no business relationship with any company whose stock is mentioned in this article.