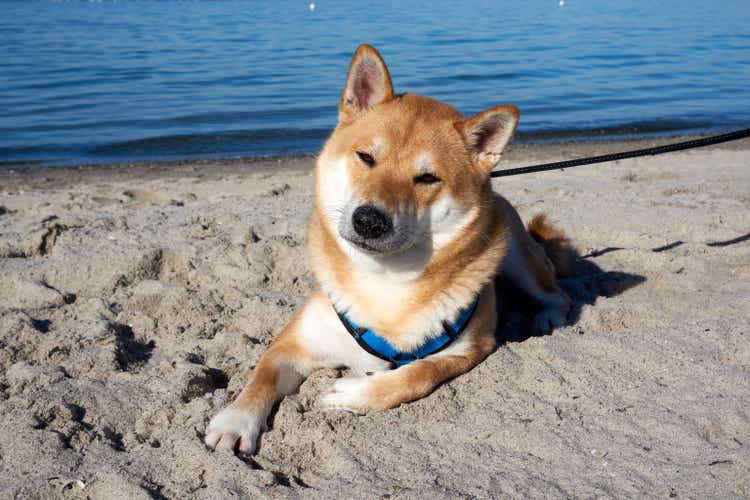 Alexander Buerkle/iStock via Getty Images
Let's face the facts – the past few months have seen Dogecoin's (DOGE-USD) price trend continually downward ever since its historic $88B+ market capitalization and Saturday Night Live Elon "Dogefather" Musk shoutout. While I think Dogecoin, like other cryptocurrencies, may continue to see volatility over the upcoming year, I nonetheless remain confident in the long-term survivability of this particular asset within a still-growing and increasingly mainstream asset class.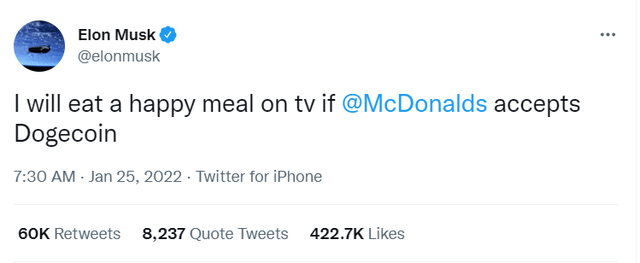 Twitter
Cryptocurrency markets have been lagging the past few months in line with broader technology, and particularly frontier technology, sectors. As ARK Investment Management LLC's Cathie Wood recently said, "innovation is on sale." While innovation may be on sale that nonetheless doesn't mean further volatility is impossible as we enter a macroeconomic environment that is tough on technology assets due to both persistently high inflation, slowing economic growth, and rising interest rates.
Bitcoin (BTC-USD) has spent the past few weeks between $30,000 and $40,000, giving up almost all the gains of 2021 when it passed $68,000. Dogecoin has slowly sunk to the lower tenths of a dollar and soon may be a single-digit fraction of a dollar again after its extraordinary rise from but a quarter to a third of a penny throughout 2020 to over 73 cents per Dogecoin by mid-2021. Dogecoin's market capitalization today still hovers around $18 billion, an extraordinary sum of money invested in an asset that Dogecoin co-founder Billy Markus has said was founded in 2013 to mock the seriousness of larger cryptocurrencies.
Dogecoin, like other cryptocurrencies, has aspects of a technology stock, a currency, a commodity, and a meme. I think that Dogecoin has a healthy mix of all those attributes and that's what will allow it to survive a "crypto-winter" where we may see continued severe and unpredictable volatility, to include perhaps essentially the end of some cryptocurrencies that do not have the resilience and community to keep interest and usage alive even when prices aren't in upwards momentum.
A large and increasing number of businesses include Dogecoin along with Bitcoin and other major cryptocurrencies as payment options. Dogecoin continues to be of major interest to large investors, such as Elon Musk and Mark Cuban.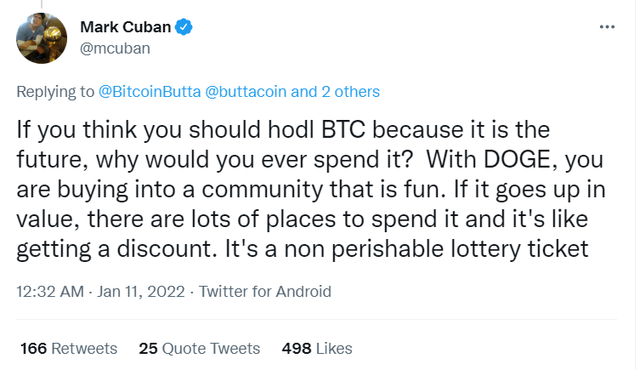 Twitter
Dogecoin has faced some competition lately in, if it can really be made into a category, the "Shiba Inu Cryptocurrency sector." A variety of other cryptocurrencies that appear to utilize the same meme spirit and Shiba Inu mascot as Dogecoin, most notably the Ethereum-based (ETH-USD) Shiba Inu Coin (SHIB-USD) with its currently $11 billion or so market capitalization and which briefly contended with Dogecoin's market capitalization in 2021.
However just as how Bitcoin has its competitors and variants, I believe that Dogecoin will retain its dominant position among Shiba Inu meme coins because it was the original, is cheaper to send based on its own mining network than through the increasingly transaction-gas expensive Ethereum (where a lot of alternative cryptocurrencies are relatively easy to start from), has a large transactions infrastructure, and has the high-visibility interest and community that still focuses on bettering and increasing the usage of Dogecoin more than other Shiba Inu cryptocurrencies.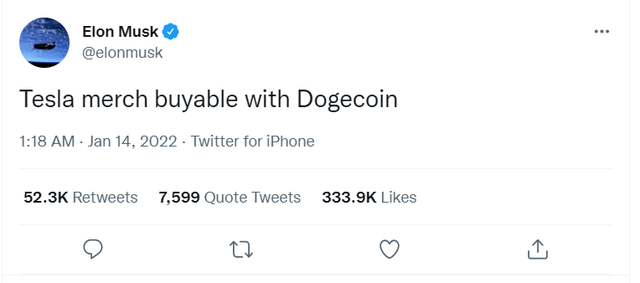 Twitter
Dogecoin, like other cryptocurrencies, may face continued volatility. Dogecoin may even fall back to a penny per Dogecoin if conditions for tech and cryptocurrency really get bad. However I believe Dogecoin's performance will be in line with the broader technology and cryptocurrency sector and it is hard to imagine it falling apart particularly more than any other cryptocurrency of similar size and reach. Interest rates and inflation are already devastating portfolios but those conditions will eventually, hopefully, pass, and I believe Dogecoin will still be transacting and meme-ing away when the dust settles.
This article was written by
Disclosure: I/we have a beneficial long position in the shares of DOGE-USD, BTC-USD, ETH-USD either through stock ownership, options, or other derivatives. I wrote this article myself, and it expresses my own opinions. I am not receiving compensation for it. I have no business relationship with any company whose stock is mentioned in this article.