We use cookies to improve your experience.
Lost or forgotten your password? Please enter your email ddress. You will receive mail with link to set new password.
Crypto signals are trading ideas from expert traders to buy or sell a particular cryptocurrency at a specific price or time. Cryptocurrency trading signals can be based on several factors, including news, technical analysis, and the current market climate. With the right one, a trader could unlock the door to substantial returns and improve their trading strategy.
A trading signal service is researched by a group of expert traders and analysts who make recommendations on buying, selling and trading crypto to maximize profits.
The best crypto signals are especially popular because their followers believe that they do most of the work for them. However, crypto traders still have a responsibility to manage their accounts and stay vigilant once they initiate trades.
While you could check out a signal group and plug into it, you also should know how social trading works—to a certain extent. You also should ensure that your trades are being effectively managed, and conduct proper risk management practices.
Most crypto trading groups charge their members monthly access fees. Thus, it's crucial that you carry out your due diligence before you make payments.
Telegram's choice as the haven for crypto trading is primarily due to the density of the cryptocurrency trading community on the trading platform, it's the best tool for broadcasting messages to a large audience.
Telegram is more focused on privacy than other messenger apps. You can also use more messaging bots on the trading platform – better than what you can get on WhatsApp. Traders can take advantage of the RSS and automated bots to create broadcasts and share them with their group members.
Make sound decisions using StormGain's Trading Signals. Plan trades the right way.
Get Access to StormGain Now!,
Usually, the most accurate crypto signal service will charge a fee before allowing you to join their channel. Of course, given their expertise and the importance of the information on offer, it's somewhat understandable that they'll be looking to profit from it.
However, there are also some signal telegram groups that allow free entry. Free options are good. They're attractive because they allow you to save funds, but you might not get the level of accuracy that a paid signal provider gives.
Keep in mind that some channel operators run a scammy joint. Some of them pay for advisory services, while others simply go online to steal signals that have been published elsewhere. The genuine providers offer quality insights and cover their costs by advertising on other popular channels.
Your potential profits depend on how you trade, your capital distribution strategy, and how much you put in. Providers are great for a novice investor who doesn't know much about cryptocurrency market dynamics, and they'll provide an excellent way for you to learn the ropes.
The signals will help you to know what to buy, how to make an investment, and how to make a profit. As for your earnings, however, it's difficult to come to an estimate. Holistically, the signal group in the crypto space – both short-term and long-term are always up for question since they vary significantly. Regardless, one important thing that you'll need to make money is the right knowledge – something signal operators offer.
StormGain's Trading Signals have Take Profit & Stop Loss features for risk management.
Get Access to StormGain Now!,
Without much ado, let's get to some of the best crypto signals providers on Telegram!
Altchica is a well-known Crypto Signals channel on Telegram that boasts over 6500 members. It was founded in October 2019 and is operated by Zoe, who prior to her crypto fame was a successful Forex trader.
Now, AltChica runs the most updated and most researched altcoins-only channel, exclusive to Telegram.
Rocket Wallet Signals is all about responsible trading and giving their VIP members insights into the current market situation. The free telegram group of Rocket Wallet Signals with currently over 35,000 members contains a small set of VIP signals and market updates for members to introduce what services the group is providing. This also includes monthly signal reports to verify past performances of the service.

Telegram Signals is focused on crypto signals for all brokers and platforms. The service offers technical analysis on markets and trading pairs, as well as proper advice on making trades based on research and market developments.
Pro Crypto Signals has been in operation since 2018, and its success rate has been rather enviable. It's given over 2,000 signals in less than two years of being operational.
CoinSignals is another impressive crypto provider on Telegram that's worth checking out. The service started operating in 2019, and in that time, it's been able to achieve a winning rate of 89% on the signals it provides.
Verified Crypto Traders is much more than just some group providing trading advice on Telegram. It's a team of registered traders based in the Netherlands.
MYC Signals is affiliated with Mycryptopedia, a website that provides educational and information materials on blockchain and cryptocurrencies.
Universal Crypto Signals is another top Telegram crypto provider. The service is still quite young, as it was established in 2018. It's made up of a team of technical analysts from India that provides regular trade signals each month to their customers.
Bob's Crypto Trades is a group of trading channels that provides signals from Binance, ByBit, and BitMEX. The company has a team based out of Trinidad and Tobago.
4C Trading is another crypto provider on Telegram. The service offers signals from Binance and Bittrex, thus providing users with reliable, time-sensitive signals.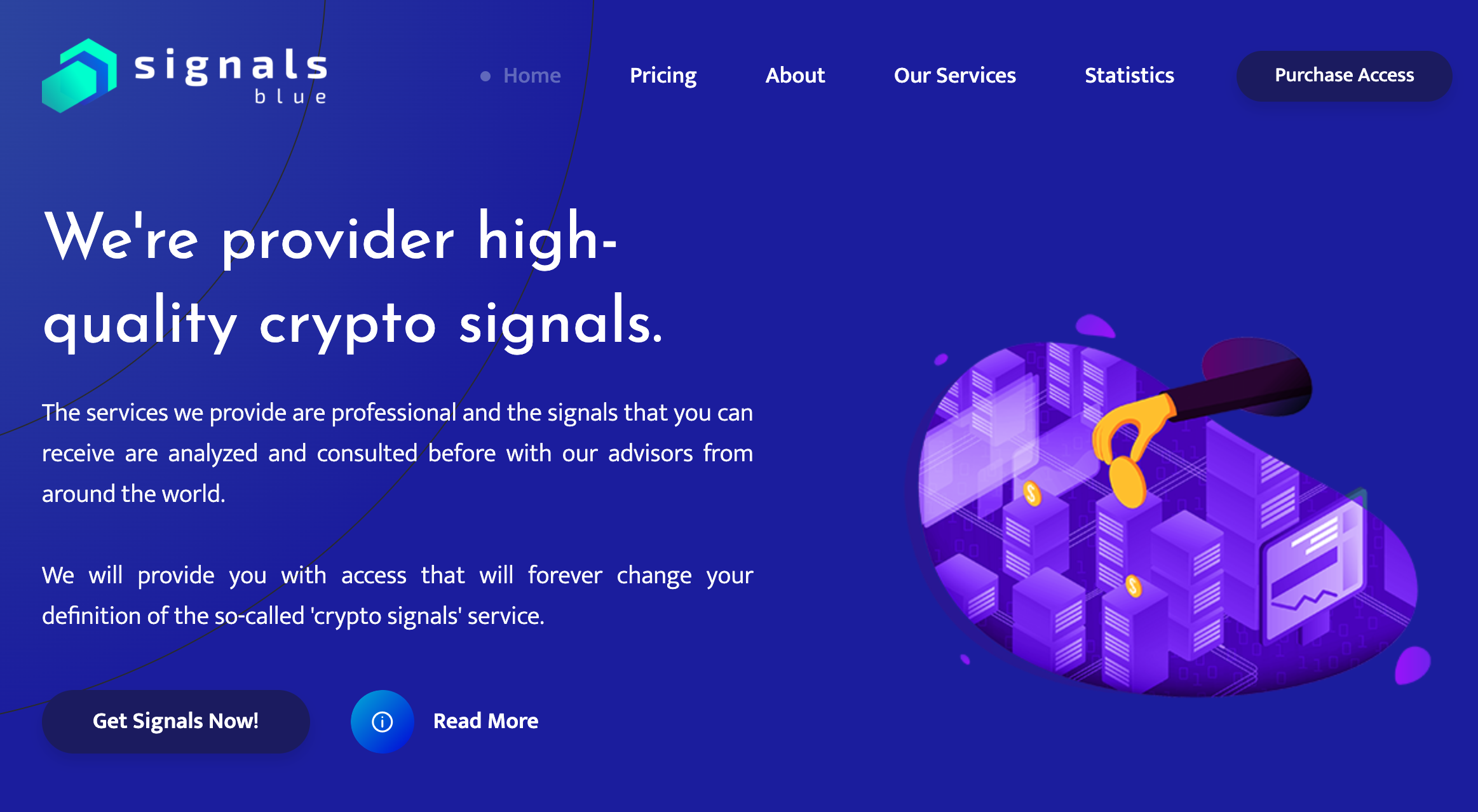 Signals Blue is a relatively new player to the crypto signals space, but the firm appears to know its onions with crypto signals from popular exchanges like BitMEX, Bittrex and Binance.
A crypto signals group is a surefire way to pick the brains of experienced traders in the cryptocurrency trading space on the assets to choose from and the ones to stay away from. For traders who would like to operate in the market with a stable guiding hand, any of these groups will do quite nicely.
When you're choosing the perfect crypto signals group, it's essential that you consider the frequency of signals, the exchanges they cover, and the group's customer support. Cost also plays an important role in informing your decision, but given that there are some active free groups, you should be fine.
Make sound decisions using StormGain's Trading Signals. Plan trades the right way.
Get Access to StormGain Now!,
Based in the United Kingdom, Jimmy is an economic researcher with outstanding hands-on and heads-on experience in Macroeconomic finance analysis, forecasting and planning. He has honed his skills, having worked cross-continental as a finance analyst, which gives him inter-cultural experience. He currently has a strong passion for blockchain regulation and macroeconomic trends as it allows him peek under the global bonnet to see how the world works.
Join our Telegram Group and get trading signals, a free trading course and daily communication with crypto fans!
Join Our Telegram
Stay tuned with daily newsletters that make reading the news simple and enjoyable
Make your first deposit and trade now to earn up to $3,000 in rewards!
UUEX airdrop: Sign up to get 50 USDT, you can Withdraw to Wallet
Poloniex Space Traveller Program: Sign up to get 30 USDT.