Space is supported by its audience. When you purchase through links on our site, we may earn an affiliate commission. Here's why you can trust us.
Sierra Nevada Corporation and its space subsidiary racked up several aerospace deals in August.
Sierra Space and its parent aerospace company are opening their wings to new contracts in defense and life sciences.
The Sierra Nevada Corp. (SNC)-led group garnered deals using the flagship Dream Chaser space plane and several defense vehicles in August. (Sierra Space is a separate company to SNC, but is also subsidiary to SNC.)
Dream Chaser will be used for an International Space Station (ISS) cargo mission in 2024 to ferry "a variety of life sciences experiments" for Yuri, a German space biotech company, Sierra Space announced (opens in new tab) in a statement on Wednesday (Aug. 31).
In pictures: Sierra Nevada's Dream Chaser aces glide test flight
Sierra Space will send at least six uncrewed ISS cargo missions using Dream Chaser, all lifting off from Florida's Cape Canaveral Space Force Station using United Launch Alliance Vulcan Centaur rockets. They will land on conventional runways, and Sierra Space has said Spaceport America has applied for approval to land Dream Chaser, among other facilities.
NASA currently receives ISS cargo shipments from SpaceX and Northrop Grumman. SpaceX's Dragon capsule is designed to send cargo back to Earth, while Northrop Grumman's Cygnus burns up naturally in the atmosphere. The shuttle-shaped Dream Chaser will be another alternative to these capsules.
On the defense side, Sierra Space announced a development milestone for its Vortex rocket engine, which will launch from Dream Chaser on military missions. The VR35K-A upper stage engine variant for commercial service passed a critical design review on Aug. 4.
Sierra Space and the United States Air Force are together paying for the VR35K-A "to increase launch performance at a lower cost through development of an upper stage engine alternative," SNC officials stated (opens in new tab).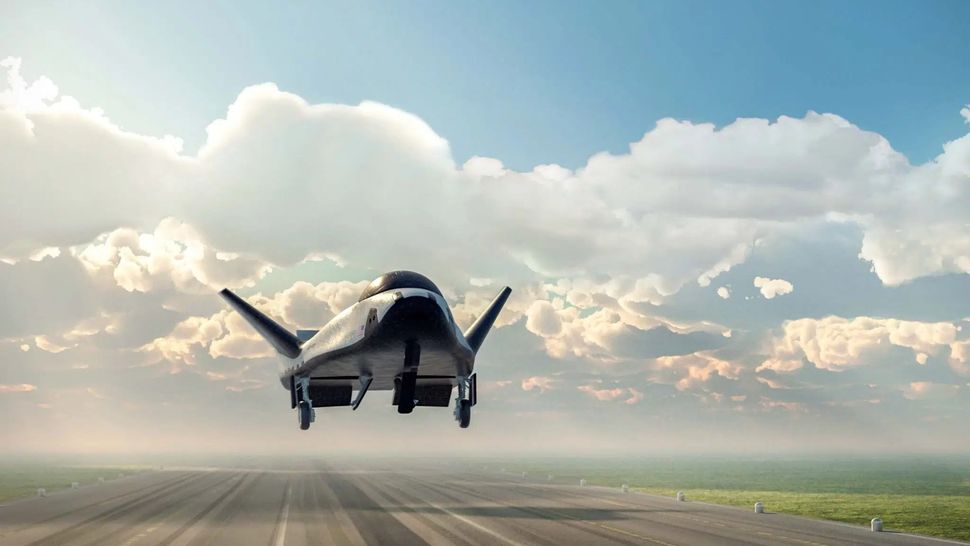 Sierra Space is not only moving forward for its civilian work to deliver cargo to the ISS, but it and SNC also making moves in the lucrative defense industry.
The U.K. Ministry of Defence tasked SNC to use a high-altitude balloon for "stratospheric communications and intelligence, surveillance and reconnaissance" in a contract announced (opens in new tab) Aug. 10. The uncrewed platform is meant to deploy in zones with minimal ground support or maintenance.
Related: Real-life 'Aeronauts': the true stories of high-altitude balloonists (opens in new tab)
Meanwhile, SNC's RAPCON-X aircraft is targeting a potential opportunity with the U.S. Army. The Army is evaluating next steps in a program to replace old Beechcraft RC-12 Guardrail battlefield surveillance aircraft with a next-generation system for intelligence, reconnaissance and surveillance.
SNC is spending $200 million to build two RAPCON-X variants for January 2024 in anticipation of the Army's High Accuracy Detection and Exploitation System (HADES) program's next phase, Breaking Defense reported (opens in new tab) Aug. 26.
RAPCON-X is based on the popular Bombardier Global 6500 business jet, with military modifications such as systems for radar and signals intelligence, the report added. SNC sent reporters on a tour of their facilities in late August to showcase the plane in development.
Follow Elizabeth Howell on Twitter @howellspace (opens in new tab). Follow us on Twitter @Spacedotcom (opens in new tab) and on Facebook (opens in new tab).
Join our Space Forums to keep talking space on the latest missions, night sky and more! And if you have a news tip, correction or comment, let us know at: community@space.com.
Elizabeth Howell, Ph.D., is a staff writer in the spaceflight channel since 2022. She was contributing writer for Space.com (opens in new tab) for 10 years before that, since 2012. As a proud Trekkie and Canadian, she also tackles topics like diversity, science fiction, astronomy and gaming to help others explore the universe. Elizabeth's on-site reporting includes two human spaceflight launches from Kazakhstan, three space shuttle missions in Florida, and embedded reporting from a simulated Mars mission in Utah. She holds a Ph.D. and M.Sc. in Space Studies from the University of North Dakota, and a Bachelor of Journalism from Canada's Carleton University. Elizabeth is also a post-secondary instructor in communications and science since 2015. Her latest book, Leadership Moments from NASA, is co-written with astronaut Dave Williams. Elizabeth first got interested in space after watching the movie Apollo 13 in 1996, and still wants to be an astronaut someday.
Get breaking space news and the latest updates on rocket launches, skywatching events and more!
Thank you for signing up to Space. You will receive a verification email shortly.
There was a problem. Please refresh the page and try again.
Space is part of Future US Inc, an international media group and leading digital publisher. Visit our corporate site (opens in new tab).
© Future US, Inc. Full 7th Floor, 130 West 42nd Street, New York, NY 10036.