We are used to talking about fragmentation about Android. Certainly, rolling out new major Android releases is an issue that needs to be addressed. However, Google also knows how to deploy new features without resorting to a big update. Here's new for Android, Google TV, and Wear OS.
We are not talking about a new Android version here, but about several features that you will be able to benefit from without installing a major update. Indeed, Google plans to roll out several new Android features over the next few weeks. Among these features, there are new features around Nearby Share, widgets for several Google applications, a new function for the Gboard keyboard, but also for Google Meet and very useful new features for the hearing impaired. Changes to the Google Assistant for Google TV and Wear OS features are also on the agenda.
Nearby Share is the equivalent of AirDrop at Apple, this feature is certainly the most anticipated. In particular, this new car-sharing feature of Near Share.
From the sharing menu, you can easily share files to devices connected with the same Google account. It's similar to how AirDrop works, where you share files between an iPhone, Mac, or iPad with a single tap. With this new update, the auto-sharing feature removes an extra step and files are automatically transferred between devices. In summary, you will save time.
After the release of Android 12L and Android 13, Google must adapt its own applications. That's what's advertised, along with various app updates. The Google Drive widget has been overhauled, it now displays three new home screen buttons so users can quickly access Google Docs, Google Slides, and Google Sheets.
The Google Keep widget is now bigger and has a bigger font to make note taking easier.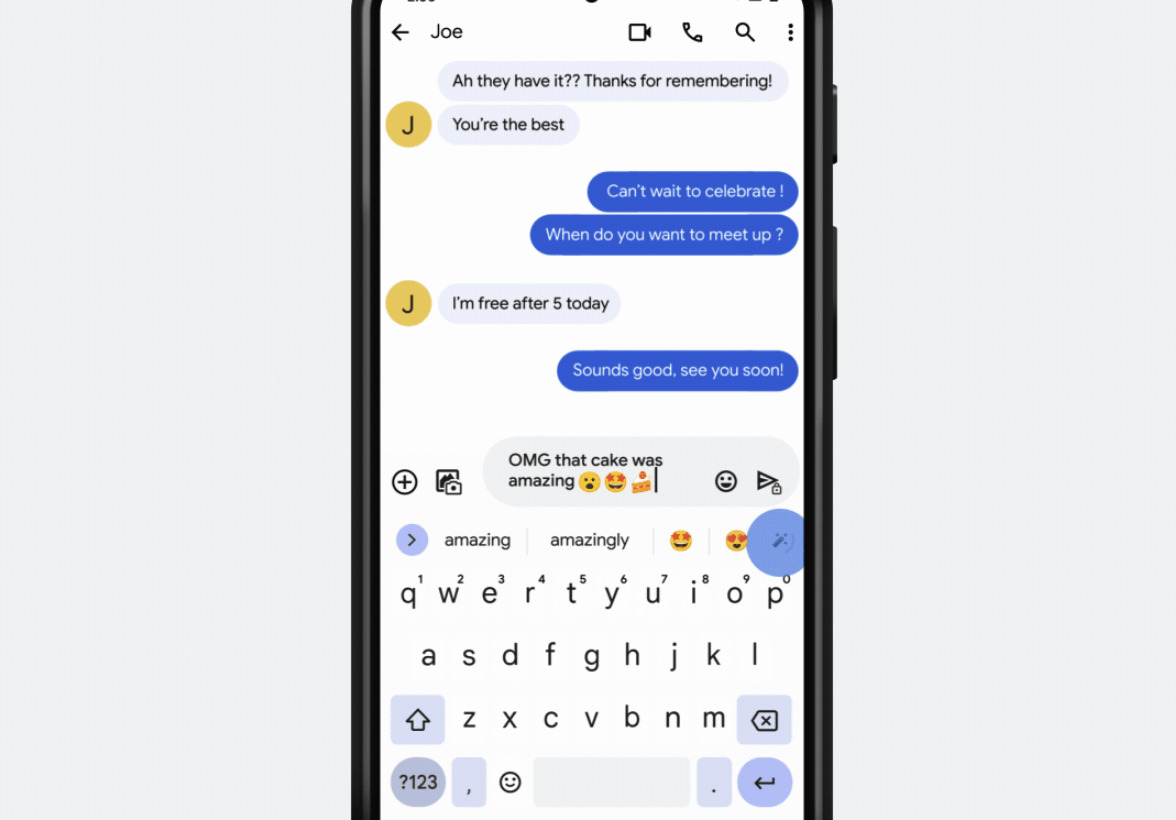 Google is also adding functionality to Gboard, the Google Keyboard, which extends the availability of its " Emojiify (the button with the magic wand). The feature is currently available in the Gboard beta app, for users who have the English language configured on their device. They will soon be able to use emoji suggestions as they type. You can type a phrase and press the "Emojify" button to quickly add the emojis suggested by Google.
Google has also added new seasonal emojis, so users can combine even more emojis. For example, a pumpkin combined with a cup of coffee results in a pumpkin spice latte emoji.
Similar to iOS 15's Apple SharePlay, Google Meet will feature a feature to watch YouTube videos while making a video call. Uno, Kahoot and Heads Up games can also be started from Google Meet to play with up to 100 friends. The feature will be available for Android smartphones and tablets in the coming weeks.
Added new accessibility tools allow hearing impaired users to receive alerts on their phone when critical sound is detected such as fire alarms, water noises, oven timers, dog barking or door knocking. Google has partnered with the deaf and hard of hearing community to create sound notifications in the Live Transcribe & Notifications tab.
Notifications are also issued on Wear OS connected watches and can be combined with vibrations or the LED flash of the smartphone. Users can also train the device to make noise via recording, so that a notification appears when the oven rings, for example. Finally, there is now a library of movies and series, which you launch via Google Assistant, with audio description specifically for Google TV.
A new tile for Google Keep is coming to Wear OS, which can be used to dictate notes by voice and check checklists faster. Additionally, Bitmoji will be coming to Wear OS for creating custom emojis.
To follow us, we invite you to download our Android and iOS application. You can read our articles, files, and watch our latest YouTube videos.
Disney+ is offering a 75% discount for this month only! 09/16/2022 21:00Savings and training is…
With the aim that every time we do more procedures with the public administration from…
I have to admit that this year I have become an absolute fan of cordless…
Have you always dreamed of getting the logo of a pirate collective tattooed? You're not…
Type above and press Enter to search. Press Esc to cancel.