General Motors will finally be introducing the in-car-systems by Apple and Google – CarPlay and Android Auto on all their upcoming models in 2016, including the all-new Chevy Cruz, according to GM CEO Mary Barra who gave the official confirmation at Re/Code's annual Code conference. GM joining hands with Apple and Google is a part of the company's efforts to make this technology available across a wider user base, ranging from the low-end Chevy Spark to the high-end Corvette.
The whole idea behind CarPlay and Android Auto is to seamlessly integrate a drivers smartphone with the car's dashboard interface, aimed at reducing driver distraction and enhance safety. This can be achieved as the interface features large icons and also responds to voice commands.
"For most of us, our smartphones are essential," said Mary Barra, CEO of General Motors. "Partnering with Apple and Google to offer CarPlay and Android Auto compatibility across the widest range of models in the industry is a great example of how Chevrolet continues to democratize technology that's important to our customers."
Both Google and Apple unveiled their in-car systems about a year ago, but surprisingly the rollout has been really slow and it seems the industry has been slow to adapt. Hyundai apparently became the first automaker to launch Android Auto, the company announced on Tuesday that it'll integrate the in-car-system with its upcoming production line.
Meanwhile, GM has become the first US car manufacturer to integrate this software across its catalog of cars, most likely a move to gain leverage over rivals like Chrysler and Ford.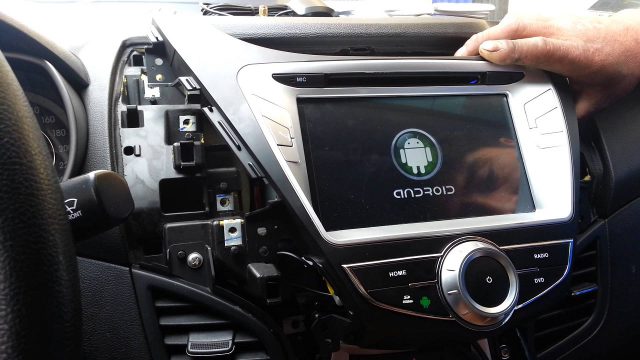 "The successful car company is going to be the one to look at the great idea, no matter where it comes from," Barra said.
Meanwhile, other automobile giants including the likes of Ferrari and Audi are also going ahead with CarPlay and Android Auto integration in their upcoming models. GM'S rival Ford also announced earlier this year that it plans to roll out its Sync 3 infotainment system across all models sometime later this year.
It seems manufacturers are trying to lure customers offering high-end technology integration in their cars rather more horsepower. Moreover with some 2.3 billion smartphones in circulation, automakers are cashing in on this trend offering vehicles that integrate with their smartphones, that serves both as a safety and sales tool.
"We want to change the way people use their smartphones in their car by making sure drivers keep their hands on the wheel," says Dan Kinney, Chevrolet's director of user experience told a small press gathering in San Francisco the day before Barra's Code announcement. "Voice activation is a critical component here."
Meanwhile, Ferrari was the first car manufacturer that reportedly brought CarPlay compatible systems late last year, which was followed by after-market services from Pioneer and Alpine. Apple CEO Tim Cook notably mentioned at the company's Spring Forward event that there'll be over 40 car models that'll be offering CarPlay support by the end of the year.