Google I/O has always been Google's time to shine, and this year's I/O Conference was no different. Much of this conference, like Apple's WWDC, was devoted to developers and the mobile app ecosystem.
What many tech enthusiasts wanted to see was Google's announcement on Android M. As expected, Google did not disappoint.
Google's Numbers
Google counted its fortune, literally, at I/O 2015, reporting that at least 1 billion consumers worldwide use the company's Google Search, YouTube, Maps, and Chrome apps, while over 1 billion consumers worldwide use the Android platform as a whole. 900 million people worldwide use the company's Gmail app for email access.
Android Auto
Android Auto is Google's program to bring the mobile OS into the car. Sure, Android consumers bring their Android devices (tablets, smartphones, and smartwatches) into the car already, but current vehicles are not set up to take full advantage of Google's mobile OS and its capabilities. Google's been preparing its smartwatches to unlock and lock car doors, for example, so Mountain View has some interest in bringing Android even further into the lives of tech enthusiasts and the consumer base at large. Sundar Pichai said that Google has partnered with 35 car manufacturer brands, such as Hyundai, GM, Volkswagen, Ford, Honda, and others, to bring about its vision for "Android in the Car."
Android Auto will allow your tablet to power your vehicle music so that you no longer need to fumble with your device while on the road. With hands-free voice activation to skip a song or pause a song, for example, users can focus on the highway first and stay safe.
Android M
Engineering Vice President Dave Burke gave the Android M Developer Preview to the tech-hungry crowd in attendance at I/O. As we told you last week, Google delivered on editable app permissions, just as we thought the company would. While permissions are the first topic of discussion here, they aren't the last.
Editable app permissions
Editable app permissions does away with one obnoxious feature many Android users have endured for the last few years without fail: the forced approval of all app requests in order to download and use an app. Burke's example on stage this week was the famous social texting app WhatsApp (a play on "What's Up?"), but you'll now be able to download an app without having to let a developer's app grab access to your microphone. We're looking at you, Facebook and your Messenger app as the prime suspect.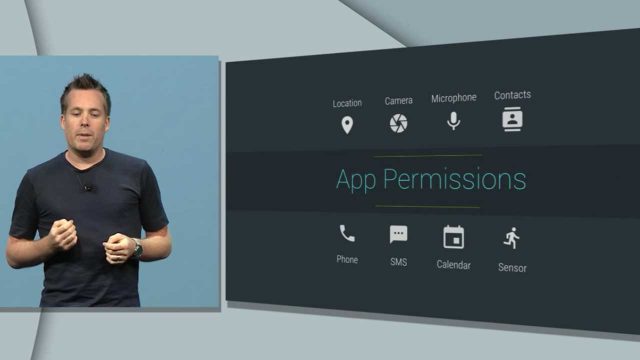 Improved Web Experience with Chrome Custom Tabs
Chrome Custom Tabs will make it easier for Android users to connect with Chrome (Google's mobile browser) and the Web, such that going from an app in which part of an article is located to reading the full article on the Web will be more seamless than it's ever been. Chrome Custom Tabs can even be used for autofill and can save your passwords such that you need not log in each time you accessed an often-used social media site or shopping account.
Mobile Payments via Android Pay
Google had a mobile payments setup (i.e., Google Wallet) before Apple Pay, but Apple's simplistic nomenclature approach has now come to Samsung's (Samsung Pay) and Google's (Android Pay) mobile payments methods.
Native Fingerprint Security Support for Android
Most tech sites don't do due diligence when it comes to fingerprint technology. Many who've lived within the post-first-iPhone-Steve Jobs era seem to believe that Apple was the first company to run with the technology. That's simply not true.
The first company to support fingerprint scanner technology in its smartphones was Motorola with its Motorola Atrix. Taiwanese manufacturer HTC implemented one that was accessible on the back of the One M7, but it never took off – which is why the company dismissed it last year when it introduced the HTC One M8.
With Apple's iPhone 5s Touch ID setup that was made possible through the company's AuthenTec acquisition, it seems as though Apple's decision propelled the rest of the industry (which had been hesitant to earlier attempts). Samsung followed with its fingerprint scanner that wasn't as accepted and changed their fingerprint method to match Apple's this year in the Korean manufacturer's Galaxy S6 and S6 edge. Aside from Samsung, however, HTC, and the earlier Motorola, few other Android manufacturers have pressed forward with fingerprint technology.
While Samsung is the largest Android OEM and the giant of Android, there's no denying that Google's changes bring changes across the board for the whole of "Androiddom." So, with Google's inclusion of native fingerprint support, we have a feeling that Android manufacturers will go all in this year – and that more Android devices with fingerprint scanners are on the way.
Dave Burke said that the new native fingerprint solution within Android will allow users to unlock their devices, make Google Play Store purchases, and allow developers to create more authentication APIs that will incorporate fingerprint recognition. Retail brand Target already has an app that will allow you to shop and make purchases with the tap of the home button.
Power and Charging
Google discussed some about USB Type C and its "Doze" program that increases battery life up to 2X longer when the device "powers down" when left idle say, overnight or for long moments of time. USB Type C will have reversibility, allowing you to use either end to plug into your computer and the device without asking the tireless mind question, "which portion of the connector goes where?" USB Type C will also provide greater charging efficiency, meaning that consumer devices should see smaller charging times to 100% than have ever existed with the mobile experience.
Android Wear
Android's smartwatch platform, Android Wear, will see the inclusion of additional native features for all Android smartwatches. Among these are the inclusion of Always On lighting, wrist gestures to scroll and navigate your notifications (pertinent information), an emoji recognizer that can discern your emoji doodles when replying to a Facebook message, and an app launcher that lets you tap the screen of your Android Wear smartwatch and scroll through all the apps you can access.
We were hoping for some discounted prices of current Android Wear watches from Google, but we had no such luck.
Google and the Internet of Things (IOT)
Samsung's created its ARTIK platform to engage the Internet of Things (IOT) and Google has now entered the fray with Project Brillo. Brillo piggybacks off Android and allows devices to "talk to each other," a phrase we're hearing more and more about Internet-connected devices that engage each other while engaging the World Wide Web. Google will, of course, include its Nest smart thermostat. Brillo will accomplish the Internet of Things agenda Google has set using Weave, the communications layer that makes device interaction possible as well as engage your device and the cloud (where your photos are stored, for example).
Google Now On Tap
Google has always prized Google Now, its voice command assistant when it comes to accessing information. The way to access Google Now has always been by way of the words "Ok, Google," or by tapping on the microphone symbol for which Google Now is known.
But "tapping Google Now" has been relegated to the background of the voice assistant experience. No one "taps" Google Now – at least not yet, anyway. Google plans to change this with its new "Google Now On Tap" feature that lets you access information about a restaurant, actor, or other pertinent information by
"tapping" a word. You can now access Google Now by way of your lips (voice) and fingertips (Tap).
Android One
Google's commitment to affordable smartphones and smartphone access for everyone continues with Android One. This year's Google I/O saw more of what we'd hope to see in budget-friendly devices for emerging markets. Chrome on Android One devices now have 4X faster page load times, 80% fewer data bytes consume, and an 80MB reduction in memory size (which conserves more RAM that can be used for additional webpages and tasks).
Network Quality Estimator
The Network Quality Estimator is appropriately named, because it does what its name suggests – it estimates the quality of your network (fast, slow, medium, etc.) and adjusts accordingly to help you get the most out of your browsing experience. If your network quality is only 2G EDGE, for example, then Chrome will load the words and links while leaving out the pictures. Even with a 2G connection, the network quality estimator will decrease the page loading time so that you can grab the "bare essentials" data you need when you need it.
Offline YouTube and Maps Support
While the network quality estimator is excellent, the truth of the matter is that data is still hard to afford for those in emerging markets. What Android One users need, more than a network estimator, is a network alternative. To provide an effective solution against slow networks and internet access, Google has now implemented offline YouTube and Maps support so that Android One users can still get turn-by-turn navigation directions or access a video on YouTube for up to 48 hours offline.
Within Maps, Google Now has been given some offline capabilities to aid the offline Maps solution. Could we see a Google Now offline implementation for all Android devices in the future (not just Android One)? Android consumers in areas with smaller Internet access (even in developed markets) could benefit from offline YouTube and Maps support. Google, we plead with you: please bring us this feature in Android N.
Google Photos
Google has revamped and updated its old Photos app in such a way that the new release was planned for Thursday, the same day as Google's revamp announcement.
Google Photos continues to increase in functionality, but Google will now help users organize their photos so as to find the people and places they remember without having to tag each photo manually in order to find them. This is a huge relief for users who have thousands of photos (), and can't find pictures of their niece from the last two years, for example. I have over 11,000 Google photos, so thanks, Google.
Samsung Galaxy S6 & S6 Edge to get Android 5.1 Lollipop update in June
Google has also added a nice deal to the table for all your photos. Android now supports up to 1080p videos and photos (only up to 16MP), without fail. This means that high-quality resolution photos and videos will be preserved as they are, instead of coming out at a 720p or lower resolution. And, best of all, these high-quality photos can now be "unlimited" in number. High-end photographers who rely on Google for their photo shoots had great reason to applaud on Thursday.
What does the "M" stand for in "Android M"?
The million-dollar question we didn't get an answer to at Google I/O 2015 (which is no shock if you've watched I/O before, preferably in 2014) is what the "M" in "Android M" refers to. Engineering Vice President Dave Burke had a milkshake icon on his Android Wear watch (believed to be the Moto 360), so it was interpreted by a certain tech enthusiast to be the new "dessert" that would comprise Android M's full name.
https://www.inferse.com/32939/android-511-lollipop-brings-wifi-calling-t-mobile-nexus-6/
Unfortunately, Dave Burke later responded that "milkshake" will not be the name of Android M when the update is released in Q3 2015. In keeping with Google's tradition, the "M" will likely refer to a candy. After all, just from the last several updates, we've had "jelly bean," "KitKat," and "lollipop." At the same time, though, Android 4.0 was "ice cream sandwich" – which isn't a candy but a dessert.
"Macadamia Nut Cookie" (MNC) could always be the name of the new update, but Google's not one to really give away its update names too quickly; after all, before Android K was announced as "KitKat," many believed it would be "key lime pie" (and that was the name Google continued to call it while the company had already decided on KitKat). Before "Android L" was declared as "Lollipop," Google used "lemon cake" in a document that developers interpreted would be the next update. So, it could be the case that "Macadamia Nut Cookie" is completely far away from what Google intends to call it.
What you must understand is that Google often throws off tech analysts, enthusiasts, and consumers with desserts that fit the new update alphabet – only to end up with something that was a suggestion. At this stage, we can say that Google already has a name for the update (that seems likely), but Google could still be in the brainstorming situation. If Google has an internal name, though, the company could already have a dessert in mind but won't make the official declaration until Q3 when it releases the new sweet treat.
Android M. Android Auto. Android Wear. Android One. Google Now On Tap. These things are only part of Android's future. There's much more to Android M than we can tell you here, but what we've given is just a sample of what will be an even sweeter treat in Q3.