Earlier today at the ongoing E3 2015 in Los Angeles, Xbox's Larry Hyrb gave us a first glimpse of the upcoming revamped Xbox One interface, which looks rather different from the original. Microsoft is calling it the 'New Xbox One Experience' which brings an entirely different look and feel to the dashboard.
"Gaming will get even better on Xbox One with a completely redesigned user experience launching globally this fall. We're making some big changes to make it faster to get to your content and complete must-have tasks on Xbox One," said Microsoft.
With the ongoing hype about Windows 10, users were expecting a slew of Windows 10 centric features to appear on the Xbox One, though on the contrary the UI looks much more streamlined and appears to take subtle influences from PS3's XMB minimalistic approach. Changes include a redesigned home screen that shows the user's most-used Xbox content. Also included is a 'new guide' system that can be accessed directly via Home or while in a game.
There's also a revamped Community section allowing gamers easy access to all their social activities. Users can see Activity Feed to get the latest updates from friends and game developers along with What's Trending on Xbox Live.
The new update also brings back Xbox Avatars. Microsoft says there has been a lot of passion from the Xbox community towards avatars. Hence, the company intends to bring them back in a 'more prominent way'. They'll be spruced up with better image quality, while still keeping all familiar customizations from the Xbox 360.
In addition, Cortana will now also be on-board the Xbox One. The Windows 10 virtual assistant will help users contact friends and launch applications. Users will also be able to launch Cortana while in-game to research in-game assistance.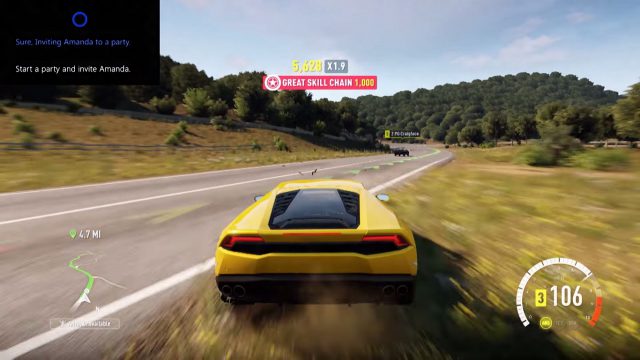 "Xbox One will also become more intelligent with the help of Cortana," added Microsoft.
The company also showcased a demo in a reveal trailer that shows a player in Fable Legends asking Cortana as to what quest should be taken next.
"Hey, Cortana record the last minute and share it to my activity feed." Cortana can also help users invite friends to games, chats, party invites and sharing, all without the use of the control or interrupting feverish gameplay," explained Microsoft.
Microsoft is pushing the Xbox One as an all entertainment machine so that gamers have everything required right at their fingertips focusing on making its UI snappier and efficient.
The new update looks quite massive and is expected to launch this fall. Do check out the video below to get a feel of the new dashboard.