Microsoft's Bing search engine lags way behind in terms of popularity compared to its more established counterparts. The company is well aware of the fact that Bing's video search seems rather obsolete in an era where YouTube is more often than not used as a makeshift music player. To address this issue, the Redmond giant has decided to give its Bing search engine a much-needed overhaul.
Microsoft wants its underdog search engine as the one-stop music destination, with more emphasis on music videos. The company announced that it'll be sprucing up Bing's video search, that'll feature larger thumbnails, eventually making it easier for users to scan results.
Microsoft explains, "When you search for a song, we display an enlarged thumbnail image, or "hero", for that song. The hero is chosen based on the top result and relevance to your search. The hero video will play in place or you can click through to the source of the video to watch it there."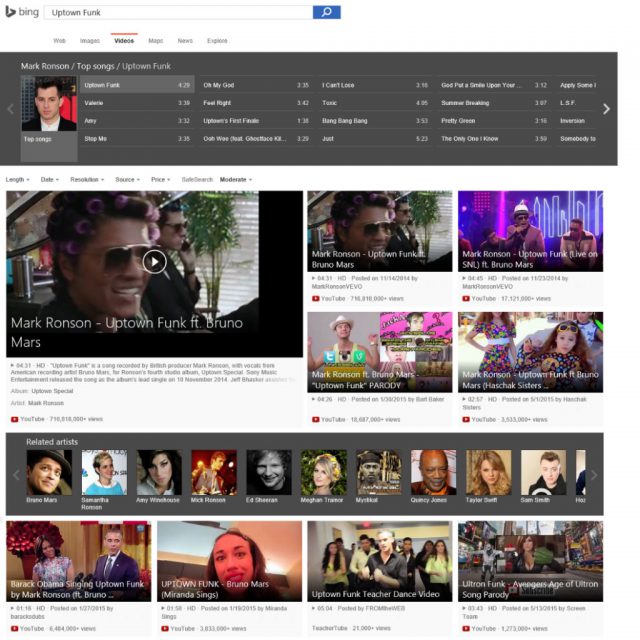 The upgrade will display results that are in line with the original search, thus making it easier for users to find a related remix or, for instance, an instrumental cover related to that particular search. The results showcased are based on popularity and relevance, while users can also watch the entire video from the search result itself.
"To make the Bing video-search experience even better, we just released a new layout that makes searching easier and faster. The design changes give you the information you need to quickly pick the right videos to watch," confirmed Microsoft via Bing blogs.
The search results will now be more curated and streamlined, that'll showcase 'the best' results in a gigantic super-sized preview. Users can also watch previews directly within the search results via the thumbnails. These changes have also been made keeping in mind touch screens and tablets, bringing improved 'touch friendliness and scale better to tablets and other smaller screens'.
The new update should be rolling out soon globally, most likely in the US initially.