There's no longer the need to sign up for a Facebook account to use Messenger now, as Facebook announced on Wednesday that users can now sign up for its messaging app without an active account on its network. The feature for now is only available in the United States, Canada, Peru and Venezuela. Non-Facebook users can sign up for Messenger with just their first name, last name and phone number, and start using all the Messenger features that include group chats and multimedia calling facilities.
"With this update, more people can enjoy all the features that are available on Messenger – including photos, videos, group chats, voice and video calling, stickers and more," the company said in an official blog post. "All you need is a phone number." Although you have the option to add a name and a photo as well.
Messenger now gets a new 'Not on Facebook' option on the signup page that allows users to upload their contacts, which is then matched by Facebook against user accounts who've registered via their phone numbers. In addition, Messenger users will also be able to find and chat with people who have not provided their phone numbers to Facebook.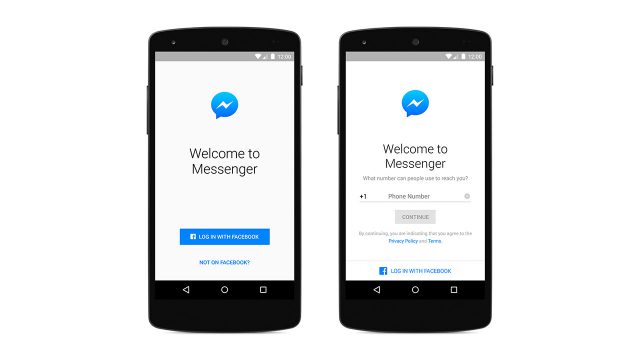 To recall, Facebook earlier moved Messenger out of its main app making it an exclusive platform itself. The split was a part of the company's effort to conjure a family of social apps that go beyond its core Facebook app. The company also acquired the wildly popular messaging service WhatsApp for $19 billion in February 2014, while even Instagram has remained largely independent three years since its acquisition, which is rather a clear indication of Facebook is aiming at – innovating new ways of 'Communication'.
Although, Facebook still says there are added benefits of integrating Messenger with the social network. Facebook explained in a blog outlining the update, "For those who have Facebook accounts, there are many benefits to using your Facebook credentials when signing up for Messenger," explains Facebook engineer Louis Boval in a post outlining today's change. "People can easily message with their Facebook friends and contacts, access their Facebook messages and take advantage of multi-device messaging across mobile devices, the web and tablets."
Meanwhile, the social networking giant earlier announced that its Messenger app has now over a billion downloads on Google Play. Only a few have managed to reach this staggering figure that include the likes of Facebook, WhatsApp, Gmail, YouTube, Search, and Maps, making the Messenger app a part of the exclusive 1 billion club.