The AirPods Pro launched 1,000 days ago today and are the oldest current-generation Apple device still on sale.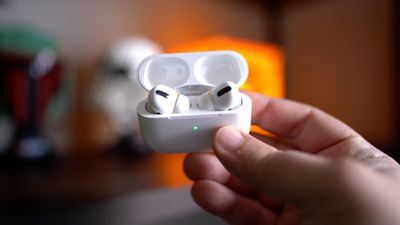 Apple announced the AirPods Pro on Monday, October 28, 2019. The earbuds went on sale immediately and orders started arriving to customers on Thursday, October 31.
Apple went on to release the AirPods Max in December 2020 and the third-generation AirPods in October 2021. After the discontinuation of the iPod touch earlier this year, which itself is 1,153 days old today, the ‌AirPods Pro‌ are the oldest current-generation Apple device still on sale, followed by the 2019 Mac Pro, which is 957 days old today.
Apple analyst Ming-Chi Kuo, Bloomberg's Mark Gurman, and Taiwanese industry publication DigiTimes have repeatedly said that the ‌AirPods Pro‌ 2 will launch in the second-half of 2022, so the new model is now likely just a matter of months away. According to reports from a range of sources, the ‌AirPods Pro‌ 2 are expected to feature:
It has also been suggested that the ‌AirPods Pro‌ 2 will feature an updated chip, self-adaptive noise cancellation capabilities, heart rate and temperature sensors, hearing aid capabilities, and a USB-C port, but Ming-Chi Kuo and Mark Gurman have cast doubt over this information.
It seems likely that the ‌AirPods Pro‌ 2's sound-emitting charging case will integrate into the Find My app, similar to how users can currently emit a sound from their individual AirPods inside the case to help find them. This lines up with alleged leaked photos of the next-generation AirPods Pro, which showed a charging case with speaker holes to emit a sound for location tracking, allowing the earbuds and the case to be located separately.
Support for Lossless audio is among the biggest upgrades expected for the ‌AirPods Pro‌ 2 and could have ramifications for the AirPods lineup in the future. All of Apple's current AirPods products, including the third-generation AirPods, ‌AirPods Pro‌, and ‌AirPods Max‌, do not support Lossless audio.
This is because AirPods play audio via Bluetooth, limiting them to the AAC codec. Higher quality Apple Lossless Audio Codec files may need to be streamed to AirPods directly to circumvent Bluetooth and enable a Lossless listening experience, but it is possible that Apple could develop an alternative solution to bypass the current limits of Bluetooth.
Kuo has narrowed down the launch of the ‌AirPods Pro‌ 2 to the fourth quarter of 2022, which runs from October through December of the year. This means the ‌AirPods Pro‌ 2 could arrive around three years after their predecessors. For more information, see our detailed AirPods Pro 2 guide.

A selection of macOS tips to make your Mac life a more effortless experience.
A selection of quick iOS tips that will make you a lot more time-efficient in the long run.
50 features and changes you might have missed in macOS Ventura.
Apple on January 23 released iOS 16.3, delivering support for Security Keys for Apple IDs, changes to Emergency SOS functionality, support for the second-generation HomePod, and more.
Apple's most powerful Mac will finally shift to Apple silicon.
Dates have yet to be announced for Apple's annual Worldwide Developers Conference, but it should take place in early June.
Apple's AR/VR headset is coming soon with eye- and gesture-tracking, dual 4K displays, M-series chips, and more. Here's what we know so far.
Next-generation version of iOS, set to be previewed at WWDC 2023 in June with a public release in September.
2 hours ago by Tim Hardwick
5 hours ago by Tim Hardwick
5 hours ago by Tim Hardwick
5 hours ago by Tim Hardwick
17 hours ago by Hartley Charlton
 
MacRumors attracts a broad audience of both consumers and professionals interested in the latest technologies and products. We also boast an active community focused on purchasing decisions and technical aspects of the iPhone, iPod, iPad, and Mac platforms.