The next-generation iMac that's in the works could be called the "‌iMac‌ Pro," according to leaker Dylandkt. The device will feature the same M1 Pro and M1 Max chips that Apple introduced with the MacBook Pro models, and there could possibly be "an added configuration."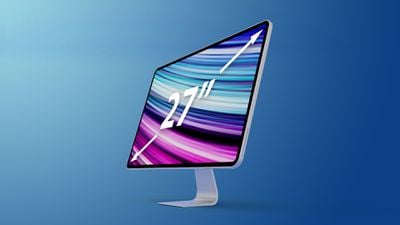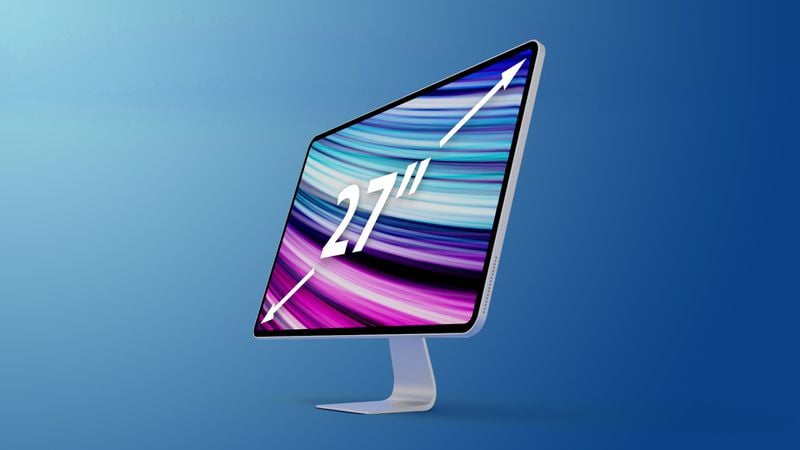 Apple is said to be using the "Pro" naming to differentiate the upcoming ‌iMac‌ from the 24-inch ‌iMac‌ that was released earlier this year. As it will use the ‌M1 Pro‌ and Max chips, Apple considers it a "Pro" device and is calling it the ‌iMac‌ Pro internally, according to Dylandkt
iMac (Pro)
Promotion and Mini Led
Base model 16gb Ram 512gb Storage
M1 Pro and Max
Dark bezels
HDMI, SD Card, Usb C
Similar design to iMac 24 and Pro Display XDR
Starting price at or over 2000 dollars
Ethernet on brick standard
Face ID was tested (Not confirmed)
1H 2022 — Dylan (@dylandkt) October 30, 2021
The leaker claims that the ‌iMac‌ will feature a 27-inch mini-LED display with ProMotion technology, though some prior rumors have indicated that the next-generation ‌iMac‌ will have a larger display. Unlike the 24-inch ‌iMac‌, the "‌iMac‌ Pro" will feature dark bezels, and bezel size could be slimmed down.
iMac (Pro)
Promotion and Mini Led
Base model 16gb Ram 512gb Storage
M1 Pro and Max
Dark bezels
HDMI, SD Card, Usb C
Similar design to iMac 24 and Pro Display XDR
Starting price at or over 2000 dollars
Ethernet on brick standard
Face ID was tested (Not confirmed)
1H 2022 — Dylan (@dylandkt) October 30, 2021
Design wise, it could look similar to the 24-inch ‌iMac‌ and the Pro Display XDR, and Apple has apparently tested Face ID for the machine, but this is not a confirmed feature.
The base model ‌iMac‌ will feature 16GB memory and 512GB of storage, and all models will be equipped with an HDMI port, an SD card slot, and several USB-C/Thunderbolt ports, similar to the MacBook Pro. Apple is also said to be including an Ethernet port on the power adapter.
‌Dylandkt‌ says that the ‌iMac‌ will have a starting price at or over $2,000, and it will be launching in the first half of 2022. The upcoming "‌iMac‌ Pro" will replace the current Intel-based 27-inch ‌iMac‌ models.
We haven't heard much about Apple's larger ‌iMac‌, but Bloomberg's Mark Gurman has confirmed that such a machine is in the works. Apple reportedly paused work on the bigger ‌iMac‌ to work on the 24-inch model, but now that the 24-inch ‌iMac‌ is out, development can resume.
Display analyst Ross Young has also said that Apple is working on a new 27-inch iMac with a mini-LED display and ProMotion display technology.

A selection of macOS tips to make your Mac life a more effortless experience.
A selection of quick iOS tips that will make you a lot more time-efficient in the long run.
50 features and changes you might have missed in macOS Ventura.
Apple on January 23 released iOS 16.3, delivering support for Security Keys for Apple IDs, changes to Emergency SOS functionality, support for the second-generation HomePod, and more.
Apple's most powerful Mac will finally shift to Apple silicon.
Dates have yet to be announced for Apple's annual Worldwide Developers Conference, but it should take place in early June.
Apple's AR/VR headset is coming soon with eye- and gesture-tracking, dual 4K displays, M-series chips, and more. Here's what we know so far.
Next-generation version of iOS, set to be previewed at WWDC 2023 in June with a public release in September.
5 hours ago by Tim Hardwick
8 hours ago by Tim Hardwick
8 hours ago by Tim Hardwick
8 hours ago by Tim Hardwick
20 hours ago by Hartley Charlton
 
MacRumors attracts a broad audience of both consumers and professionals interested in the latest technologies and products. We also boast an active community focused on purchasing decisions and technical aspects of the iPhone, iPod, iPad, and Mac platforms.