$40 TV streamer has HDR, Dolby Atmos and Alexa but lacks 4K
Now in its third generation, the Amazon Fire TV Stick is a rival to a number of similar alternatives from Google and Roku. It is priced at $40 and while it misses out on 4K streaming, it serves up Full HD 1080p with HDR and Dolby Atmos surround sound.
The stick has access to almost all of the streaming apps anyone would want to use, including Netflix, YouTube, Disney+, Apple TV+, and of course Amazon's own Prime Video.
Read More:
There are also a few simple Android games to enjoy and the remote has access to Alexa, which can be used to search for content and control media playback, but also control your smart home devices, just as you would with the Alexa of an Echo speaker or display.
Amazon Fire TV Stick (3rd Gen) review: Design and hardware
As this streaming stick is designed to plug into the back of your TV and never be seen again, its design is functional and completely forgettable. That's absolutely fine, and makes me wonder why Google goes to the effort of offering different colors for its Chromecast when it will be equally hidden behind the TV.
The Amazon Fire TV Stick connects using HDMI and comes with a short cable extension which will be handy if there isn't space for the stick itself alongside the other cables connected to your TV, sound bar or AV receiver. Also included in the box is a USB cable and wall plug for powering the Fire TV Stick, plus the second-generation Alexa remote and a pair of AAA batteries to power it.
In an age when $1,000 smartphones no longer come with power adapters and headphones, it's nice to see a $40 streaming stick come with absolutely everything you need to get set up.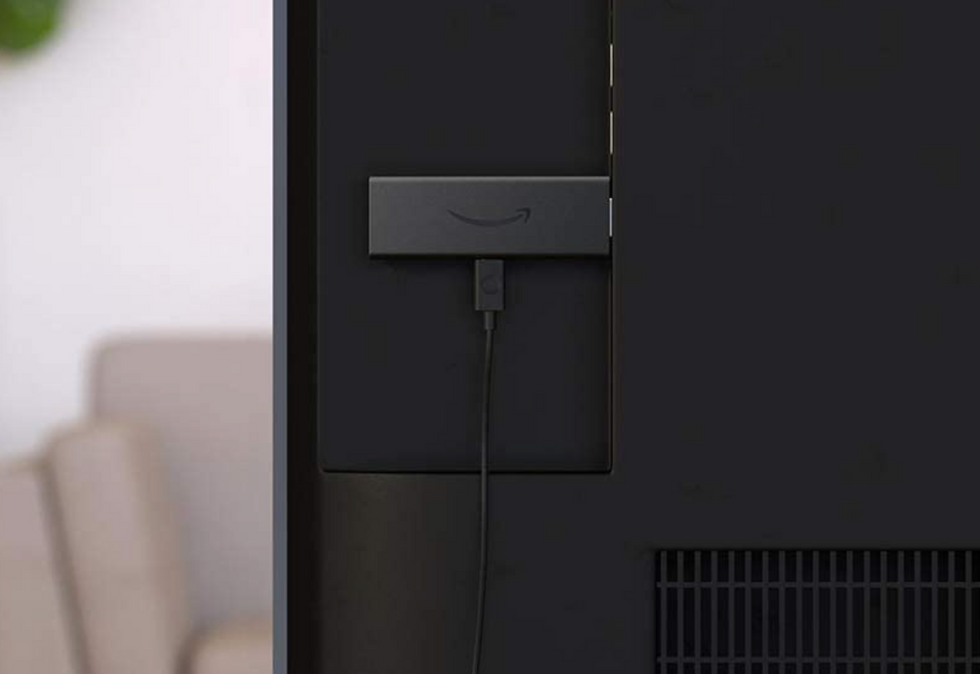 The stick connects to an HDMI port and is powered by USBAmazon
The remote is thoughtfully designed, with the circular directional button and select button positioned exactly where you need them to be, and everything else is no more than a brief stretch away.
There are no shortcut buttons for opening specific apps, like you find with buttons for Netflix and YouTube on a Roku remote, but I personally don't mind that, as it means no buttons are automatically made redundant due to me not subscribing to the app they are assigned to. A button at the top of the remote with a microphone icon is used to summon Alexa, which is communicated with using a microphone inside the remote.
Amazon Fire TV Stick (3rd Gen) review: Setup
Setting up the Fire TV Stick is very simple. Just plug it into your TV, monitor, sound bar or receiver/amplifier, attach it to a wall outlet, and the Stick starts to boot up for the first time. A few seconds later and the remote will be paired and you'll be ready to connect to your Wi-Fi network.
Once connected our review unit searched for software updates, found one, and spent approximately 10 minutes downloading and installing the latest firmware, including the new Fire TV interface rolled out by Amazon at the end of 2020. The time this takes will vary depending on the speed of your internet connection. Next, you are asked to create an Amazon account or log in if you already have one.
To save you tediously entering your email address and password with the remote, Amazon has a system where you go to a certain page of its website on your phone or computer, log in, then enter a code that the Fire TV Stick shows on your television. A few seconds later, you are logged into the stick and ready to access Amazon video content.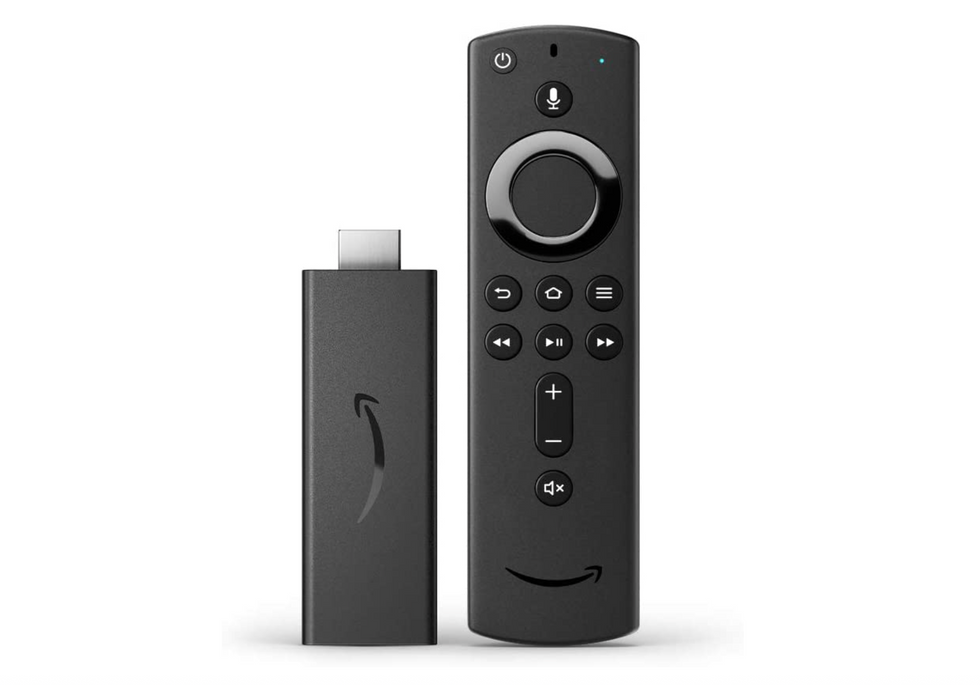 The Amazon Fire TV Stick (3rd Gen) with Alexa remoteAmazon
You can then pick from a range of suggested apps to download and install onto the stick, like YouTube, Disney+ and Netflix. These download in the background and let you know when they are ready to open.
It can be tedious and time-consuming to log into each app, but thankfully you only need to do this once and some streaming apps (like the BBC iPlayer in my native UK) employ the same code-based system as Amazon to speed things up and save you from typing with the remote.
That's really all there is to it. Once you have installed and logged into all of the apps you want, you can browse them and find content to watch.
Amazon Fire TV Stick (3rd Gen) review: Software, Alexa and performance
Amazon's Fire TV operating system is attractive and fairly well laid out, but there will be a small learning curve here for anyone who is either new to streaming devices or is switching from a rival like Roku or Google Chromecast. Thankfully, the back and home buttons quickly take you back a step, or right back to the home page, if you get lost – and Alexa can help you do away with most button presses altogether.
Alexa on the Fire TV Stick is primarily intended to help you search for content, and what's especially clever is how it will search everywhere at once. For example, if you have been recommended a TV show to watch by someone who can't remember which streaming service they saw it on, just press the microphone button, say the name of the show, and, if it is on an app you have installed, Alexa will find it.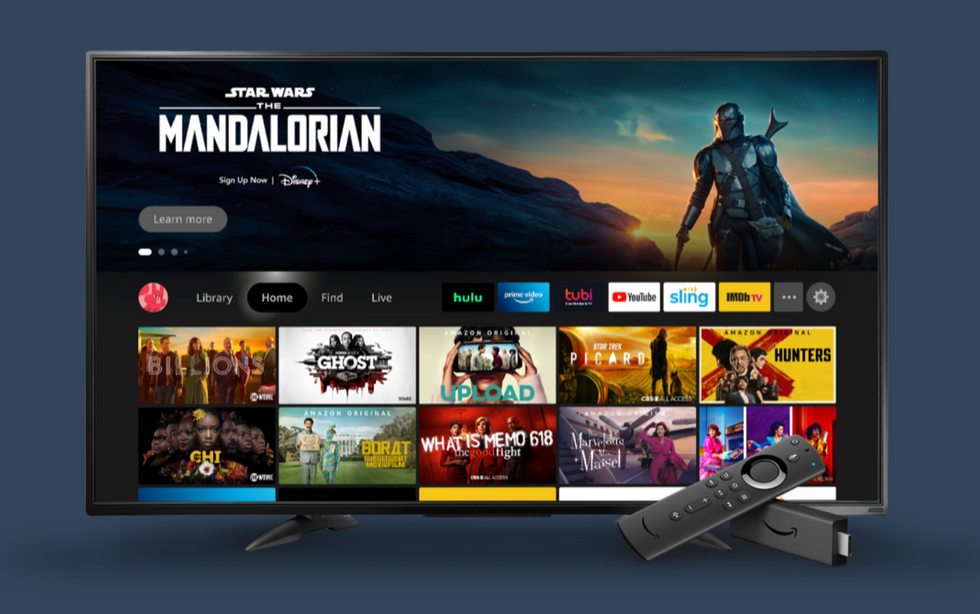 Amazon Fire TV interfaceAmazon
You can also ask Alexa to find content of a certain genre, and use the assistant to pause, rewind, or skip to the next episode. It is intuitive and works quickly enough, with Alexa's trademark blue light graphic appearing at the foot of the screen each time you speak to it.
The assistant can also be used to control your smart home devices, so long as you logged into the Fire TV Stick using the same Amazon account as you use for your Alexa smart home system. Just press the microphone button and say something like "turn on the heater" and Alexa will do exactly that, assuming you have a smart plug called 'heater'. Because Alexa works the same on almost all compatible devices, the experience is the same everywhere.
For example, on the evening of writing this review I had asked the Alexa of the Echo Dot on my desk to set a 25 minute timer. Curious to see how long was left, I asked Alexa on the Fire TV Stick "how long is left on the timer" and the assistant answered, while also showing the remaining time on my TV. Amazon really gets it right when it comes to a seamless experience like this, and if you have an Alexa-compatible security camera, video doorbell or baby monitor, you can ask Alexa to show that on your TV too.
When you finally find something to watch, hit play and lay down the remote, the Fire Stick TV is a perfectly good streamer. It misses out on 4K, which is a shame given the equally priced Roku Premiere can handle that higher resolution. But shoppers looking at a $40 stick might not have a 4K TV (and the necessary subscription to watch 4K content, in the case of Netflix), so Full HD is probably perfectly acceptable for many. And if you do have a 4K TV, the 4K version of the Fire TV Stick is only $50.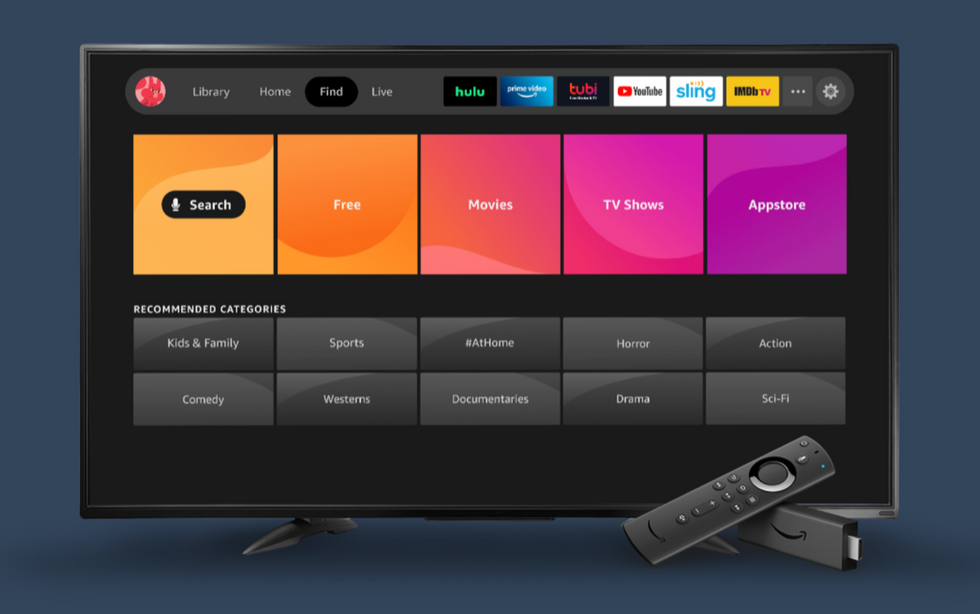 The new Fire TV interface arrived in December 2020Amazon
I also feel the addition of HDR is nice to have, and while Dolby Atmos can sound spectacular, I wonder how many $40 TV Stick buyers don't want 4K, yet have a high-end Atmos sound bar or complete surround sound system. It feels like there is a strange disconnect there and in reality I suspect buyers of this HD stick won't have a sound system to fully benefit from Atmos anyway.
As for performance, the Fire TV Stick is acceptable but not spectacular. Picture quality is perfectly good, but the user interface can sometimes feel slightly laggy and not quite as responsive as I would like it to be. This is far from a deal-breaker, and the performance of this third-generation stick is better than its predecessor. But there is still the occasional stutter while scrolling through a menu, and a moment of uncertainty when an application takes a beat or two longer to load than expected.
Verdict
If 4K is not a priority for you, the Amazon Fire TV Stick makes sense. It offers access to pretty much every streaming service you could ever wish to use, while also adding Alexa into the mix.
I'm surprised how useful I found having Alexa in a TV remote (something I doubt would have crossed my mind a couple of years ago) as there isn't currently an Echo speaker in my lounge. With the Fire TV Stick, I added Alexa to the room via a device hidden behind the TV and a small remote, which I think is a pretty good way to welcome the assistant into another room.
I liked the global search function, allowing Alexa to search for content in all of the streaming apps I have installed, and those with children might also benefit from some of the simple Android games available on the Fire TV operating system.
Whether you buy this device or go for a Roku Premiere (or increase your budget by $10 and get the Fire TV Stick 4K) really depends on your need for 4K content. For that reason, I can't fully recommend this for your main TV room, but for a smaller TV in the bedroom or a computer monitor in the home office, it could be $40 well spent.
Pros
Cons
Introduction of The GearBrain, The First Compatibility Find Engine for Smart Deviceswww.youtube.com
GearBrain Compatibility Find Engine

A pioneering recommendation platform where you can research, discover, buy, and learn how to connect and optimize smart devices.
Join our community! Ask and answer questions about smart devices and save yours in My Gear.