The iPad will no longer be able to be used as a home hub following the launch of iOS 16, iPadOS 16, macOS Ventura, and the HomePod 16 software this fall, Apple confirmed today.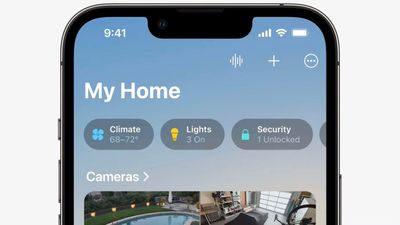 As discovered in ‌iOS 16‌ code by MacRumors contributor Steve Moser, Apple says that the ‌iPad‌ will no longer be supported as a home hub. This information will be displayed in the Home app after updating to ‌iOS 16‌.
A home hub is required to take advantage of features like receiving accessory notifications and allowing other people to control your home. You will not be able to view shared homes until those homes are also upgraded to the latest HomeKit. iPad will no longer be supported as a home hub.
With Apple dropping support for the ‌iPad‌ as a home hub, users will need to have a ‌HomePod‌, HomePod mini, or Apple TV to take advantage of features enabled by a hub, such as accessing accessories remotely with Siri and using location-based automation features.
Apple's ‌iOS 16‌ preview webpage suggested that the ‌iPad‌ would not be able to be used as a home hub, but it was not confirmed until now because in the first ‌iPadOS 16‌ beta, it was still possible to set an ‌iPad‌ as a home hub. "Only ‌Apple TV‌ and ‌HomePod‌ are supported as home hubs," reads the website.
The wording in the code found in the second beta of ‌iOS 16‌ suggests that Apple is removing the home hub functionality from the ‌iPad‌. The company has not explained why the ‌iPad‌ will no longer function as a home hub, but it could be related to Apple's upcoming cross-platform Matter smart home standard implementation.
Coming later this year, Matter will let HomeKit users add more smart home accessories to their ‌HomeKit‌ setups.

A selection of macOS tips to make your Mac life a more effortless experience.
A selection of quick iOS tips that will make you a lot more time-efficient in the long run.
50 features and changes you might have missed in macOS Ventura.
Apple on January 23 released iOS 16.3, delivering support for Security Keys for Apple IDs, changes to Emergency SOS functionality, support for the second-generation HomePod, and more.
Apple's most powerful Mac will finally shift to Apple silicon.
Dates have yet to be announced for Apple's annual Worldwide Developers Conference, but it should take place in early June.
Apple's AR/VR headset is coming soon with eye- and gesture-tracking, dual 4K displays, M-series chips, and more. Here's what we know so far.
Next-generation version of iOS, set to be previewed at WWDC 2023 in June with a public release in September.
2 days ago by Hartley Charlton
2 days ago by Tim Hardwick
3 days ago by Tim Hardwick
3 days ago by Tim Hardwick
3 days ago by Tim Hardwick
 
MacRumors attracts a broad audience of both consumers and professionals interested in the latest technologies and products. We also boast an active community focused on purchasing decisions and technical aspects of the iPhone, iPod, iPad, and Mac platforms.