To celebrate two years of its social network, Google has announced several new features for Google+. The list includes the Follow button, a new Communities badge and updated badges for Pages and Profiles. Webmasters can configure and customize the layout, size and colors that suits to their website.
Google had the +1 and Share buttons, but so far no Follow button. The Mountain View Company has decided to do what the competitors Facebook and Twitter are doing.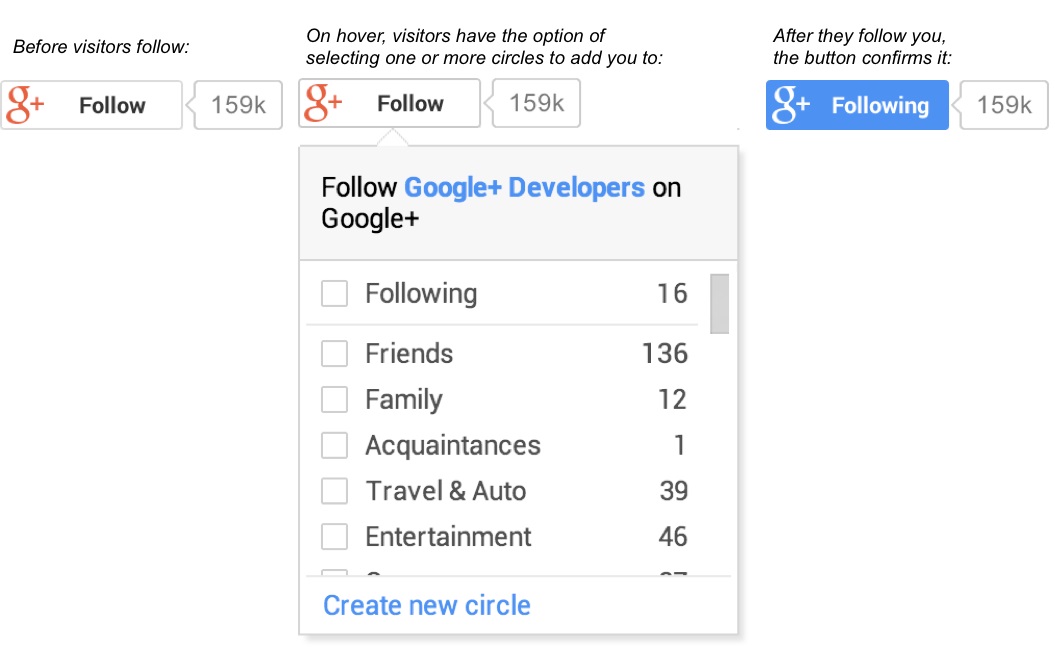 Like others, the new social plugins are written in JavaScript. You simply configure the plugin and add it to the markup of the page. When a user visits a website that uses the Follow button, he can follow its updates without leaving the website. You just need to move the mouse pointer on the button and select a circle from the dropdown.
The operators of the Google+ community reached out Google and asked a way to attract users through the web. For this reason, Google has introduced a new badge that can be configured to suit the design of the site. When the visitor clicks on the Preview button, the Community page opens in a new browser tab. The user can see the most recent posts depending on the privacy settings and eventually enter the Community.
The badges for Pages and Profiles have also been updated to increase the options for customization. You can choose the size, theme (light or dark), orientation (horizontal or vertical) and enable/disable optional elements such as the cover photo and tagline.
The current badge will remain active for 90 days, giving time to webmasters to configure the new versions. After the 3 months deadline, Google will update all badges to the newer one automatically.
Images credit: Google