Choose your language:
Unable to load latest pricing data, please try again later.
FTM has also declined against Bitcoin and Ethereum, down by more than 7% on both pairs.
Fantom's FTM token has plunged more than 12% in Friday evening trading and looks set for more losses given the current bleeding in the crypto market.
FTM is about 21% down this week, with the downtrend taking its value against the US dollar below $1.00. Selling pressure has pushed the FTM/USD pair to intraday lows of $0.88, below the critical support zone at $0.92 established in September.
This puts the Fantom price on course for a potential retest of prices last seen in February 2021 if a fresh downside gathers momentum towards the next major support line at $0.80.
FTM traded at highs of $3.35 in January, but with the broader crypto market in a downtrend, the cryptocurrency has moved within a declining parallel channel since. It tested highs of $1.68 on 2 April, the upper boundary of the channel.
Declines since have FTM/SUSD currently facing a retreat to the lower trendline, with today's rot pushing it below the channel's midline support.
According to crypto trader and technical analyst il Capo, bulls are unlikely to hold above the support line. He suggests that Fantom price might dip to new support at $0.47-$0.52.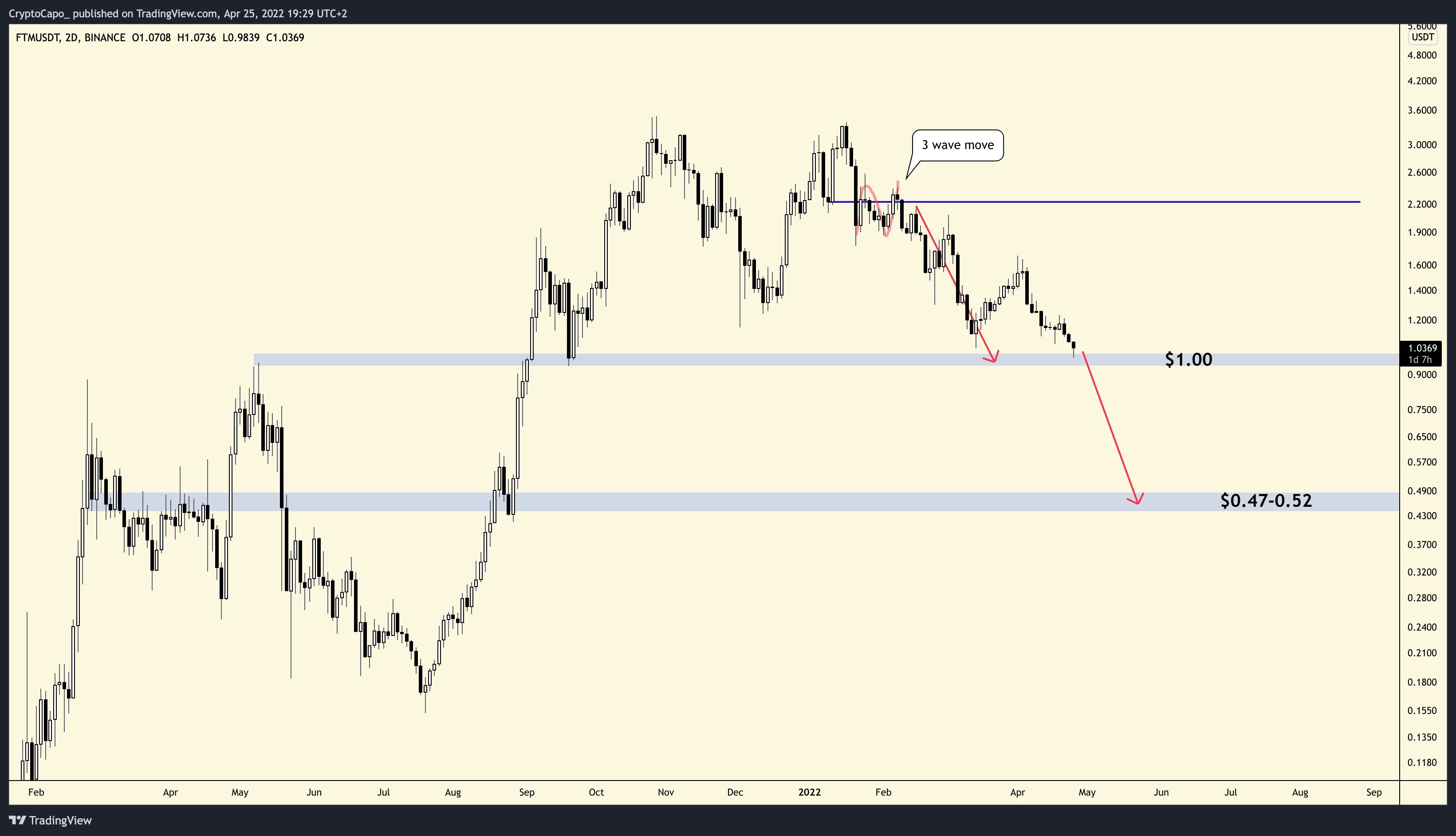 Fantom could drop to $0.47 according to il Capo.
Comparing FTM/USD chart outlook this week to that seen in February, he noted:
"As you can see, there were bounces in between, but the target has been reached. I don't think this level will hold for long though. Main target for FTM is $0.47-0.52."
The analyst's comments came earlier in the week, following Fantom's retest of the $1.00 area.
Looking at the rest of the market, total market capitalization is down 4.1%, while Bitcoin and Ethereum have declined 4.5% and 5.3% respectively at the time of writing. BTC is trading around $38,560 and Ether is trying to hold the $2,800 support zone.
Keep updated with our round the clock and in-depth cryptocurrency news.
Unsub anytime
No SPAM ever!
After signing up, you may also receive occasional special offers from us via email. We will never sell or distribute your data to any third parties. View our privacy policy here.
Please be aware that some of the links on this site will direct you to the websites of third parties, some of whom are marketing affiliates and/or business partners of this site and/or its owners, operators and affiliates. We may receive financial compensation from these third parties. Notwithstanding any such relationship, no responsibility is accepted for the conduct of any third party nor the content or functionality of their websites or applications. A hyperlink to or positive reference to or review of a broker or exchange should not be understood to be an endorsement of that broker or exchange's products or services.
Risk Warning: Investing in digital currencies, stocks, shares and other securities, commodities, currencies and other derivative investment products (e.g. contracts for difference ("CFDs") is speculative and carries a high level of risk. Each investment is unique and involves unique risks.
CFDs and other derivatives are complex instruments and come with a high risk of losing money rapidly due to leverage. You should consider whether you understand how an investment works and whether you can afford to take the high risk of losing your money.
Cryptocurrencies can fluctuate widely in prices and are, therefore, not appropriate for all investors. Trading cryptocurrencies is not supervised by any EU regulatory framework. Past performance does not guarantee future results. Any trading history presented is less than 5 years old unless otherwise stated and may not suffice as a basis for investment decisions. Your capital is at risk.
When trading in stocks your capital is at risk.
Past performance is not an indication of future results. Trading history presented is less than 5 years old unless otherwise stated and may not suffice as a basis for investment decisions. Prices may go down as well as up, prices can fluctuate widely, you may be exposed to currency exchange rate fluctuations and you may lose all of or more than the amount you invest. Investing is not suitable for everyone; ensure that you have fully understood the risks and legalities involved. If you are unsure, seek independent financial, legal, tax and/or accounting advice. This website does not provide investment, financial, legal, tax or accounting advice. Some links are affiliate links. For more information please read our full risk warning and disclaimer.