Loren Elliott/Getty Images News
Last week, I outlined how it was getting messy for Twitter (NYSE:TWTR) and its board of directors. An unsolicited offer to buy the company at $54.20 per share sparked controversy and much wringing of hands within the board room. Immediately the company went for the hostile defense method using the poison pill approach. I detailed why such a defense had zero chance to work for a board of directors, who as a whole owned a fractional percent of shares, against the richest man in the world, Elon Musk. The board had no way to "save itself" and no white knight coming to its rescue. While it happened much sooner than I expected, Musk came out on top. This requires an update to the odds of a successful purchase for bulls who stuck it out and those willing to play the arbitrage currently up for grabs on the stock.
The risk-reward balance was the primary focus of my article last week. It explained the upside (at the time) was about equal to the downside – if Musk were successful, bulls would be treated to at least $54.20 per share; if Musk failed, it would head back to pre-Musk levels. I suggested trimming a bit but holding the rest because the odds of Musk winning this battle were better than a coin flip. With financing in place and the deal accepted by Twitter's board, the remaining risk is closing the deal itself and the payout hitting the brokerage account.
The risk, of course, is the deal falling through in the 11th hour. Naturally, this would plummet the stock.
So how do we evaluate the risk? The first place to look is the agreement and what it contains. Is there a breakup fee? Can anyone back out without serious repercussions?
Multiple sources say the agreement contains a $1B breakup fee if either side fails to follow through on the transaction. For Musk's side, it could mean financing falls through, and he can't complete the deal. On the other hand, Twitter's side could mean finding another suitor with a better offer. The latter seems unlikely, but the former is a possibility; however, with commitments to financing already complete, the odds are lower than even another company whiffing on an acquisition. Moreover, Musk already owns $4B of the deal with his ~9% stake. So, in reality, he needs $40B and not $44B to complete the purchase (as he would be paying himself in the end on that 9% stake).
Let's look at the $1B breakup fee for a minute, as this, in all likelihood, puts Twitter in a must-complete situation. Considering the company's lackluster earnings report on Thursday, there isn't anyone else coming to swoop up a deal for more than Musk is paying. If Twitter could not complete its end of the agreement with Musk, $1B must be paid out. As of the end of Q1, the company had $2.3B in cash and cash equivalents. That's down from $4.3B in Q1 of last year. Q1 included the sale of MoPub for around $1.05B, with management turning around and repurchasing $2.1B worth of shares. The company would be offering up nearly 50% of its cash on the balance sheet.
This is cash the company needs if things go sideways.
Remember, this company has floundered for years. It has gone literally nowhere consistently. Musk started purchasing his stake at around 23% higher than its IPO price – an IPO in 2013. Those are IBM-like (IBM) long-term returns, yet Twitter is at the forefront of social media in terms of the market, not in Big Blue consulting and bloated software. Interestingly enough, returns were exactly the same between the two until the takeover news hit.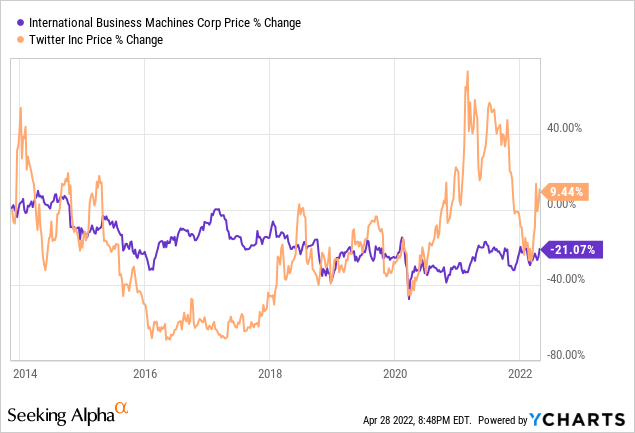 This takeover is the best news investors could have hoped for. There was only more of the same dilapidated growth from Twitter coming otherwise. Shareholders will approve the deal – as the board recommends – because there is no better exit than $54.20 coming for the stock, even if you look out a year.
I mean, take a look around. Meta Platforms (FB) and Snap (SNAP) prove this is not the time to be in social media stocks, and it's going to take quite some time before all-time highs are hit again for any of them.
Twitter wasn't going to be spared apart from Musk's takeover. Take $1B in cash away from the company, reset the stock price, and you have one of the worst investments in this terrible macro environment.
Twitter needed Musk but didn't know it. And now that it has Musk with the odds of it going through, there's an ability to capitalize, still.
My last article was playing the odds of a commitment, but now it's to play the odds of the deal's closure – the arbitrage. With Thursday's closing price of ~$49, there's a 10.6% spread. This is an annualized 49% return if the deal closes in three months and 22% if it closes in six months. In today's market, one should take this all day. This spread will quickly shrink once the shareholder vote comes to pass with a majority in favor.
This doesn't mean there isn't risk. If shareholders, for some reason, don't align with the board, the stock could tank back to the $30s. This is the same risk outlined in my previous article, but the difference is the most significant hurdle was cleared when the board got behind the deal.
But with much smaller hurdles in front of the deal, the risk is continually decreasing. The odds of the deal closing are the highest they have been, and the returns are still quite enticing considering the timeline. This ability for investors to exit at a fair premium combined with a breakup that would put Twitter in an even worse position than it started means Twitter is going to Mars.
Do two things to further your tech portfolio. First, click the 'Follow' button below next to my name. Second, become one of my subscribers risk-free for the first two weeks, accessing my real-time analysis and nailing getting in and out of Twitter and tech, garnering massive profits along the way. Only my subscribers get my technical chart analysis and entry points for tech stocks.

Join now!
This article was written by
Joe has a Bachelors of Science in Computer and Electrical Engineering. He follows technology related companies as well as blue chip industrials and consumer products. Joe writes mainly about technology companies, especially ones that he uses and consumes. Knowing the technical side of the products helps him in his analysis of what the product impact is to consumers and the markets they reach. Joe's interests lie in tech and growth stocks.
Joe works for a technology contracting company as a Release Manager working with Dev/Ops tools and integrating CI/CD systems. This entails automating workflows and deploying compiled artifacts using change control/version control software and deployment automation tools. The sector of his work is governmental and deals with the department of health. He previously worked in the IT field of the healthcare industry for a major teaching hospital and practice group working mostly with integration engines for use with hundreds of systems as well as end user application access and security including single sign-on.
Joe enjoys a variety of hobbies including playing drums and building racecars made for the ice and asphalt. He raced nationally in college for Baja SAE and continues to build racecars and race on a regional level both on road courses and frozen lakes.
Disclosure: I/we have a beneficial long position in the shares of FB, SNAP either through stock ownership, options, or other derivatives. I wrote this article myself, and it expresses my own opinions. I am not receiving compensation for it (other than from Seeking Alpha). I have no business relationship with any company whose stock is mentioned in this article.