This fall we saw a slew of Apple product releases. From the much anticipated Apple Ultra Watch, to the hugely popular Apple Watch Series 8. But slotted below those in price is the Apple Watch SE (2nd gen). This has become Apple's 'budget' Apple Watch edition, now that the previous budget option (Apple Watch Series 3), is no longer receiving current WatchOS versions. While officially priced at $249, it's been floating on sale the past month down to $219.
For these past few months, I've been putting the Apple Watch SE to the test, hammering out countless workouts from running, cycling, swimming, and more. And even before that I was testing out WatchOS 9's new features throughout the summer – even in a triathlon. With WatchOS9 came a boatload of new features including triathlon mode, structured workouts, and running power. All effectively bringing the Apple Watch into direct competition with other serious sport watch brands, even at this lower SE price point.
While the software update was substantial, the Apple Watch Series SE hardware update was modest at best. It included faster internals, and vehicular crash detection. Whereas again, most upgrades came via new software features, like triathlon support, deeper structured workout/interval features, a revamped compass app with backtrack functionality, and running power/efficiency metrics (and again, all via WatchOS9).
Finally, note that Apple did provide a media loaner Apple Watch SE unit, though I've also been testing WatchOS 9 on my own Apple Watches prior to that. As usual, the loaner unit will go back to them afterwards. If you found this review useful, feel free to shop using the links at the end of the site, or consider becoming a DCR Supporter. With that – let's begin!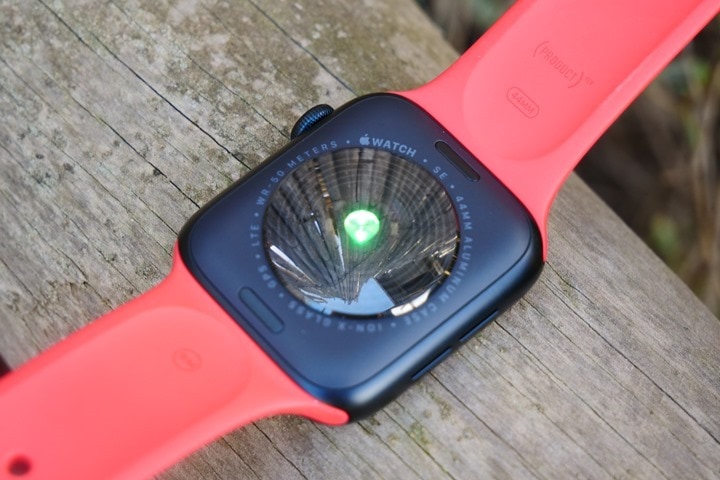 At first glance, a consumer is going to see very few changes in Apple Watch SE hardware. With a faster internal processor and an updated composite for the case, updates to the look of the watch are minor. However, we do see significant changes come from the software platform in the form of the new WatchOS 9 update. Here we see the biggest increase in new features for the sports, fitness, and health metrics since the inauguration of the first Apple Watch. Keep in mind, the WatchOS 9 features can be updated back to even the Apple Watch Series 5, so lots to keep in mind if looking for an upgrade.
Without further ado, here's a quick look into what hardware changes have happened between the Apple Watch SE and the Apple Watch SE (2022):
– Upgraded to new 20% faster processor
– Upgraded Bluetooth chipset from 5.0 to 5.3
– Added vehicular crash detection (inclusive of added high-g accelerometer and high dynamic range gyroscope)
– Changed back material to nylon composite & sapphire crystal, from ceramic
– Maintains optical heart rate (still no ECG on the SE editions)
– Maintains same 32GB of storage
– Maintains same 50m water resistance
– Maintains LTE option
– Reduced official retail price from $279 to $249
As I said before, for the sport, fitness, and health side of things, the new WatchOS 9 has given us the biggest features update in the history of the Apple Watch. Additionally, there are still other non-sport/fitness/health feature updates- namely Apple Home/HomeKit etc. You can read about most of those that were announced over the summer in my WatchOS9 post here.
Though, I'm betting most of you reading here now are looking for the aforementioned new sport, health, and fitness features. So here ya go:
– Compass App: Revamped user interface
– Compass App: Added new waypoints option (saving, navigating to)
– Compass App: Added Backtrack capability to save a track without starting a workout
– Compass App: Added Backtrack to track back following your route
– Workout App: Adding three new running form metrics for efficiency: Vertical Oscillation, Stride Length, and Ground Contact Time
– Workout App: Can now see heart rate zones during the workout zones
– Workout App: Can now create new custom workouts, including repeats based on distance or time intervals
– Workout App: New alerts for heart rate zones, cadence, and other metrics (not shown yet)
– Workout App: New Running Power support, now natively tracks running power
– Workout App: Revamped data pages with more data per page
– Workout App: Will race against past workouts, which are saved to the workout app
– Workout App: Triathletes get triathlon support including auto-switching between swim/bike/run and triathlete tracking time
– Workout App: Adding kickboard swim detection
– Secondary lower power mode (Added in mid-October firmware)
– Automatic Track Detection (planned by end of 2022)
– Race Route (planned by end of 2022)
First up, the pricing bits. The updated Apple Watch SE remains the more affordable Apple Watch option. Apple Series 8 stays in its previous lane of pricing. And the newest addition to the Apple lineup is the higher-end Apple Watch Ultra, which comes with an additional button and extended battery life. Here they are:
Apple Watch SE (2022): $249/$299+ with LTE
Apple Watch Series 8: $399+/$499+ with LTE
Apple Watch Ultra: $799 (inclusive of LTE built-in)
Finally, what are the core differences between the Apple Watch SE (2022) and the Series 8? Here's the quick-hit list:
– Series 8 adds wrist skin temperature sensing
– Series 8 has an always-on display
– Series 8 has fast charging
– Series 8 U1 Wideband chipset
– Series 8 has ECG
– Series 8 has SpO2 sensor
– Series 8 has slightly larger sizes (41 vs 40mm, and 45 vs 44mm)
– Series 8 has a ceramic back vs nylon composite
With that cleared up, let's move on to pretty pictures… I mean, the unboxing shots.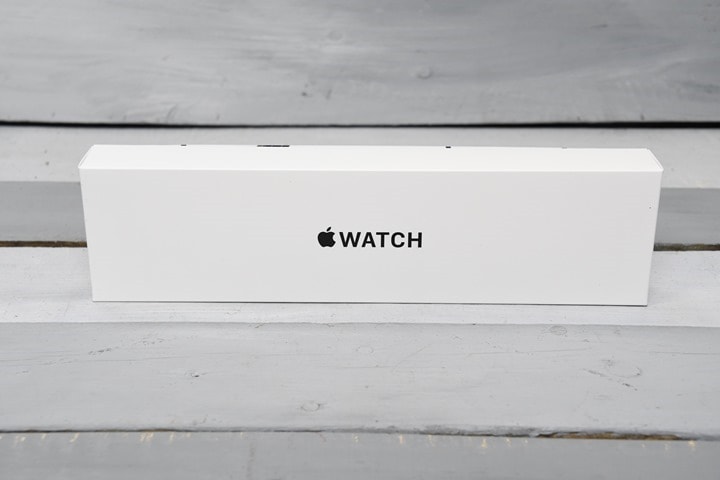 As with all Apple Watch unboxings, the experience is much the same. We have a multi-layer box, with no visible differences from generations past, the box set-up accommodates the multiple different watch SKUs.
Once you crack inside the outer layer, you'll find a set of boxes:
A) One box for the watch pod, including the charging puck
B) One box for the watch strap, including two sizes
Here's a closer look at that: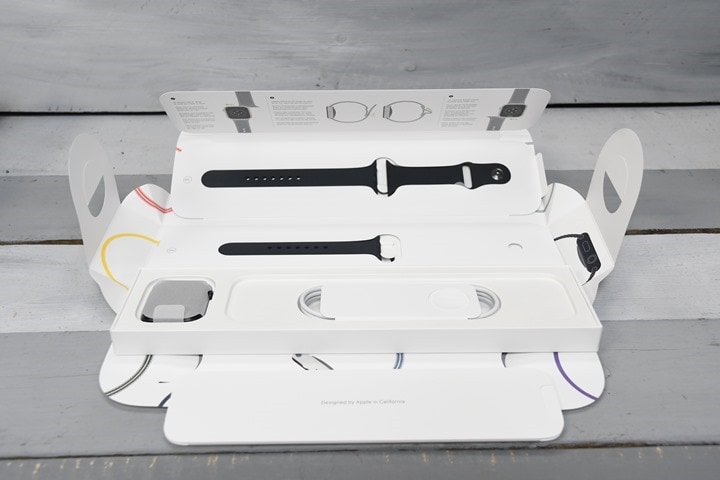 An interesting little detail that I caught was that the Apple Watch SE pod (the watch itself sans-strap) is packaged in a thin plastic wrapper, while the Apple Watch Series 8 is packaged in a felt/cloth wrapper. A silly little detail, especially since both likely end up in the trash, but I guess some people want that extra little touch for the upgraded price.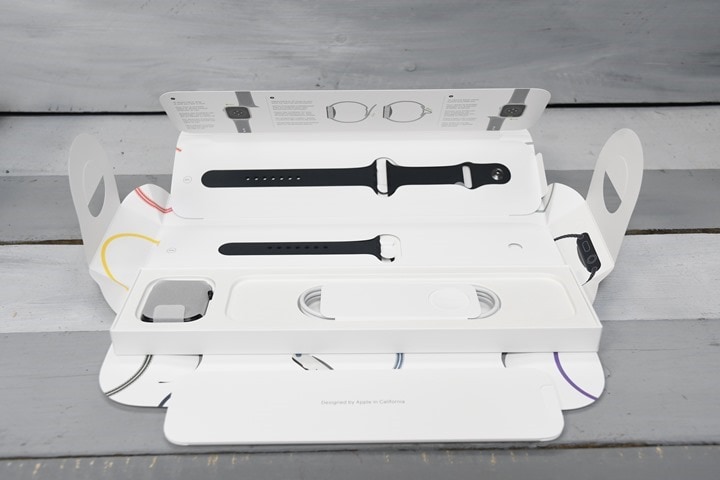 Moving on to the more significant bits and pieces of the watch. Included in the box are actually two strap sizes, the watch itself, and the puck charger.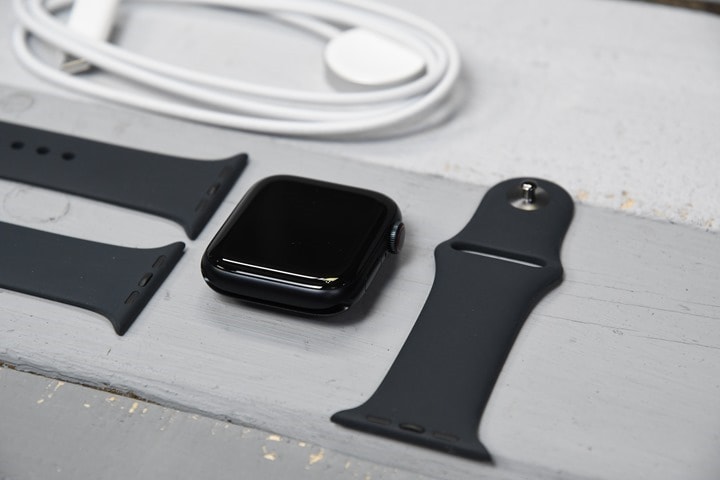 And here's the back case, which has a new material compared to the previous ceramic. Feel-wise, it all feels the same as the Apple Watch Series 8 on the wrist.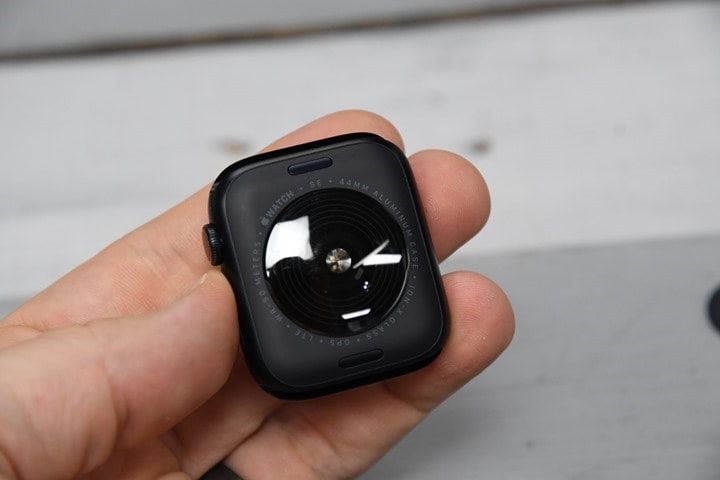 As I discovered over the summer, a lot of watch manufacturers are not displaying their watch sizes properly. This remains the case here with the Apple SE, as they are not including the bump out of the heart rate sensor in the measurements. Keep in mind, for Apple and Garmin these "miss-measures" are pretty minor comparatively with Samsung's case, where they were off by some 50%. Not to keep dwelling upon the mystery of how and why manufacturers continue to get this wrong, I simply mention all of the above for consistency and fairness of other reviews. Onwards.
Oh – actually, one more thing. I replaced the navy-blue-blackish bands that came with the above unit with red bands. Why? Well, because back in the fall, when I started testing these units, I had both the Apple Watch Series 8 and SE with identical color bands and a virtually identical pod when on the wrist. And thus, it was confusing AF for me. So, I made the SE red, and left the Series 8 with the dark bands. Make sense? Good. Now we can move on.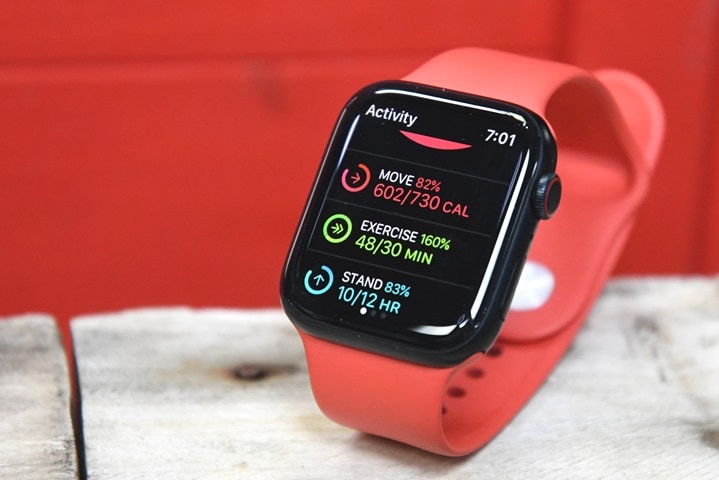 As usual, I am primarily writing my review from the sports, fitness, and health perspective of the Apple Watch SE. The Apple Watch line-up has untold amounts of non-fitness based features and functions. It won't take you long to find a long line-up of websites talking about how to review your favorited photos, or have the watch audibly tell you the time. But for this review here, we are focusing on the sports tech side of things. Here we go.
Out of the gates, let's do a quick recap of the display and buttons. The Apple Watch SE has two buttons on the right-hand side. The circular one is referred to as the digital crown, and has rotating capabilities. The second button is more simple in design, as it is… a button.
The digital crown can both be pressed inwards as a simple button, or rotated like one would usually see in scrolling up or down a menu. The secondary button is simply pressed, and used more for commands such as "back" and cancel.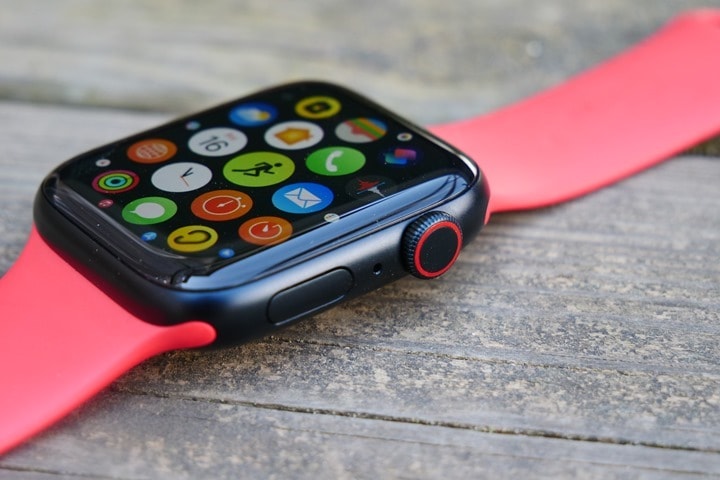 As with all Apple Watches, the screen remains a touch screen. The Apple Watch SE does not have the so-called "always-on" display that the Apple Watch Series 8 and Apple Watch Ultra have. This means when the wrist is lowered, as it is while I'm sitting typing this review, the screen is completely black and inactive/off. The screen then illuminates when I raise the wrist again, for example to look at the time.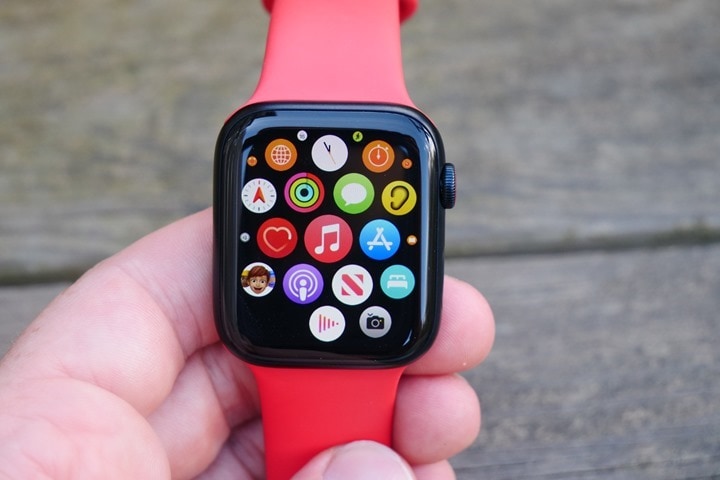 Wearable manufacturers are constantly vying for ways to extend battery life of their products. Making tweaks to the displays is a good place to start. While the current Apple Watch displays are beautiful, they act as giant holes in the bottom of the battery bucket – just rapidly draining power when fully powered on.
The Apple Watch Series SE is rated for "18 hours of all-day battery life". Though, Apple tends to be pretty conservative in their battery estimates. In my case with the SE (2022), inclusive of usually 45-90 mins of GPS workout time each day, I'm basically charging the battery each day. I've roughly varied when I charge it, so it's not always dead-dead, but yeah, it's a daily thing. If I don't have GPS workouts, I can basically squeak by charging it in the evening, on say a Monday night for a bit, and then I'm good all the way till Wednesday morning.
Even though Apple introduced fast-charging last year, that doesn't include the SE (2022), I still normally find myself each morning charging the watch next to the computer. Since part of my interest in the Apple Watch is the sleep tracking capabilities, charging my watch each morning once I sit and start to crank out morning emails, has become the morning routine.


One thing of note before we get too ahead of ourselves is the watch face display options that come on the watch. Apple provides several watch faces that are easily customizable. Within each watch face there are several different data points, or as Apple calls them "complications", that you can display; think time, date, day, step count, etc…
I can't really say my preference on favorite watch faces, it sort of changes with the weather. Some days I like seeing the more technical stuff, and others I really just enjoy the watch's ability to pull from my favorite photos, and I get a new memory each time I glance at my wrist.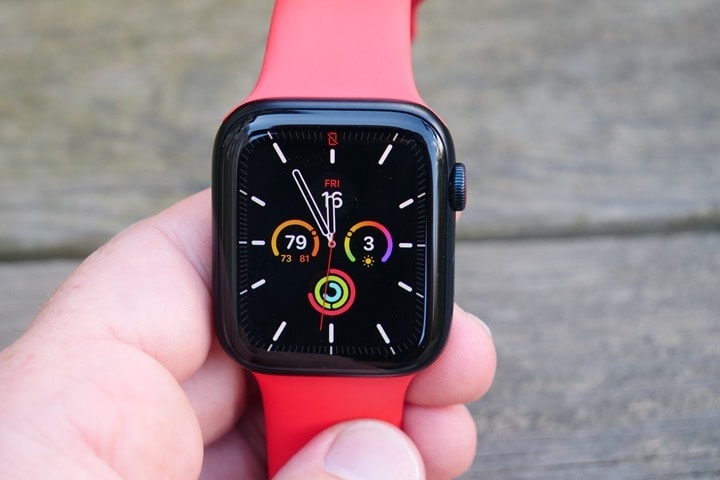 The photo watch face, however trivial, is one of those areas where Apple's native integration shines, and is really challenging for other companies to replicate. Apple is automatically pulling in your favorited photos behind the scenes, and each time I raise my wrist I get a new family (favorited) photo as the watch face. This is compared to other watches where you can also set a photo to the home screen, but usually that's just it. One photo that likely stays there for years because you're too lazy to change it.
Further, there are even 3rd party apps that integrate with the Apple Watch SE which can provide and display data within selected complications. Plenty of them pulling in the sport, health, and fitness metrics, also customizable to the way you want it.
Next up, let's dig deeper on the activity tracking pieces of the Apple Watch SE. As you might be familiar with or have seen before, the Apple 'rings'. Everything in the Apple fitness ecosystem revolves around these iconic rings. There are three color rings, and they each track and monitor your different daily activity levels, and represent your daily goals. The object of the activity rings is to complete a circle (ring) every time you accomplish that daily goal- it's kind of addictive. For instance, the green ring is for exercise. Close your ring daily by completing at least 30 minutes of brisk activity. The red ring is for moving, and the blue ring is for standing.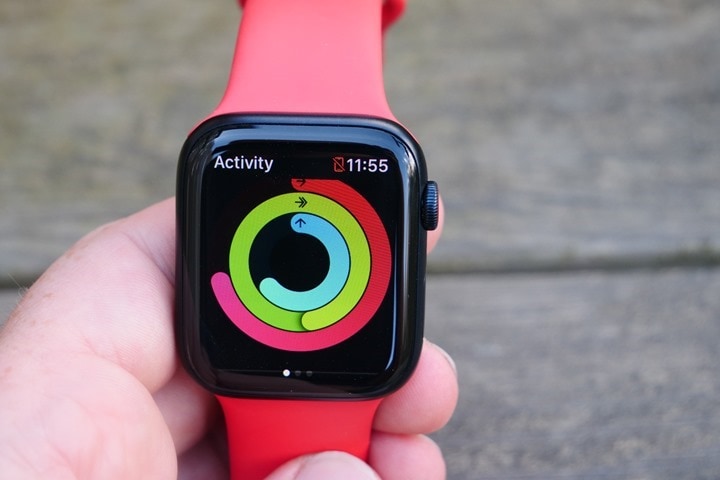 Continuing on from the rings, you can swipe down to see how you're doing in each category and how your timeline for the day is shaping up. Another swipe lower and it brings you to totals so far. Here you see total steps, total distance, and total floors climbed.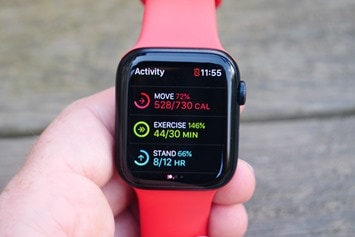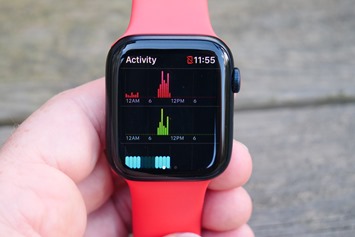 For even more details and a comprehensive look at your activity tracking, you can pop over to your iPhone to check out the Fitness app. The "Fitness" app is the companion app that syncs your watch directly to your iPhone. Further, the Fitness app works hand in hand with the Apple Health app pulling from the wealth of health and fitness data stored there.
Note that both the Fitness and Apple Health apps are only supported on iOS, which is specifically the phone platform, and are not available on the iPad,  Mac, or other devices.  Once you pop into the Fitness app, you can easily navigate around to see your activity overview, and more details of your daily totals. Also, a nifty visual is in the calendar view, whereby you can see an entire month's worth of activity rings and what days you were able to successfully close them.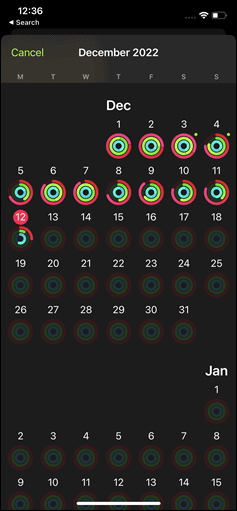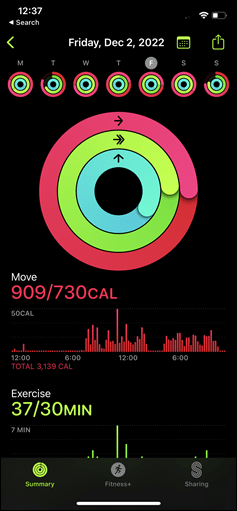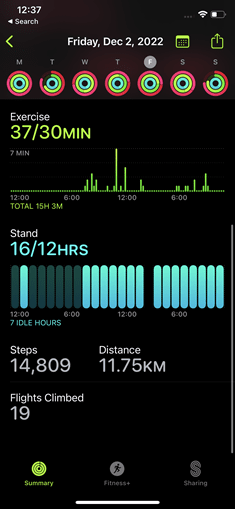 Meanwhile, as you edge towards sports, in the Fitness companion app, you can view and display trends over time. Previously, this feature used to take only 90 days, but now it takes 180 days before it starts to display the trends data – which yes, is an absurdly long length of time to wait to display trends on such basic activities like walking and standing. Every other competitor fitness platform on the market today can at least tell you that if you walked more steps this week than last week, then you're trending upwards. As I have said before, and will continue to say, I'm really hoping that with Apple's new focus on sports and fitness that they will reevaluate some of these items and address them in efforts to interest more sportier users.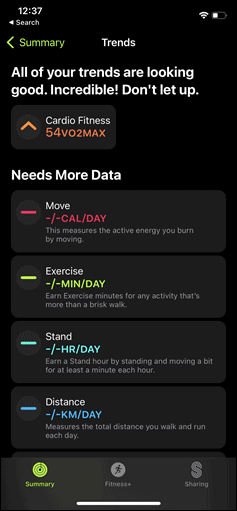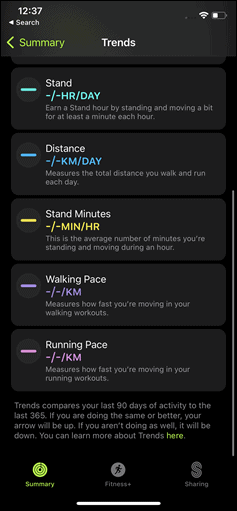 Next, there's sleep tracking. Apple WatchOS 9 has increased its sleep focus, mostly by adding sleep stage data. First, you can set the exact times your watch goes into sleep mode, which Apple calls your "Sleep Schedule". And by setting this sleep schedule I mean your watch goes into a sleep mode and the display dims substantially, showing just the time. Obviously this doesn't dictate when you can sleep, just think of it as setting the mood for getting ready to turn-in for the evening.
The next morning as you wake up, you can find your sleep data within the sleep app on the Apple Watch SE: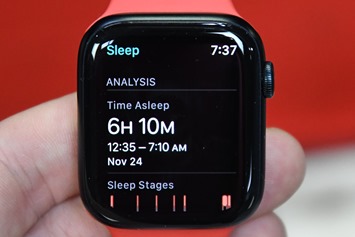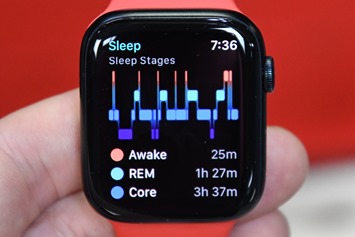 Here you can see estimated sleep stages/phases, as well as sleep times. I feel that focusing on the hours of sleeping time is the better statistic. This is because the comparative sleep stages/phase data available in high-end test/comparison devices are not very accurate (topping out at about 80%  in most cases), and thus trying to compare data to something that's wrong 1 out of 5 times, seems misplaced. While companies are starting to show more consistencies (Apple included), it's not something I think is valid to accurately evaluate at this point.
Also, you'll get comparative trends over time as well: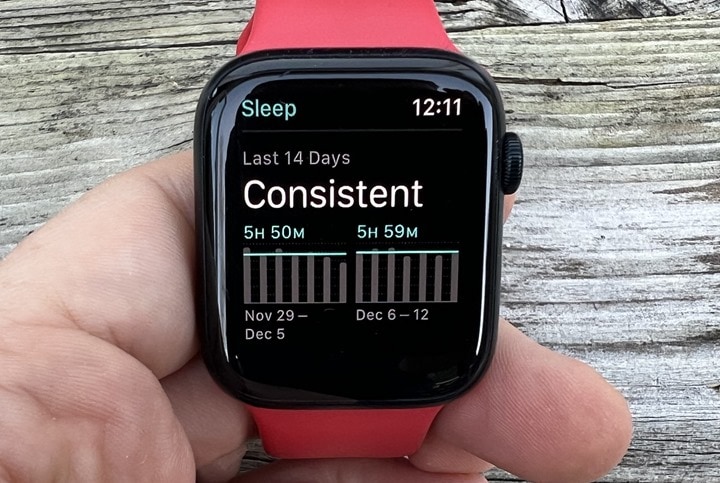 From here your sleep data is then sent to your iPhone, making it available for viewing in your Apple Health App. The Apple Health database remains a giant warehouse of your health and fitness data; this then allows you to see not only last night's sleep, but previous sleep trends/data on a weekly, monthly, even 6-month levels. You can see plenty of other stats there, for example heart rate plotted over time, and just about other bit of personal health data is stored there.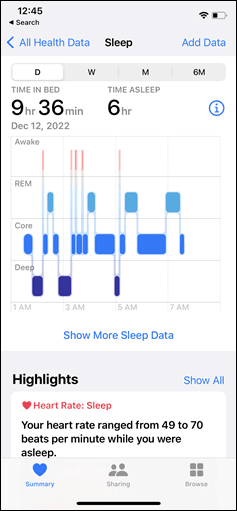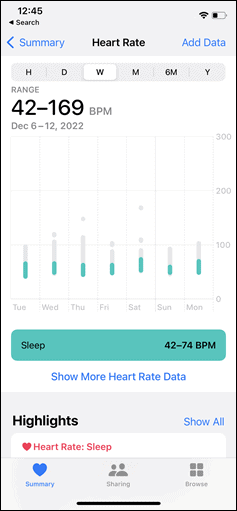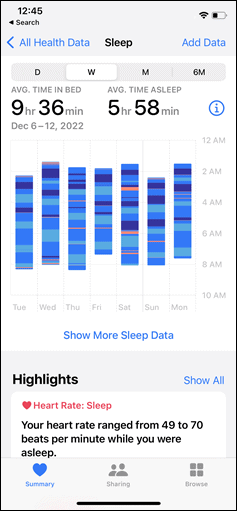 However, there are many quirks when it comes to Apple's sleep metrics. Take a look at the above, specifically the 'Time in Bed'. This seems, at best, heavily confused. Last night I fell asleep about 1AM, but only went to the bedroom around 12:15AM. However, I was up and active at 7:35AM – getting the kids ready for school, and then eventually pedaling one to school, before pedaling the next to school, before heading to the office. Thus, how on earth did I spend "9hr 36min" in bed? The time asleep seems correct (6hrs on the dot), but 'Time in Bed' is clearly not correct.
We see this manifest itself in other ways too. I often get weird quirks with both classification of sleep stages as well as end of sleep. For example, in the below situation I woke up around 7:50AM, then pedaled the girls to school. Then pedaled to the office. Then pedaled to a car rental place across town, then got in a car and drove 2.5 hours (including getting out at a rest stop for coffee across a big parking lot). Then, and only then, at 12:30PM when I arrived and got out of the car and took the watch off before going diving, did it realize I was actually awake, and ended my sleep. That giant pink section there, while specified as awake, simply shouldn't be part of sleep.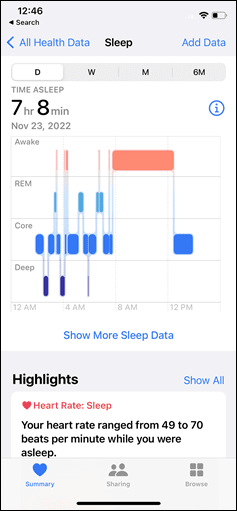 Both of these are one of many examples over the past three months. Meanwhile, within Apple Health you'll get other sleep-related trends here, such as respiratory rate (breathing rate).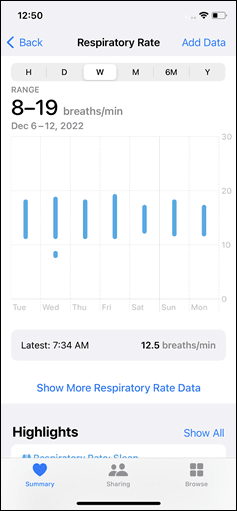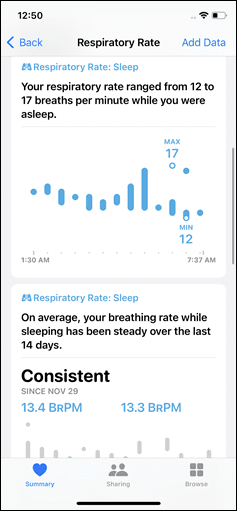 Apple WatchOS 9 has added a new feature that is able to report more detailed HRV values (Heart Rate Variability). This is interesting because of the recent growth of interest in HRV by the fitness and sport companies and their quest to estimate how well your body is recovering. While Apple isn't (yet) heading into that direction, they have increased the data provided by the watch to Apple Health. What used to be a useless single data point per night, now provides more data points- though still a relatively small amount.
By default, you'll only get a handful of data points per night (like 5 data points), which is hard to do much with. However, if you toggle on continual Afib detection, that'll significantly increase the number of HRV data points it gathers per night.  Here's both a weekly plot, and last night showing all the data points: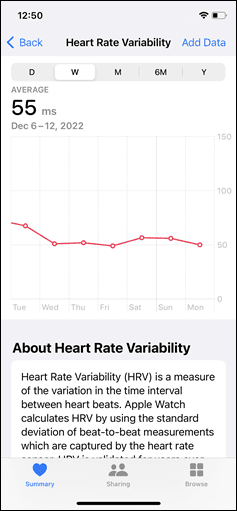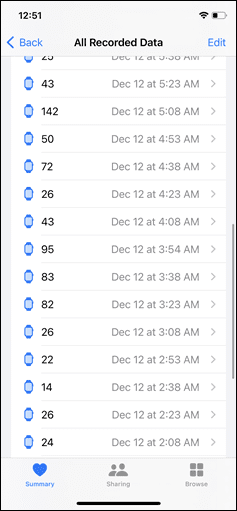 Still, this is kinda a weird trade-off, but hey, it's an option. Of course, toggling on continual AFib detection inversely toggles off Irregular Rhythm Notifications.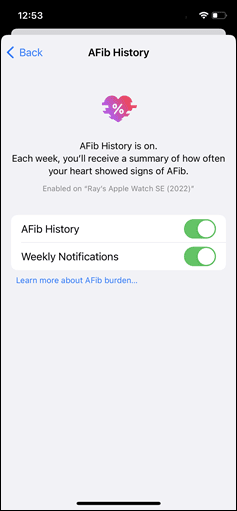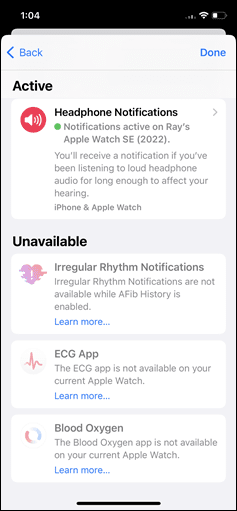 Finally, do note that the Apple Watch SE does not have the wrist-based temperature tracking seen on the newer Apple Watch Series 8 and Apple Watch Ultra. That data was fed into Apple's female ovulation and period tracking metrics, which were historical-focused (meaning, they didn't use that data to predict dates in the future…yet). But if that's something that's important to you, then consider the Apple Watch Series 8 instead.
With that, into the sports features.


As I mentioned earlier in this post, there really aren't many hardware updates to the Apple Watch SE. This is true for the upgraded sports features – there are no new hardware-driven sports features on the watch. However, there has been a massive number of new sports features offered with the new WatchOS9 update. This includes everything from heart rate zones, to backtrack functionality, to custom workouts, to running power support, and even triathlon support. This a huge move by Apple to find their way into the endurance/multisport watch realm, especially at this price point. And they've promised further features like the Track Running mode and Race Pace features still to come at some point by the end of December.
Let's start off with getting that first workout set up. Go ahead and pop open the Workout app on your Apple Watch SE; that's the one with the green runner icon. Within the workout app you'll find a list of sports to choose from. Then, within that sport there are three little dots on the right-hand side. Tap those three little dots, which lets you customize what type of workout you might like to do within that sport.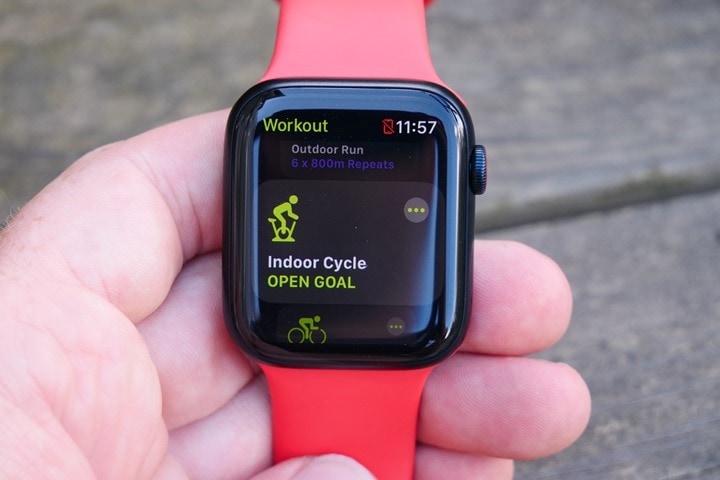 For example, you can create different run profiles, which each have various settings. Or, you can now also create structured workouts. Even if you don't have a structured workout planned, you can create a simple run with defined end goals, such as time or distances.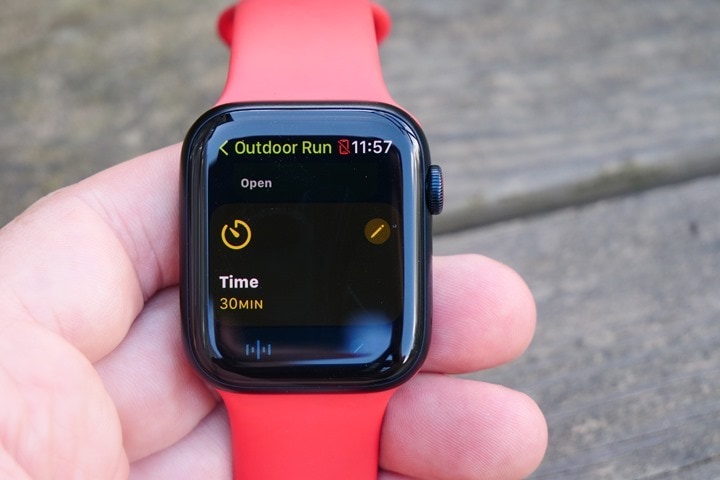 In the example below, you can see the structured workout, including an 8x400m workout. If you choose to create a workout like this, note that you can also add repeat sections along with warm-up/work/recovery/cooldown segments as well.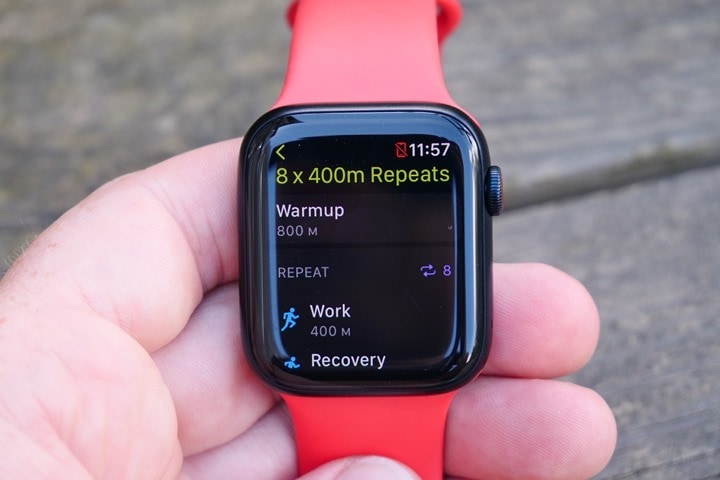 For these structured workouts you can also go ahead and create a title for your workout, or just simply leave it as "8x400m repeats". As well, you can specify the units of measure for the workout itself, for example maybe you want meters on the track and miles on the roads. Who knows, you do you.
Within the custom workout as well, you can even specify the fields/pages you want available for the workout. Remember, Apple WatchOS 9 added the new heart rate zones and running efficiency metrics like running power to the fold – both of these can be incorporated in the structured workouts.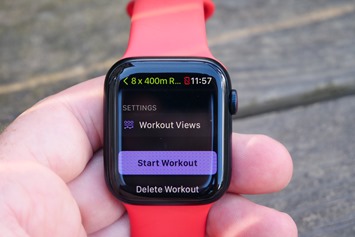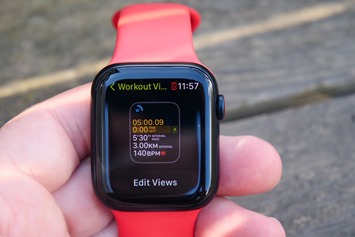 You can use your iPhone in the fitness app to modify your heart rate zones, however at the moment (annoyingly) you can longer change the data pages/ data fields, that must be done on the watch itself. This is, in fact, quite tedious, and for many runners – a bit of a deal killer. And yes, I said "no longer" because oddly enough, in WatchOS8/iOS15 you used to be able to modify data pages on your phone (Watch app > Workout> Workout View). Keep in mind you can still modify other things from the phone, like Auto Pause and the new Workout Low Power Mode (more on that one in a moment). So all of the pages in the above/below photos have to be manually done on the watch.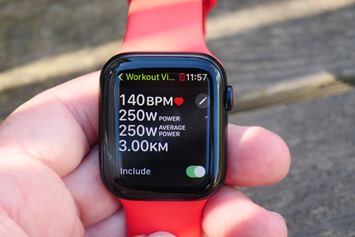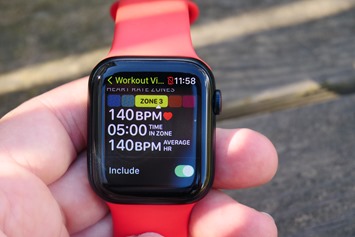 Now that you have all the data fields and pages set up, let's go ahead and start that workout. You'll even get a nifty 3-second count down to your misery… I mean count down to your workout!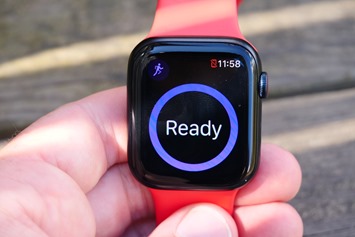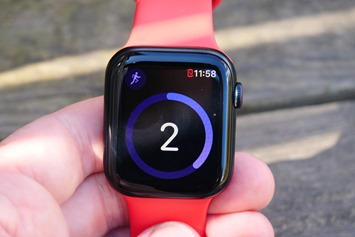 Annoyingly there isn't a way to see if the watch has locked to optical HR or GPS satellite lock before it starts (a feature the Apple Watch Ultra has, called 'Precision Start'. It's also a feature every other GPS watch on planet has, called 'normalcy'.)
With the Apple Watch SE 2nd gen, Apple has changed how the GPS lock works. In the past, the watch depended on the iPhone (if the phone was in range), but now the watch is entirely self-supporting in all scenarios. While at first that might sound great, it also has some possible cons, depending on your preferences. If you didn't want the watch draining your phone's battery (like me), this is great. But if you wanted longer battery life on the watch you might become disappointed. I offer a simple solution of a toggle button for where a user wants the GPS to come from. Given Apple previously had this toggle option, I'd be willing to toss out there that the software development to choose the GPS source can't be that difficult.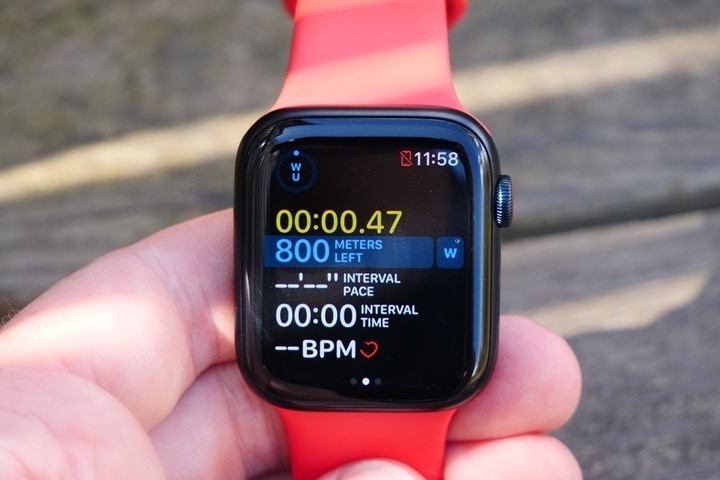 Now that we are into our run, you are going to see the metrics that you configured on your watch in real time. Again, this includes the new running power and running efficiency metrics (if you chose to show them in your data fields). Do remember that to see your running power you do need to be actively running – walking and hiking won't cut the mustard. That might seem obvious to those of you reading, but keep in mind most other competitors in the running power realm do actually display running power when walking/hiking – reason being that energy is still being expended and thus should be accounted for. Thinking about it more specifically, if you consider the trail/ultra-running scenarios, athletes will often power walk certain parts of the course, especially steeper hill sections. In this scenario, those athletes' power output for power walking could very well be on par with running on flatter portions of the course, but is not accounted for here.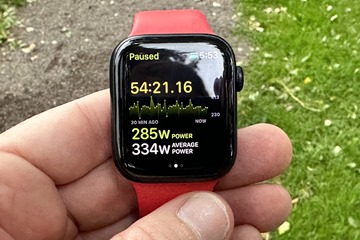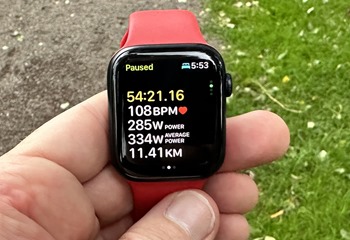 It's not for sure, but I suspect this lack of accountability in running power is more of an algorithm/accuracy issue. Possibly due to the fact that the running efficiency data is coming from wrist-based metrics, that might affect the ability to gather and calculate the data accurately. With Apple leaning into the more hard-core running crowd with the Apple Watch Ultra edition, it will be interesting to see if and when they change this over time.
If you are doing a structured workout, the display will show whether you're in a Work or Recovery interval, as seen in the upper left side (blue 'W'). Distance or time left in the given interval is also displayed (600 Meters Left):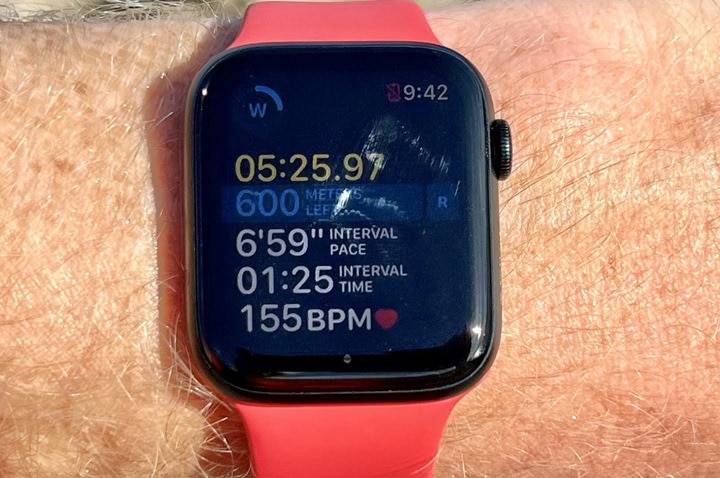 While the structured workout piece is a great addition to the WatchOS9, it is unfortunate that there isn't an API for 3rd parties to access it, as there is on other platforms. For example, if you have a coach who has uploaded a structured workout to TrainingPeaks for you, there isn't a simple way (today) to export that out to your Apple Watch. Sure, Apple is already a platform that developers can build an entire app dedicated to (and they do), but I think if Apple really wants to get on board as a true competitor in the endurance world this is the type of change they need to make – allowing 3rd parties that access. The reality is that most companies don't want to re-invent the workout wheel, by creating their own workout recording app. Instead, they want to focus on what they do best (in this case, designing structured workouts or letting coaches do it).
Moving along, while the Apple Watch SE already has an optical heart rate sensor built-in to it, you can also pair a Bluetooth heart rate sensor to it. You can do this from the Bluetooth menu, under settings: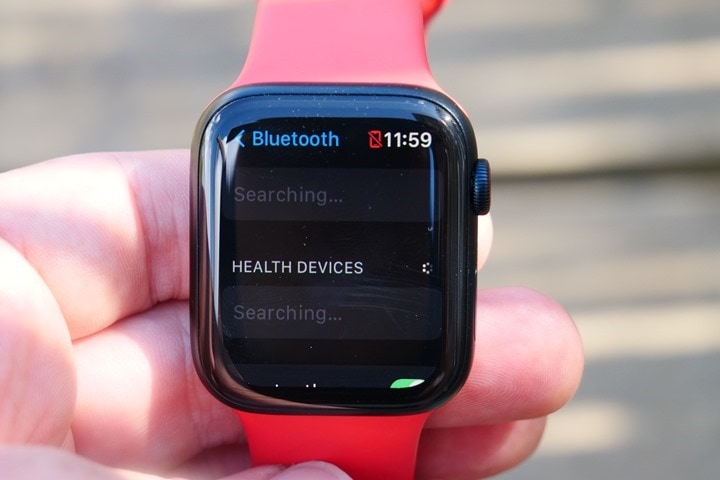 Still, in the vast majority of cases it's unnecessary as the Apple Watch optical sensor is very accurate (as I'll show you further down).
However, the more important takeaway is that this is the only sport sensor type you can natively pair to the Apple Watch (any variant). So, if you saw the keynote address on the Apple Watch Ultra series, you would have seen that they are pushing the watch for triathlons and making reference to iron-distance triathlons. The reality is the lack of sensor support is a non-starter for that category of athlete. For WatchOS9 not to support a cycling cadence sensor, which is of the most basic sensors, let alone power meters, that's a hard sell to triathletes.
While there are a couple of 3rd party Apple Watch apps that can pair to a Bluetooth power meter, none of these at this time have a triathlon mode within them. Speaking of which, this past summer when WatchOS9 was released, I competed in a triathlon with the new triathlon sport mode on my Apple Watch Series 7. You can check out the Hands-on Apple WatchOS9 New Triathlon Mode race recap here.
Okay, so now that your workout is complete, you'll get a basic summary displayed on the watch: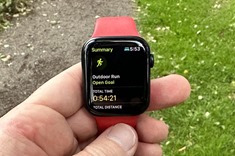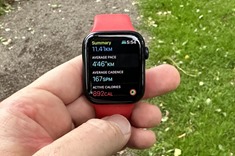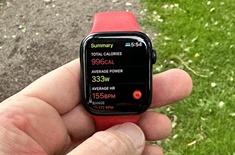 To see more details like your running power/ efficiency, that's where you need to go to the phone, and crack open the Fitness app. Shown below is a run I did around the tip of Manhattan last month.
Up next is the revamped Compass app. This new upgrade caught attention because now you have the ability to save waypoints. Important in case you lose your way, you can roughly navigate your way back. When you pop open the Compass app, you'll see two icons along the bottom. Backtrack is there on the right with the little feet, and waypoints is there on the left.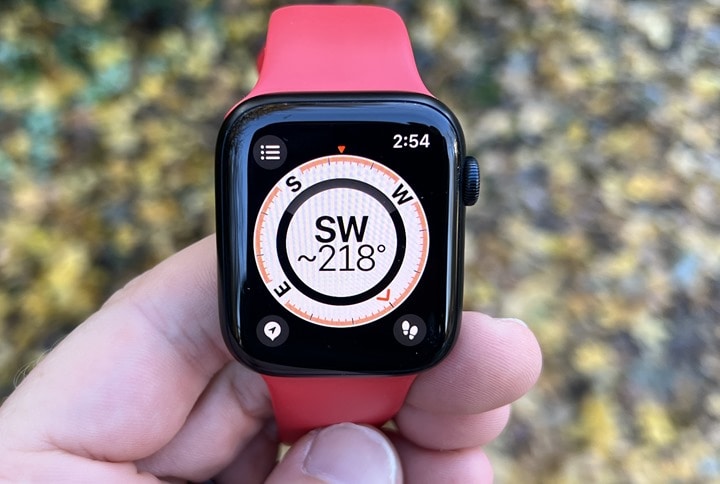 Looking more closely at waypoints, you'll notice you can save your current location, give that location a name, and even save it with a unique color or icon. While the color part isn't an extraordinary idea or concept, it just makes things so much cleaner and easily identifiable on the watch, much more so than their competitors. It all comes down to the little things.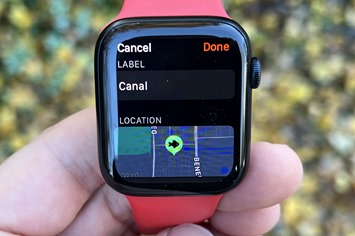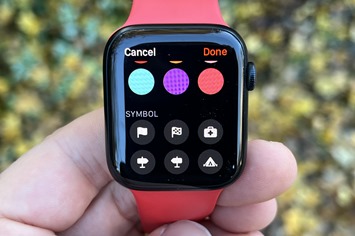 Also in the Compass app, I mentioned the new backtrack feature. This is a feature that records a breadcrumb trail of where you have been, as well as displays nearby waypoints that you've previously saved. The breadcrumb recording doesn't actually start when you start a workout. It's a little complicated, so stick with me. You can either manually start the backtrack feature, or the watch will do the deciding for you. In that, I mean when it detects a loss of cellular signal or lower density of nearby WiFi signals (and no, yours doesn't count). In other words, the Apple Watch is silently judging you, and will start recording the breadcrumbs when it thinks you're going somewhere you're not supposed to, or someplace you're going to need a little support getting out of. Sometimes we all need a friend like that.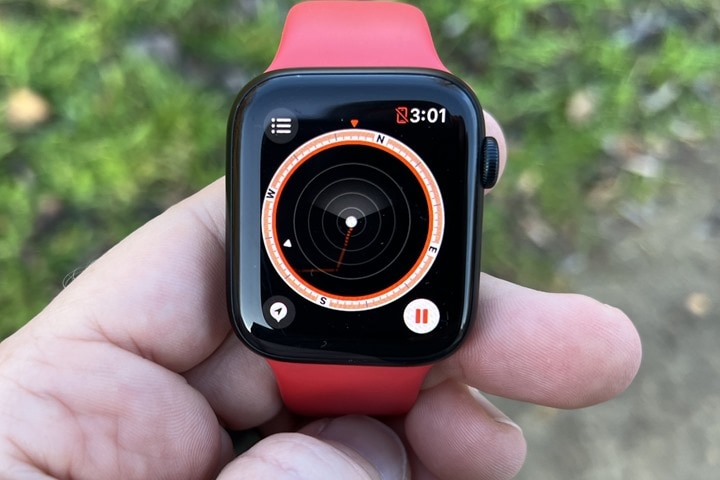 If the backtrack has been triggered and has started recording breadcrumbs, it will plot those data points about every 2 minutes (though, I've seen it plotting these points a heck of a lot higher lately, so I think something might have changed there). Using the two-minute data drops, it's tougher to navigate back. But with what seems like every few seconds now, it's much easier.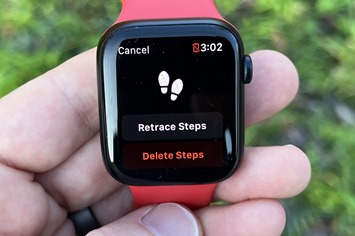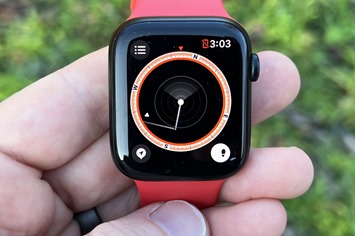 There is also the option to head back to the main compass screen and select a given waypoint from there. This will use the magnetic compass to both give you the distance and point you in the direction of that waypoint. Even if that waypoint is far, far, far away: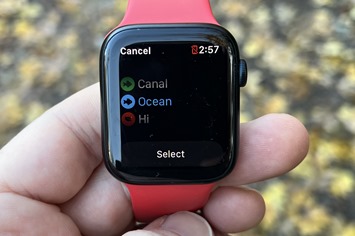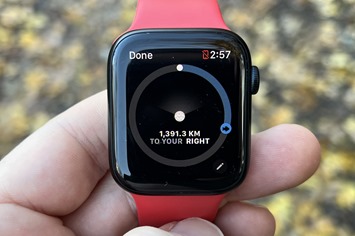 This is obviously a pretty basic function, and I'd personally argue that this feature should be triggered/running in the background anytime you start a workout. That should be a pretty easy change for Apple to make. Next, similarly to the structured workouts, there isn't any API into this feature. So you can't have 3rd party platforms like Strava Routes or Komoot uploading data into it. Again, like structured workouts, there are many apps that also create navigation, but really where's the disadvantage of letting the "known goods" like Strava in.
While this is a good start for Apple, realistically they have a long way to go in order to compete with more well-known outdoor-focused watches. As I said before, at this moment, you cannot pre-load a route at all into the Apple Watch SE or any of the Apple Watch series. However, when I was in California for the Apple launch event, during some conversations, it seemed they understood this limitation. Apple was comfortable in acknowledging those gaps along with the reality that this is just the beginning for them in the world of endurance sports.
Last but not least, let's have a quick chat about battery life. There are two different battery modes for workouts, Regular mode and Low power mode. Here are the details from Apple:
– Regular mode – 18 hours: This includes always-on display, cellular connectivity on, and all features in their normal status
– Low power mode – 36 hours: This includes turning off always-on display, lowering cellular connectivity to once per hour, stopping automatic workout detection, and turning off irregular heart rate notifications
Below you can see that option on your phone (Watch app > Workout), there's a toggle button to simply switch that setting on or off. The first toggle is for the regular low-power mode: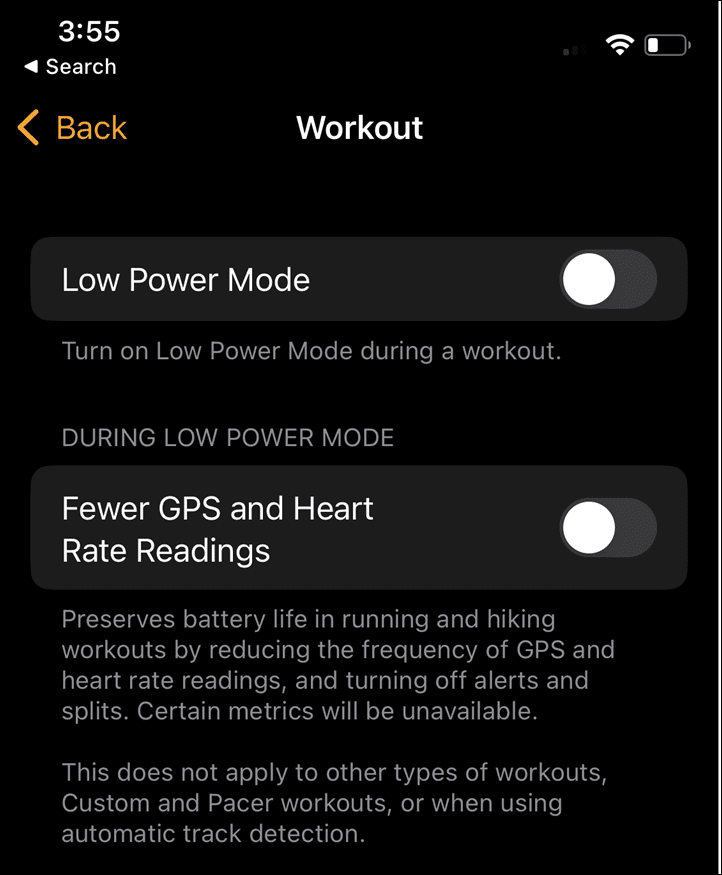 This first low-power mode for workouts doesn't actually reduce fidelity of workout data at this time. Instead, it's mostly focused on other watch things to save battery (always-on-display turned off, cellular reductions to hourly, limits background features, turns off irregular heart rate notifications, etc…). Apple says that in this mode the full workout GPS and HR data fidelity is retained, and all workout metrics/views/details are retained at full fidelity.
However, back in October, Apple released a secondary low-power mode, which does reduce the fidelity of the data significantly, down to basically once per two minutes. It also turns off a boatload of things, including running power and more. I outlined more details of that in this update post here, and it's all the same for the SE too. I wouldn't recommend using that unless things are incredibly dire (but you can't enable it mid-workout anyway). About the only scenario I could think of is if you show up at the starting line of a very straight-line race across the desert and realize you have almost no battery. Then, and only then, might it be useful.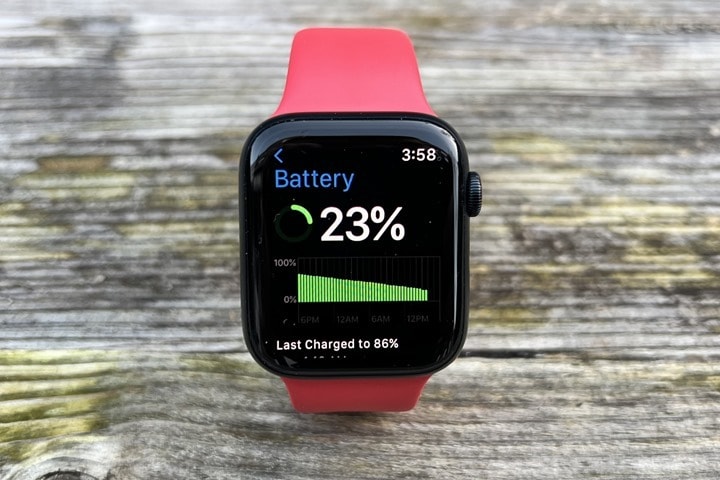 And if you're looking to get your data up to various platforms, there are a few options handy for you. The big guns like Strava and TrainingPeaks have their own apps that will easily pull your workout data through the settings menu. Other platforms, at this point, lack intergrated connectivity and do require a 3rd party app. For me, I primarily use the HealthFit app to do all my workout syncing. HealthFit is my general go-to for exporting workout data to 3rd party platforms (as is for most reviewers). As an added bonus, the app also supports the new running power and efficiency metrics.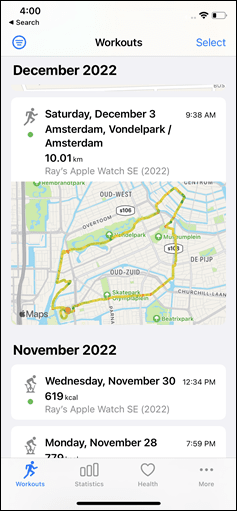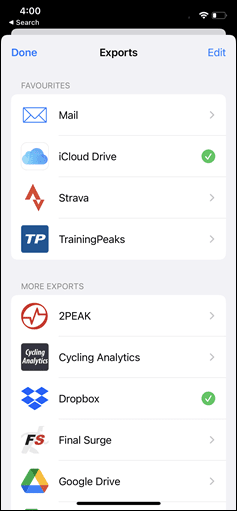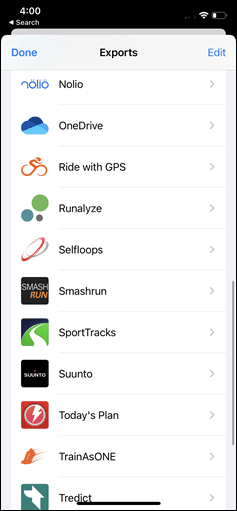 HealthFit is just an example of one of the many 3rd party apps syncing the workout data, RunGap being another popular one. Apple Watch and iOS are such massive platforms with tons of apps, so as you can imagine there are many other options out there as well. For me, I just like HealthFit, as its been a reliable work horse over the years.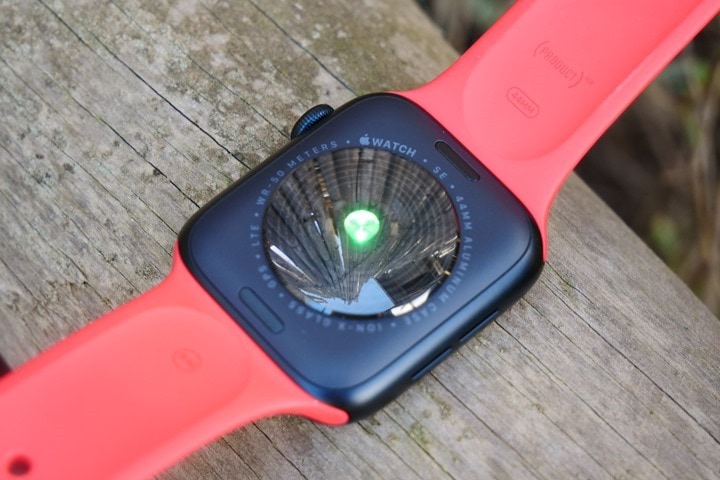 Here in this section I'm going to take a look at the accuracy of the optical sensor, and also the accuracy of the GPS/GNSS. As in the years past, the optical heart rate sensor preforms quite well. Since the sensor itself is the same as the Apple Watches have been over the past two years, I knew that it would. On the GPS side, the Apple Watch SE does not have the multi-band/dual frequency sensor that the new Apple Watch Ultra series has. However, the watch no longer utilizes your phone's GPS connection like it did in the past. That is, if you had your phone near-by in the past, the watch piggy backed on that. But if you had just the watch, its internal GPS would have kicked in.
For all the testing below (and in general), I have multiple other recording devices and sensors. As always, for best testing practices, no two watches are on the same wrist so as to not interfere with each other. Extra watches are either worn elsewhere on the body (like a running pack) or bike (handlebars), or sometimes hand-carried. Those watches not on the wrist are collecting heart rate data from connected HR sensors/straps.
Since I've been testing this for more than 3 months now, I'm going to include a range of random workouts across these three months.
First up, let's start with a reasonably straightforward indoor workout on a trainer. I say straightforward in that it was a series of intervals, but for the most part watches don't have too many issues with optical HR inside (it's outside that's trickier):



You can see the above where I've got the Apple Watch Series 8, SE (2nd Gen), Garmin HRM-PRO Plus, and Whoop 4.0 band. In this case, both Apple Watch units were spot-on with the chest HR strap. The Whoop was fine, but lagged a little bit as it usually does (it was worn on an armband).
So, I then went outside and did a somewhat steady-state run, with some 200m sprints tossed in. As you can see, things were basically spot-on here, minus a single blip with the SE early on in the workout. Specifically, it didn't seem to find HR lock at the beginning, and then did a random spike for a few seconds. This is one of the challenges with the inability of Apple's workout app to ensure HR/GPS lock prior to the workout start. The new Apple Watch Ultra actually solves this problem by allowing you to get lock before you start, but that isn't available on the SE/8 units. After that point though, the HR was spot-on, including in the 200m sprints.



So, looking then at the GPS track, this is mostly a straightforward route, though I ran it through the forest instead to make it slightly more difficult.



And while both Apple watches were pretty good and matched the Garmin unit (and more importantly, my actual path), you can see this moment during one of the sprints where the Series 8 unit actually went all wonky into the trees by about 50m or so…twice. I'm not sure what to make of this, meanwhile, the SE nailed this. I haven't seen this again since September, so…that's good.



Next, we've got a short interval run from last night. You can see here all is well on the start and through each of the intervals from both Apple Watches.



GPS-wise, this should have been about the easiest possible thing to get right. It was directly out/back along an ocean road with virtually no tree cover. But sometimes, easy routes expose flaws, such as the inability to precisely lay down the same track going out and back. But that wasn't the case here, both Apple Watches had no problems matching the track of the multi-band Garmin Forerunner 955.



Now, I did notice an interesting quirk though – which is running cadence. Check out the below graph, and notice how the Garmin unit shows the sharp changes in running cadence. This is correct, because I'm running an interval, and then I immediately walked the recovery for 100m. However, the Apple Watches significantly over-smooths that data, which isn't correct. I suspect this may contribute to the way Apple isn't doing running power while walking.


Speaking of which, I've previously done a deep dive into Apple WatchOS9 running power and how it compares to COROS, Garmin, Polar, and Stryd. And realistically, nothing changes here. As before, Apple's running power is in the ballpark of Stryd/COROS, whereas Garmin sits on the higher end, and Polar is about in the middle. Remember, there are no standards for running power, and each company measures slightly different things. So while they trend in the same directions, they aren't measuring the same things.
Here's an example from last night, showing the green of the Garmin HRM-PRO Plus strap-based running power, versus the two Apple Watches. I suspect any slight Apple Watch differences you see here are probably from taking a few photos/videos while running (since then I'm holding my wrist up). I'll be diving deeper into Apple's running power as part of my Apple Watch Ultra edition down the road (though, it's all the same software).



And for fun, another set of power data from the workout I'll highlight next (sorry, the colors have changed). In this case, there were no walking sections, so we don't see those gaps at all. However, the offsets remain the same here (this time with COROS also added in).



Now we're gonna kick it up a notch with a combo dish involving a challenging GPS run into the tall buildings, as well as an interval workout. Why not do a twofer? First up, for this route I start off in relatively easy conditions with light tree cover. Then it gets more complex as I pass under some massive highway/train overpasses, which last over 100m in length of coverage.  A bit later I then do sweeps up and down the streets of the business district, with tall buildings (20-30 stories) separated only by either a single or two-lane road. In this case it's comparing the Apple Watch Ultra (multi-band) on one wrist, to the Apple Watch SE (2nd gen) on the other, and then also in each hand I've got either a Garmin Forerunner 955 (multi-band) or a COROS Vertix 2 (multi-band). Here's the data set, and the overview: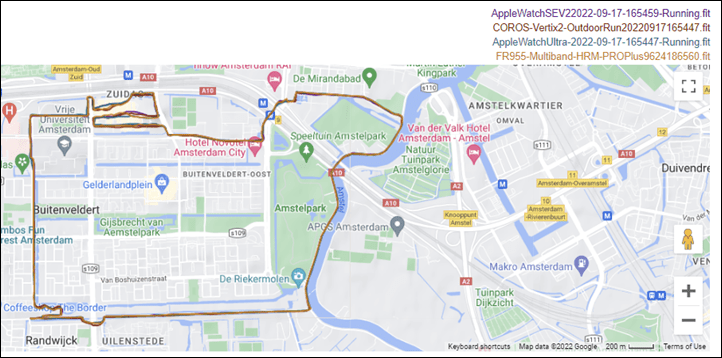 First, starting off with the 'easy' section, this is a tree-lined path, in general most modern GPS units almost seem to snap to the track. Here we see it does that – all is well.



And going around a sharp 90° turn I didn't see any Apple Watch Mario Karting, instead, a nice crispy track.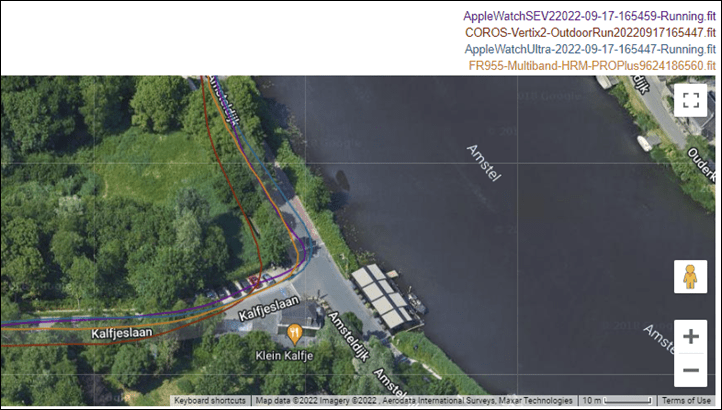 So, let's kick it up a notch and head to the downtown building district. This has three sweeps that I do, or rather, three streets' worth.



Zooming in, if we see the two lower passes, the lowest pass below all units do OK-enough. Some issues, but nothing crazy. However, the middle pass (upper pass on the below image), you can see the Apple Watch Ultra easily outperforms the others. Not to say it's perfect (it isn't), but it's the best of the bunch in this situation.



Then we've got the last – and most difficult – pass. This section threw everyone for a loop. You can see the road in between the two sets of tracks. In this case the two Apple Watch units (Ultra and SE) plotted surprisingly similar tracks (despite being on opposite wrists). While the Garmin and COROS units plotted entirely different tracks. None of the watches were correct.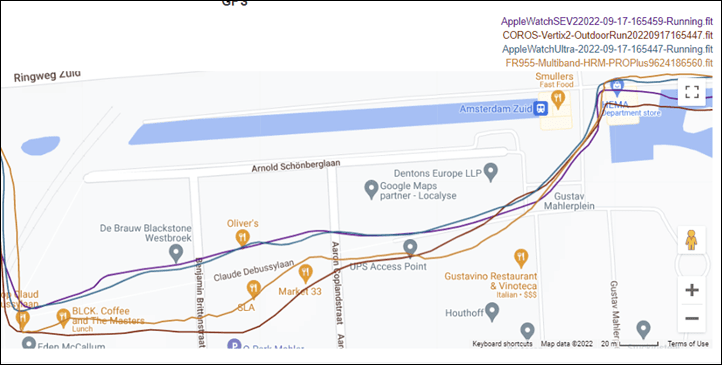 Next, switching up again with more buildings, this time over to New York City – against a slate of also-new watches, the COROS APEX 2 Pro, the Polar Ignite 3, and the Garmin MARQ Athlete (2nd Gen). All of these watches have multi-band/dual-frequency options, yet, the Apple Watch SE (2nd gen), doesn't. So, how'd it handle?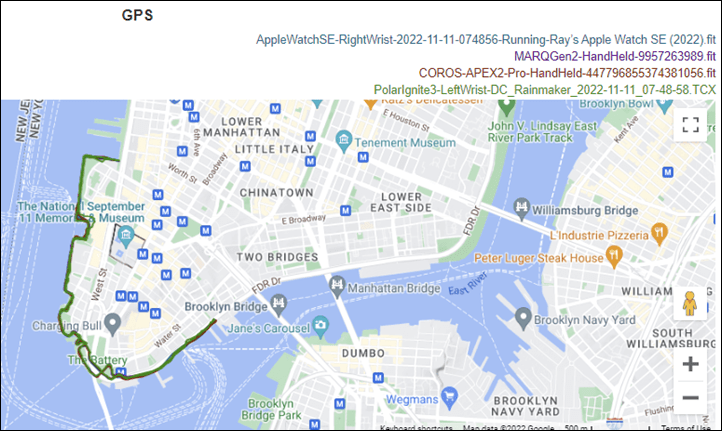 Well, basically better than the Polar & COROS multi-band units. And seemingly a wash between Garmin's $2,000 MARQ Athlete watch.
Starting out along/under a highway overpass, you see all but the Polar are on-point. The Polar Ignite 3 is struggling, though the Apple Watch SE does seem slightly offset towards the left side of this image. Nowhere near the Polar, but just a smidge outside.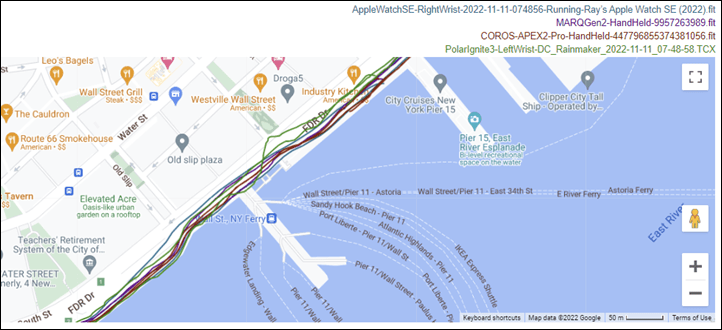 As I try and untangle myself through the umpteen closed sections in the park, it's only the Polar that struggles – and is always offset from everyone. There are some slight differences (note, this is now more zoomed in than above), where the units are a few meters apart. Which, seems acceptable.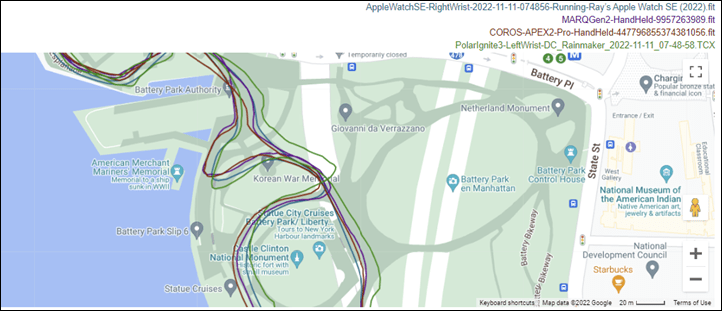 Same story here, three out of four watches agree. One does not.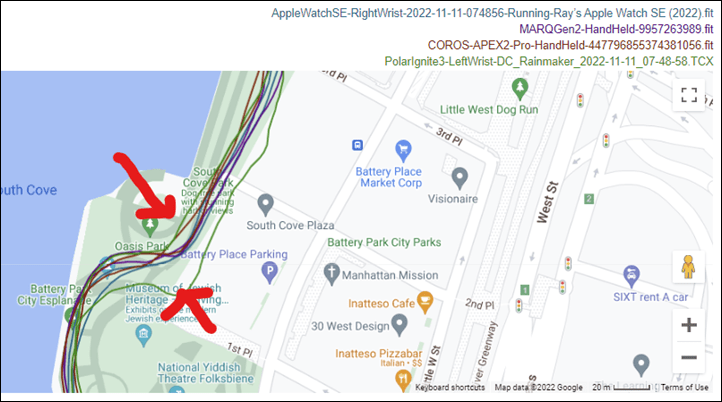 And here, one of the more challenging super-tall building sections, again, the Apple Watch SE holds its own and is near identical to the Garmin and COROS watches. The Garmin does it slightly better, avoiding going into the water like the COROS and Polar did. Also, note on the below that I took two slightly different paths near that upper red arrow (out and back). However, one path I didn't take was going a block away through buildings (as the Ignite 3 indicates).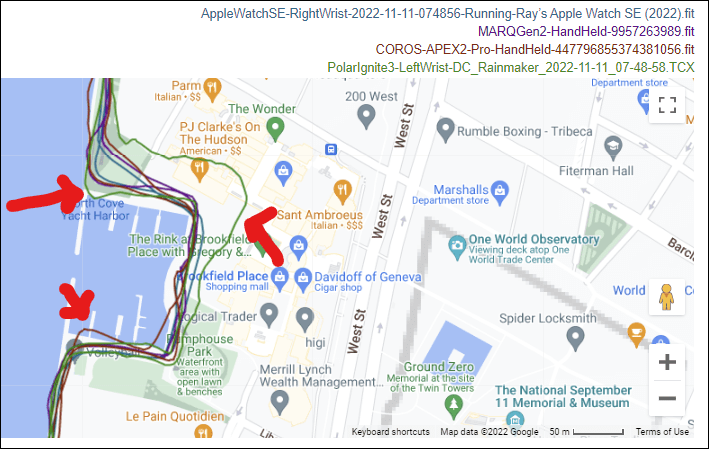 And finally, I'll wrap-up with giving you the most boring heart rate chart of this section, showing all these units identical. Albeit, in this case it was really just the Apple Watch SE (optical) vs Polar Ignite 3 (optical) vs HRM-PRO Plus chest strap. Still, point remains, it's boringly perfect.



Ultimately, in many ways from a GPS accuracy standpoint we see the same pattern on the Apple Watch SE (2022) as we do on Garmin's 2022 not-multiband units (e.g. a Fenix 7 non-Sapphire), which is that Apple is probably leveraging the same chipset across both, with just slightly different antenna designs that don't facilitate multiband. As a result, just like with Garmin, we see almost identical performance to the higher-end multiband chipsets in 95% of the situations. It's only at the absolute pinnacle of environmental messiness do we manage to separate things out. However, in doing so, we also see that merely stamping multi-band on the side of a box doesn't always equate to amazing GNSS performance (as evidenced by the Polar Ignite 3 and COROS APEX 2 Pro, both of which have it).
As far as heart rate performance goes, it's the same story as the Series 8 and Ultra: Solid. Just as it's been for a number of years. Apple continues to be one of the leaders in optical HR accuracy on their watches, and the SE 2nd gen is no different.
(Note: All of the charts in these accuracy sections were created using the DCR Analyzer tool.  It allows you to compare power meters/trainers, heart rate, cadence, speed/pace, GPS tracks, and plenty more. You can use it as well for your own gadget comparisons, more details here.)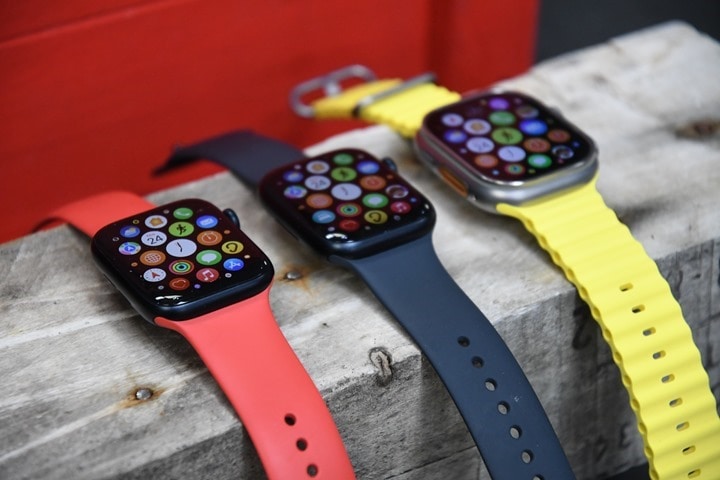 At a time when almost every other company is raising prices on their watches, Apple actually went the other direction: They reduced the price of the newest Apple Watch SE edition (from $279 to $249). Granted, this model does officially replace what was Apple's annual "budget" option: The Apple Watch Series 3, which was previously solidly sub-$200. Nonetheless, as already seen, the SE (2022) sits at $219 in real-world pricing.
However, more important than the price is simply the features. Nobody else in the market has as many features in a watch as Apple does at this price point. At least, smartwatch features. However, with WatchOS9, it got a massive sports watch boost. To the point where it's now just as capable of a triathlon watch as any beginner triathlete would need. Or for that matter, even many experienced triathletes. Same goes for running, having structured workout and even running power, is a clear statement to the rest of the industry.
Still, there are plenty of quirky gaps. The removal of the ability to configure sport watch data pages from your phone is inconsistent with the direction of software development on Planet Earth. Same goes for the inability to create those structured workouts on your phone, instead having to painstakingly create them one by one on the tiny screen with a tiny user interface of the watch. And that also ignores some clear bugs within the sleep metrics platform, as I continue to see. I simply cannot be "in bed" for hours while I'm still pedaling my bike, or driving a car.
Nonetheless, as a whole, the Apple Watch SE (2022) is one of the best bargains out there, especially being a new watch. Sure, it doesn't have the always on display, but it hasn't really matter a ton to me. It's been on my wrist for waaaay longer than I thought it would take to finish writing this review, and because Apple's wrist raise/gesture recognition algorithm is so good, the lack of always-on hasn't bothered me much. Point being, I'd have no problems continuing to wear this model versus any other Apple Watch model.
With that – thanks for reading!
Found This Post Useful? Support The Site!
Hopefully you found this review useful. At the end of the day, I'm an athlete just like you looking for the most detail possible on a new purchase – so my review is written from the standpoint of how I used the device. The reviews generally take a lot of hours to put together, so it's a fair bit of work (and labor of love). As you probably noticed by looking below, I also take time to answer all the questions posted in the comments – and there's quite a bit of detail in there as well.
If you're shopping for the Apple Watch SE (2022) or any other accessory items, please consider using the affiliate links below! As an Amazon Associate I earn from qualifying purchases. It doesn't cost you anything extra, but your purchases help support this website a lot. Even more, if you shop with TPC (The Pro's Closet), you'll save $40 on purchases over $200 with coupon code DCRAIN40! The Pro's Closet has been a long-time partner of the site here – including sponsoring videos like my cargo bike race, as well as just being an awesome Colorado-based company full of good humans. Check them out with the links below and the DCRAIN40 coupon!
And of course – you can always sign-up to be a DCR Supporter! That gets you an ad-free DCR, access to the DCR Quarantine Corner video series packed with behind the scenes tidbits…and it also makes you awesome. And being awesome is what it's all about!
Thanks for reading! And as always, feel free to post comments or questions in the comments section below, I'll be happy to try and answer them as quickly as possible. And lastly, if you felt this review was useful – I always appreciate feedback in the comments below. Thanks!
Hopefully you found this review useful. At the end of the day, I'm an athlete just like you looking for the most detail possible on a new purchase – so my review is written from the standpoint of how I used the device. The reviews generally take a lot of hours to put together, so it's a fair bit of work (and labor of love). As you probably noticed by looking below, I also take time to answer all the questions posted in the comments – and there's quite a bit of detail in there as well.
If you're shopping for the Apple Watch SE (2022) or any other accessory items, please consider using the affiliate links below! As an Amazon Associate I earn from qualifying purchases. It doesn't cost you anything extra, but your purchases help support this website a lot. Even more, if you shop with TPC (The Pro's Closet), you'll save $40 on purchases over $200 with coupon code DCRAIN40! The Pro's Closet has been a long-time partner of the site here – including sponsoring videos like my cargo bike race, as well as just being an awesome Colorado-based company full of good humans. Check them out with the links below and the DCRAIN40 coupon!
And of course – you can always sign-up to be a DCR Supporter! That gets you an ad-free DCR, access to the DCR Quarantine Corner video series packed with behind the scenes tidbits…and it also makes you awesome. And being awesome is what it's all about!
Thanks for reading! And as always, feel free to post comments or questions in the comments section below, I'll be happy to try and answer them as quickly as possible. And lastly, if you felt this review was useful – I always appreciate feedback in the comments below. Thanks!
Your email address will not be published. Required fields are marked.
If you would like a profile picture, simply register at Gravatar, which works here on DCR and across the web.




Click here to Subscribe without commenting
Add a picture

*
*


Sorry for the off-topic question but the mention about the Always On Display made me curious: on models with AOD can it be disabled "globally" but enabled for certain apps like the Workout one?
Hmm, I don't have the Series 8/Ultra in front of me at the second, but I don't know of an option that re-enables the screen for workouts specifically. You can certainly globally disable the always-on on the Series 8, but it's the re-enabling it for Workouts only (automatically) that I don't know of offhand.
Thanks for answering! Will try it myself when it stop raining in Northwest Spain (so May, probably 😅)
I was hoping for the same thing. Had to settle for setting up a shortcut for always on display and added it as a complication on a watch face. Now when I want to start a workout I hit the complication for AOD shortcut then the action button to start the workout. Not ideal but simple enough
Have you a guide about how to do this configuration online that you can link?
I made a shortcut that turns on the always on display and turns off silent mode, and one that does the opposite. I run it just before a workout from a button on a secondary watch face.
I had the same desire and couldn't find it. I like how the watch announces when I am above or below my target heart rate, and how it announces splits and split paces.
Have you noticed any quirks with how "Split Pace" is reflected in WatchOS 9? I've seen a mismatch where it will often take the full split/mile for the watch to show the real "Split Pace" for any given mile. It makes it tricky for executing workouts!
Hmm, I haven't noticed that, though, I mostly use KM on the watch. Or, I've got it configured differently enough it hasn't caught my eye.
I have a feeling that the HR monitor in my Series 4 has improved compared to where it was in its first year or two. I used to need a heart rate strap for running, and I don't anymore. Battery capacity has declined to 75%.
"… and because Apple's wrist raise/gesture recognition algorithm is so good, the lack of always-on hasn't bothered me much."
Maybe I'll upgrade next year!
There were some HR sensor changes in the Series 4/5 realm, but I'd have to go back and do some digging to remember exactly where those were.
Thanks, Ray! How would you compare this to the 1st gen SE? I see some significant discounts for 1st gen and trying to decide how much of a price difference is worth going with slightly older tech (and shorter update lifespan)
Honestly virtually no difference day-to-day. I actually used the SE V1 much of the summer on WatchOS9 till SE V2 launch day, and then switched to SE V2. And you can't really notice a difference.
I'd likely wait at this point, unless you were going to Series 8 for the various hardware updates (or Ultra).
Since you wrote this:
"– Series 8 has fast charging"
twice, does it mean that it actually has "double-fast-charging"? 😀
Only if you put a charger on top and bottom, like two burger buns.
Thanks!
Hi Ray-
Regarding the sleep tracking issues, is there any chance you are forgetting to press and hold the digital crown button to turn off sleep mode AND swiping into Control Center to tap and turn off Sleep mode?
I'm guessing no but I occasionally forget the second step and realize this an hour or so after I've been up and about.
Really appreciate the thorough review! I'm still using my Series 4 and have thought about purchasing a new SE to replace it. I think the only feature the SE lacks is the ECG but I'd get faster performance, more storage, a fresh battery, better BT and support for many more years of updates. Sound right?
Thanks!
I have it automatically setup. Earlier on I thought that might be the case (since it was manualinitially), but for the past few months it's automatic.
Would be interesting to see it compete against an old Applewatch 4 (which has the same OS version)
Is there that much improvement in gps and heartrate accuracy, but most important, how did the battery and speed of the old watch hold over the years.
It may hive some indication of the durability of the device.
(Same goes for other brand devices, off course.)
I would love a review of the track features released in 9.2 today. Maybe on your next trip to the US we could get a video?
"Keep in mind, the WatchOS 9 features can be updated back to even the Apple Watch Series 5"
Series 4 you mean? Just update mine to 9.2.
It's actually messy. Yes, WatchOS 9 goes down to Series 4, but not all the new sports/outdoors features do. I'll clarify though.
Quick correction: (probably typo) the SE with LTE is $299 (not 399).
Doh, thanks!
Hi and thank a lot for this website.
For essentialy running and for the same price we can buy and i cant decide :
– Apple Watch SE
– Garmin FR255
– Garmin Fenix 6/6 pro
– for little bit more FR955
Thank for your advise
Hi Tom-
That's a tough one. I think in terms of the most well-rounded option that's also going to be relatively future/update-friendly for a while, it's the FR955. Or, if budget is tighther, the FR255. However, those aren't the same level of 'smartwatch' as an Apple Watch, so you kinda need to decide which realm you want to sway towards (sports/battery vs smarts/deep iOS integration).
Thanks a lot
I'm a Stryd-User and the AW is one of the best choices for this genius piece of tech! But since the cold winter came in here in Germany I have to admit that the AW is no device made for this temperatures. Wearing it atop of the jacket makes it turning off after half an hour event when the battery was fully loaded at the start of the outdoor run. In short: The AW is great but not for rough conditions!
I had that problem with the AW 3. I haven't had it at all (yet) with the AW 7.
Would you swap a Garmin Forerunner 945 LTE for an Apple Watch Series 8 or SE if you do triathlon (short to middle distance) and wear it as an all-day watch?
Think the AW SE (indeed) a very overlooked running watch. I'm currently still using the 1th gen. SE (don't see a reason to upgrade) and use it only as a running watch.
It is pretty accurate from a HR/GPS perspective, has build-in music that works flawless with airpods and does full blown mapping with a 7USD app. There are not a lot of watches for that price that can do this.
Next to that it is pretty lightweight so comfortable during excersize and the display is really clear and crisp.
The only downside is the battery but again… Using it as a running watch only means you easily can do a 5~6hr + run on a full charge which will be sufficient for most. I'm just charging it after the run and turn it off again.
If you are not interested in a sportswatch that you will wear 24/7 this is also a pretty solid option… Just don't think a lot of people will use an AW like this.
Quick addition to above:
I'm usually "burning" 20% battery in one hour of running with offline music streaming and workoutdoors. Roughly 10% without music. Both without phone connection so GPS via the watch. Typically that means between two and four runs out of one charge. Not trying so sell the AW here but again, do think this is a viable option if you are looking for a capable running watch you won't use 24/7 and has real-life usable features. Also knowing Apple it will be supported for a long time incl. receiving new features down the road.
Hope this is helpful for someone.
Do you still need an IPhone to properly use this watch? Kind of an important Information for the Android crowd. Maybe i missed it, but it should be mentioned in the Wrap up.
Iphone totally needed. Not even an iPad will do it
It was clearly mentioned in the wrap-up… iPhone required.
I didn't realize the SE had Afib warnings—I thought that was part of the ECG app restricted to the numbered watch models (6,7,8, etc) and that was a major thing that had me wanting the more expensive version vs. the SE. So this watch still does irregular heartrate/afib warnings, but simply lacks the ability to record a detailed ECG that you could theoretically give to your doctor?
Would you recommend this watch over the Venu 2?
It really depends on what you want out of it. The Apple Watch is great if you're primarily skewing towards a smarter smartwatch, that has things like native voice and text integration (including cellular capabilities), or just better 3rd party apps. Basically, the Apple ecosystem is super strong there – and tends to be Garmin's weak spots.
Whereas the Garmin side is better if you want a stronger sport/fitness ecosystem. While Apple is improving their fitness/sports realm, the depth on Garmin is far far far deeper in terms of those things. Everything from structured workouts to sending a course to a watch, all things the watch does natively.
Hi Ray, thanks for excellent review (as always).
I have one question. Quote from the review: "However, the watch no longer utilizes your phone's GPS connection like it did in the past.".
Does this also apply to the older AW models (SE 1st gen, / AW 7)? I mean if this a software change in watchOS 9 or does it also require one of the new AW models? Thanks!
No, only applies to the 2022 models (Series 8, SE Gen 2, and Ultra).
Ray, thank you for the quick response. I really appreciate it!
Garmin 255 or Apple Watch SE for a regular swimmer (swimming pool)?. I want a watch to stay active and track my workouts/sleep. I am into the Apple ecosystem but if Garmin is better I will go with it. I found out 3rd party apps in the Apple Watch interesting such as Athlytic but maybe it is just going to be better to have those recovery metrics/body battery out of the box with a Garmin.
On the topic of GPS and the prior version using the phone's GPS, and your quote: " but now the watch is entirely self-supporting in all scenarios." – can I please confirm for accuracy?
1) If you have your phone and watch, and the watch hasn't locked onto GPS, it won't do something wacky like start preferring the phone's GPS?
2) Even in low-power mode, the watch will prefer its own GPS?
3) Under no circumstances will the watch borrow the phone's GPS during a run?
This is actually my preference – run tracking with only my phone has been anecdotally inaccurate, so I don't want it to borrow my phone's GPS info, but I don't want to have to fiddle with disconnecting the bluetooth pairing during runs. I'm seeing varying info online but people may be talking about the first gen SE.
What are one's options to keep using Garmin Connect platform after switching to an Apple Watch, please? And thank you for the review.
None
does it cost me or apart from running and cycling any of the other sports modes are very similar?
For example, in football/soccer, there are data for calories, active calories and AHR. Not even steps… on strength training I expected to count sets and lifts.. no. Indoor bike.. same. Only pictures of the sports modes are different
Hello,
Can Apple Watch SE broadcast HR to Garmin Edge?
Cycling is my primary sport and I would like to replace HR chest belt with a smartwatch. Is apple watch suitable for the purpose?
Or is it better to stick with Garmin ecosystem?
So, Garmin Venu SQ, Venu, Vivoactive, Vivomove or Apple Watch SE 2?
Sport/fitness is a priority, but smart features are very welcomed bonus.
I wouldn't use any watch to record my rides except in the case of Garmin Edge failure, empty battery etc.
But general health and fitness tracking is actually the reason to buy a smartwatch.
Thanks!
Not natively. There are apps that claim to be able to do it, but I've never been able to make any of them work with an Edge or Fenix (my AW is currently an Ultra, previously 0, 3, 5, and 7). If you don't want a chest belt, your best bet might be to get a dedicated optical HR arm band (I have the Scosche Rhythm 24). Otherwise, most if not all Garmin watches can broadcast HR, but for cycling wrist based HR is often problematic because of the way your wrist bends on a bike.
Hi Paul,
Thanks for a quick reply!
Actually, not that I don't want chest belt, I am using it many years. No problem there. I just thought if I am going to have a smartwatch I am not going to need a chest belt anymore. It is one more element, needs to take care of it (stinks), replace batteries etc. It is not very annoying, bit if I don't need one….
So, Apple Watch is then not an option for connecting to Garmin Edge to broadcast HR.
Then, some of Garmin watches, but which one!? That's now question for me to decide. Although any suggestion is welcomed.
I've done it with my Fenix 5+. I went on a car trip once carrying a bike + equipment only to realize that I hadn't remembered my chest strap when I got there. Since I took the 5+ as well I pressed the 5+ into service as an HR monitor. With the 5+, I don't think it's broadcasting HR all of the time, but you can certainly put it into broadcast mode. You should check Ray's reviews for the Garmin watches to see if/how it's done. Some of them broadcast all the time as I recall.
Personally I use my Garmin HR Pro chest strap when cycling, except for those rare occasions when I forget to put it on while pulling on my cycling gear. Then it's much easier to just slip the Scosche on and use it. The Scosche is usually used for cross country skiing, because when skiing I wear my 5+ over clothing so I can see it, so no wrist HR. Replacing an AW with a Garmin watch isn't a great idea, since the AW is a much better smart watch than any Garmin watch. That is why the Ultra's on my wrist at the moment and was there for this morning's ride, while the 5+ is hanging up in the basement. But I never use the Ultra as a fitness watch.
thanks again.
So, if I understood you correctly, you are suggesting it's better to have AW than Garmin watch, at least in my case. 🙂
I only ride bike seriously (indoor as well) from all sports and I have Edge 530, HR chest strap, powermeter (not important for this matter). So, in any case, I wouldn't use any watch to record my bike rides.
As I wrote, I was thinking to use watch for HR, instead of belt. And to use watch to track general fitness and health.
Perhaps sometimes record some walk, hike, run (I don't run seriously), swim. But that is totally secondary – I do that via Strava on my phone on those are occasions.
Additionally, big minus for Apple Watch is extremely bad battery life. It is annoying to have another device that I need to charge daily, especially if one of the goals is to track sleep.
And small plus for Garmin is possibility to be used as a secondary, reserved bike computer, if Edge is out of order for any reason (empty battery being the most likely).
Exactly why I have the Ultra, which has twice the battery life (at twice the cost). Yes, a high end enough Garmin watch, like the current Fenix or Forerunner, can do (almost) anything an Edge can do, including controlling indoor trainers and connecting with power meters. They don't (yet?) have the new free ride ClimbPro that's found on the 540/840/1040, and I'm not sure any of the watches can control a light network, but most everything else they can do.
Cycling comp capabilities are really completely secondary to me. That's why I have Edge. I see watch as a complimentary device to my Edge and for other things watch can do, measure, record.
So, I got it that AW is better overall smartwatch, has has crappy battery life and it is not so good as complimentary/ backup device for my Edge.
I swim, bike and run. Then, I come here and write about my adventures. It's as simple as that. Most of the time. If you're new around these parts, here's the long version of my story.
You'll support the site, and get ad-free DCR! Plus, you'll be more awesome. Click above for all the details. Oh, and you can sign-up for the newsletter here!
Wanna save some cash and support the site? Use Backcountry.com or Competitive Cyclist with either the coupon code DCRAINMAKER for first time users saving 15% on applicable products.




In the UK/EU/Australia/New Zealand? Then hit up Wiggle at the link below!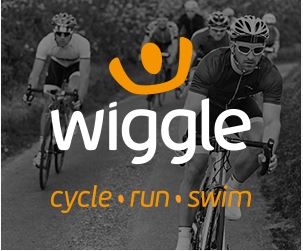 Alternatively, for everything else on the planet, simply buy your goods from Amazon via the link below and I get a tiny bit back as an Amazon Associate. No cost to you, easy as pie!



Want to compare the features of each product, down to the nitty-gritty? No problem, the product comparison data is constantly updated with new products and new features added to old products!
Wanna create comparison chart graphs just like I do for GPS, heart rate, power meters and more? No problem, here's the platform I use – you can too!
Think my written reviews are deep? You should check out my videos. I take things to a whole new level of interactive depth!
Smart Trainers Buyers Guide: Looking at a smart trainer this winter? I cover all the units to buy (and avoid) for indoor training. The good, the bad, and the ugly.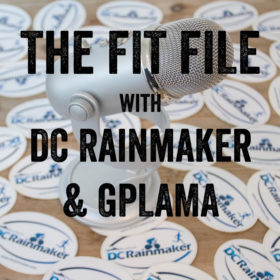 Check out my weekly podcast – with GPLAMA, which is packed with both gadget and non-gadget goodness!
Get all your awesome DC Rainmaker gear here!
I have built an extensive list of my most frequently asked questions. Below are the most popular.
View Them All Here →
You probably stumbled upon here looking for a review of a sports gadget.  If you're trying to decide which unit to buy – check out my in-depth reviews section.  Some reviews are over 60 pages long when printed out, with hundreds of photos!  I aim to leave no stone unturned.
Here's my most recent GPS watch guide here, and cycling GPS computers here. Plus there are smart trainers here, all in these guides cover almost every category of sports gadgets out there.  Looking for the equipment I use day-to-day?  I also just put together my complete 'Gear I Use' equipment list, from swim to bike to run and everything in between (plus a few extra things).  And to compliment that, here's The Girl's (my wife's) list. Enjoy, and thanks for stopping by!
I travel a fair bit, both for work and for fun. Here's a bunch of random trip reports and daily trip-logs that I've put together and posted. I've sorted it all by world geography, in an attempt to make it easy to figure out where I've been.
The most common question I receive outside of the "what's the best GPS watch for me" variant, are photography-esq based. So in efforts to combat the amount of emails I need to sort through on a daily basis, I've complied this "My Photography Gear" post for your curious minds! It's a nice break from the day to day sports-tech talk, and I hope you get something out of it!
Many readers stumble into my website in search of information on the latest and greatest sports tech products. But at the end of the day, you might just be wondering "What does Ray use when not testing new products?". So here is the most up to date list of products I like and fit the bill for me and my training needs best! DC Rainmaker 2021 swim, bike, run, and general gear list. But wait, are you a female and feel like these things might not apply to you? If that's the case (but certainly not saying my choices aren't good for women), and you just want to see a different gear junkies "picks", check out The Girl's Gear Guide too.