Following the turn of the new year, the crypto market has had a strong bullish run, with the market's total cap surging over 37% and exceeding the $1 trillion mark in just five weeks. Cardano (ADA) has been one of the best-performing tokens of the year, recording massive profits weekly as it maintains an upward trajectory.
Since the start of 2023, Cardano has gained by over 65%, moving from $0.24 on January 1, 2023, to its current market price of $0.40 based on data from Tradingview.com. During this period, Cardano's market cap also boosted from $8.63 billion to $13.81 billion, allowing the token to retain its position as the 8th biggest cryptocurrency in the world.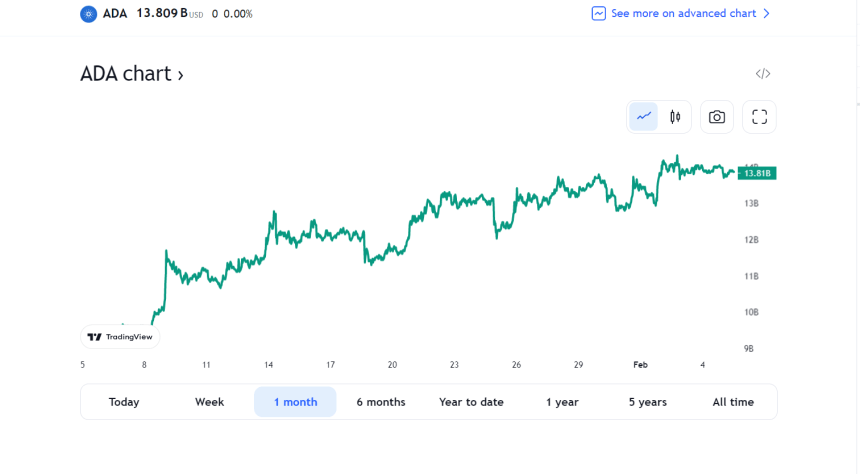 ADA Market Cap at $13.81 | Source: ADA Chart on Tradingview.com.
While many factors have influenced Cardano's rise in the last few weeks, credible on-chain analytics platform Santiment has presented a report explaining recent network transactions driving this price rally.
According to Santiment, there has been an accumulation of $405.85 million worth of ADA by key sharks and whales' wallets since the beginning of the new year. This report indicates that this massive investment in ADA within a short time frame has contributed significantly to the token's price gain in 2023.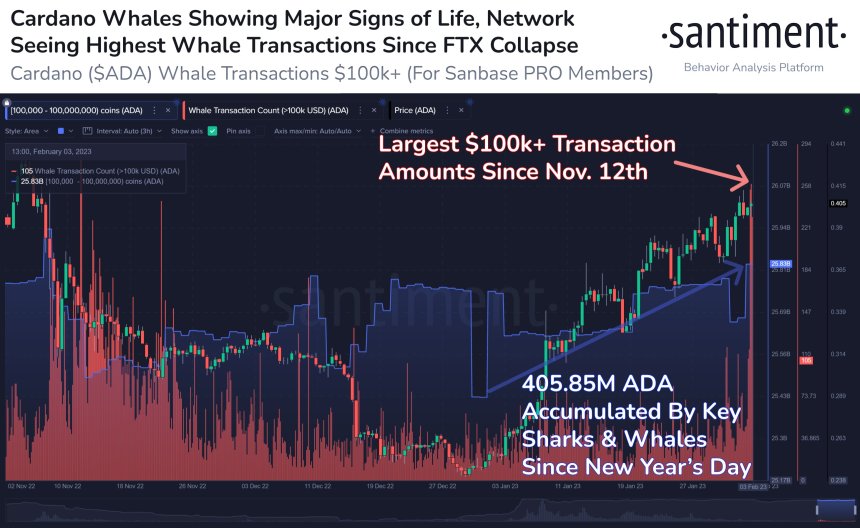 Source: Santiment
Concerning these transactions, Santiment also reported yesterday that ADA recorded its biggest daily amount of $100k+ transactions since November 12, 2022. Historically, such spike in whale transactions usually precedes massive price shifts. Thus, Cardano is one token that investors should watch closely in the coming days, alongside other coins with similar transaction histories like Shiba Inu and Hex. 
Of course, other factors have driven ADA's price aside from these whale transactions. For example, the Total Value Locked of the Cardano DeFi ecosystem has surged by over 100% in 2023 based on data from DeFiilama. The Cardano DeFi space is currently valued at $102.79, the highest value since August 2022. 
In addition, there has been much excitement within the Cardano user community after Cardano Founder, Charles Hoskinson, announced on January 8, 2023, the opening of his hospital – "Hoskinson Health & Wellness Clinic" – which will offer patients the option of paying ADA tokens for medical services.
Per price prediction from BitNation, ADA is expected to reach a peak price of $0.72 in 2023. Their forecasts also stated that the expected average and minimum market prices of ADA for the year are $0.69 and $0.48, respectively
DigitalCoinPrice, another popular prediction site, also projects ADA to trend upward in 2023. Based on their projections, Cardano could trade as high as $0.88, representing a plausible 120% gain on the current market price.
That said, note that these price predictions should not be relied on in making investment decisions. All investors are admonished to do their due diligence, considering all risk factors that affect the crypto market. 
Semilore Faleti is a cryptocurrency writer and analyst that works for NewsBTC, providing insights into the latest developments in the cryptocurrency world. With articles featured in other prominent publications such as Coinmash and Bitcoinist, Semilore has a known passion for covering the growing impact of blockchain technology in the global financial world. Beyond his professional work, Semilore has a deep interest in music and politics. He enjoys discovering new artists, attending concerts and music festivals, and closely following global affairs and issues of social justice and equality. You can follow Semilore on Twitter @SemiloreFaleti.
NewsBTC is a cryptocurrency news service that covers bitcoin news today, technical analysis & forecasts for bitcoin price and other altcoins. Here at NewsBTC, we are dedicated to enlightening everyone about bitcoin and other cryptocurrencies.
We cover BTC news related to bitcoin exchanges, bitcoin mining and price forecasts for various cryptocurrencies.
© 2023 NewsBTC. All Rights Reserved.
© 2023 NewsBTC. All Rights Reserved.