The Windows Club
TheWindowsClub covers authentic Windows 11, Windows 10 tips, tutorials, how-to's, features, freeware. Created by Anand Khanse, MVP.
If your Xbox app is not detecting Gaming Services, this post can help you. The Xbox app for Windows allows users to search the catalog, view recommendations, and download high-quality PC games. Users can also connect with their friends by playing and chatting with them. But recently, some users have been complaining about the Xbox app not detecting the gaming services. Fortunately, you can follow some simple steps to fix this.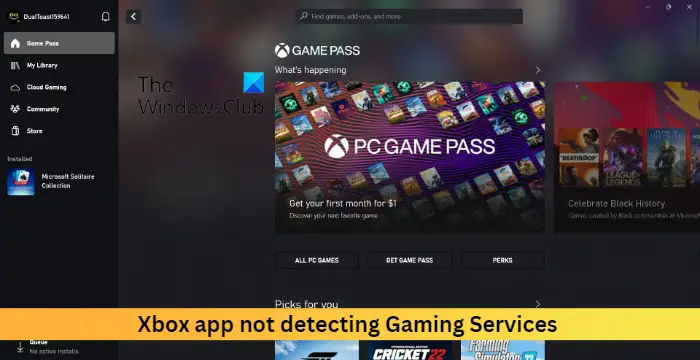 Fix Xbox app not detecting Gaming Services
First, try restarting the app and your PC to fix the Xbox app not detecting gaming services. However, if that doesn't work, you can try the methods mentioned below:
Run Windows Store Apps Troubleshooter
Reset Xbox App
Make Modifications in the Registry Editor
Reinstall Gaming Services
Now let us see these in detail.
1] Run Windows Store Apps Troubleshooter

Running Windows Store apps troubleshooter can diagnose and solve the problem quickly. It is an inbuilt function by Microsoft that automatically scans and fixes minor bugs and errors in Microsoft Store apps. Here's how to run the Windows Store Apps troubleshooter:
Press Windows key + I to open Settings.
Click on System > Troubleshoot > Other Troubleshooters.
Now scroll down and click on Run beside Windows Store Apps.
If any errors are found, Windows will automatically fix them.
2] Reset Xbox App
Try repairing and resetting the faulty app. Doing so will repair the application and reset its settings to their original defaults. Here's how you can do it:
Press Windows key + I to open Settings.
Then click on Apps > Apps & features.
Select the Xbox app and click on Advanced Options.
Scroll down and click on Repair/Reset.
3] Make Modifications in the Registry Editor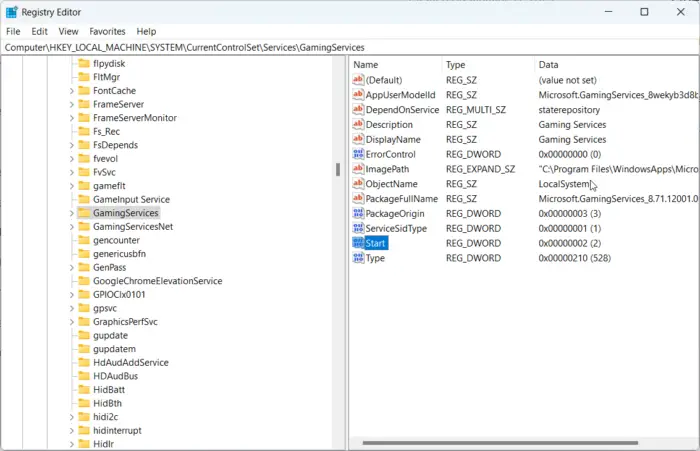 If you're still unable to fix the error, try making some alterations in the Registry Editor. However, before getting started, make sure to create a system restore point. This is because a single error in the registries can make your PC crash. Here's how:
Press the Windows key + R to open the Run dialog box.
Type regedit and hit Enter.
Once the Registry Editor opens, navigate to the following path.

HKEY_LOCAL_MACHINE/SYSTEM/CurrentControlSet/Services/GamingServices

Delete all the keys under it.
Now, navigate to this path and do the same.

HKEY_LOCAL_MACHINE/SYSTEM/CurrentControlSet/Services/GamingServicesNet

Restart your device once done and check if the issue gets fixed.
4] Reinstall Gaming Services
Damaged or corrupted cache data and temp files generated by the gaming services can sometimes cause errors within the Xbox app. In this case, reinstalling the Gaming Services might help. Here is how you can do it:
Press the Start key, search for Windows Powershell and click on Run as Administrator.
Now type in the following command to uninstall Gaming Services completely.

get-appxpackage Microsoft.GamingServices | remove-AppxPackage -allusers

Once the command executes, the Gaming Service is uninstalled; reinstall it again by running the following command:

start ms-windows-store://pdp/?productid=9MWPM2CQNLHN

This command will now redirect you to the Microsoft Store. From here, you can reinstall the Gaming Services.
Once it's installed, restart your device and check if the Xbox error is fixed.
All the best!
Fix: Windows 11 Xbox app not downloading games.
Published on Tags: Xbox
Shubham is a graduate in Information Technology who likes to write about Windows Troubleshooting as well as Gaming Tips. He's always engaged with new tech and gadgets. When not writing, he enjoys reading books, watching movies, and exploring new technologies.
Copyright © 2023 The Windows Club