On-chain data shows that Tether (USDT) sharks and whales have been rapidly growing their holdings since Bitcoin's volatility started.
According to data from the on-chain analytics firm Santiment, these large Tether holders are now carrying a total of $16 billion worth of the stablecoin. The relevant indicator here is the "USDT Supply Distribution," which tells us how the Tether supply is distributed among the various holder groups in the market currently.
Investors or addresses are divided into these holder groups based on the total number of coins that they are holding right now. In the context of the current discussion, the key "shark" and "whale" cohorts are of interest, the combined coin range of which can be defined as $100,000-$10 million.
Naturally, this holder group would include all addresses on the blockchain that are carrying at least $100,000 and at most $10 million worth of USDT in their balances.
Now, here is a chart that shows the trend in the Tether Supply Distribution specifically for the sharks and whales over the last six months: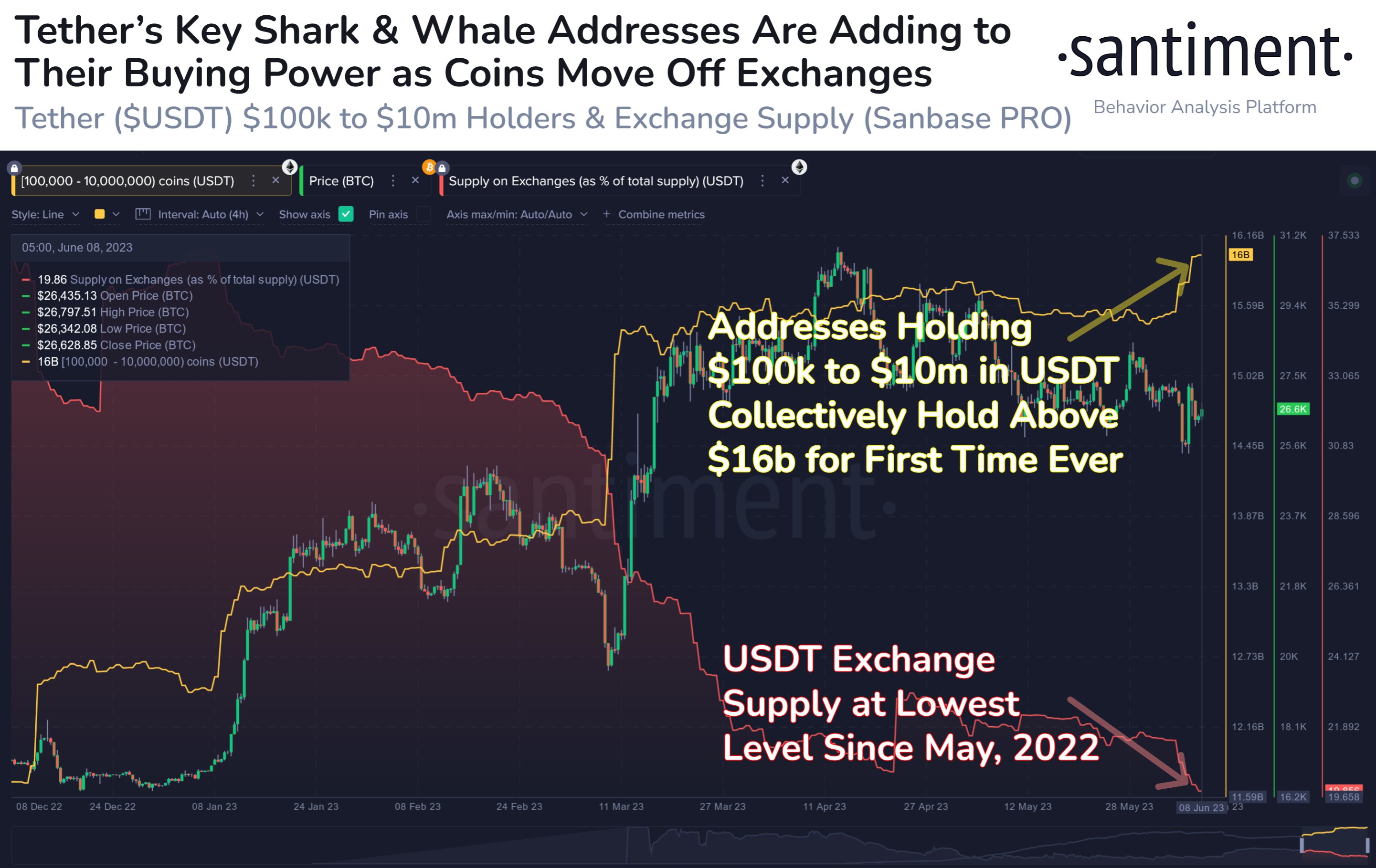 As displayed in the above graph, the Tether addresses holding between $100,000-$10 million have seen their combined supply shoot up recently. Interestingly, this rise has coincided with Bitcoin observing some high volatility due to Binance being sued by the SEC over alleged fraud.
Generally, investors use stablecoins like USDT whenever they want to exit volatile coins like BTC. Thus, investors exchanging their assets for stables can be a sign of selling.
It's possible that the latest rise in the supply of sharks and whales has come because of these humongous holders ditching cryptocurrencies like Bitcoin in these uncertain times.
However, usually, whenever holders opt for stablecoins instead of exiting through fiat or other means, it means that they are possibly looking to eventually return back into the volatile markets.
When such investors finally feel that the prices are right to step back into the other coins, they shift their USDT into their desired asset, thus providing buying pressure on its price.
Because of this reason, the stablecoin supply may be looked at as the available buying power for assets like Bitcoin. As the sharks and whales have loaded up on Tether and have taken their supply to a new all-time high of $16 billion, the potential dry powder for BTC has also gone up.
It's unknown when these humongous holders may finally shift back into the cryptocurrency, but when they do, it's probable that its price would feel a bullish boost.
The data for the exchange supply (that is, the amount sitting in exchange wallets) of Tether is also shown as rising in the chart. It looks like this metric has gone up while the sharks and whales have been buying, implying that the coins exiting from these platforms are being picked up by these cohorts.
At the time of writing, Bitcoin is trading around $26,600, down 2% in the last week.


Kyouma is currently a senior writer at NewsBTC and has been attached to the website since June 14, 2021. Kyouma has been writing for many years, first as a hobbyist and later as a freelancer. He obtained a bachelor's in physics in 2022 and is planning on starting a master's in the same field in the near future. Kyouma is enthusiastic about the cryptocurrency industry and holds an active interest in on-chain analysis. His hobbies include gaming, anime, and football. You can find Kyouma on Twitter at @Kyouma29.
NewsBTC is a cryptocurrency news service that covers bitcoin news today, technical analysis & forecasts for bitcoin price and other altcoins. Here at NewsBTC, we are dedicated to enlightening everyone about bitcoin and other cryptocurrencies.
We cover BTC news related to bitcoin exchanges, bitcoin mining and price forecasts for various cryptocurrencies.
© 2023 NewsBTC. All Rights Reserved.
© 2023 NewsBTC. All Rights Reserved.