Shiba Inu (SHIB) has recently caught the attention of traders and investors as it forms an ascending triangle pattern on the price chart. This technical pattern is characterized by higher lows, converging with a horizontal resistance level. 
The current price of SHIB stands at $0.00000789, experiencing a meager 1% in increase in the last 24 hours and recording a modest seven-day gain of 0.6%, data from CoinGecko shows.
However, the real excitement lies in the potential breakout that could lead to a fresh prolonged recovery for the cryptocurrency from this ascending triangle pattern.



An ascending triangle pattern is a technical chart formation characterized by higher lows and a horizontal resistance line. Traders often interpret this as a potential bullish signal.
As the price approaches the flat resistance line, it indicates that buyers are becoming more aggressive, creating higher lows. This pattern suggests that a breakout to the upside is more likely than a breakdown to the downside.
Currently, Shiba Inu's price is hovering near the neckline of the ascending triangle at $0.00000788. A bullish breakout from this neckline at $0.00000845 could trigger a significant price surge for SHIB. This could set the stage for a fresh and prolonged recovery, potentially enticing more buyers to enter the market.


The optimism surrounding Shiba Inu's potential breakout is further fueled by recent speculation of its involvement in Elon Musk's Twitter rebranding. Musk, known for his influential tweets and interest in cryptocurrencies, has hinted at potential collaborations and projects within the crypto space. The billionaire has recently ditched the iconic Twitter blue bird and replaced it with "X."
With SHIB being a meme-based token that gained popularity partly due to its Shiba Inu dog logo, any association with Musk's plans could attract more attention and buying momentum.
The impact of #SHIB will be felt at
X if Elon will give Shiba INU instead
of FIAT for ad revenues . Imagine the desire of these big mouth digital creator cheering for $SHIB because they also have it ? #SHIBARMY will grow #SHIBARIUM will be used#SHIBARMYSTRONG @elonmusk pic.twitter.com/RzX6TJp1IV
— Lola (@CryptoLollla) July 25, 2023
Should the bullish breakout occur and Shiba Inu's price surpasses the overhead resistance, it could spark a surge in buying momentum. Technical analysis suggests that a successful breakout from the ascending triangle pattern could propel SHIB's price to $0.00001, representing a potential gain of 25% from its current level.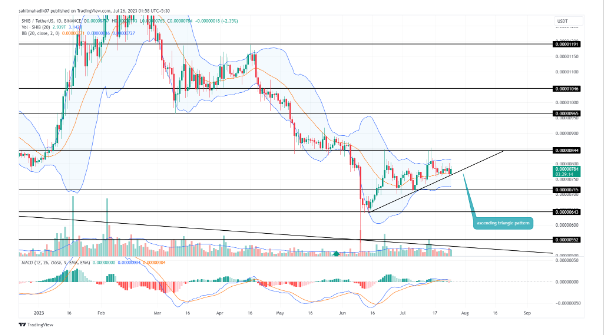 The latest green candlestick on the daily chart of SHIB serves as a testament to the current bullish sentiment. The green candlestick represents a day when the closing price is higher than the opening price, indicating positive price movement.
In conjunction with the ascending triangle pattern, this recent green candlestick adds weight to the potential for a bullish breakout.
(This site's content should not be construed as investment advice. Investing involves risk. When you invest, your capital is subject to risk).
Featured image from iStock
Christian is a former journalist and editor, as well as a layout design consultant, who previously held leadership positions at Sun.Star News Philippines and Ang Peryodiko News, a local daily in Manitoba, Canada. Alongside his passion for writing, he is an avid fan of cryptocurrency and works tirelessly throughout the week. When he's not on his computer, you can find him tinkering with his old motorbike as a grease monkey, or lounging on the patio hammock while pondering about artificial intelligence and whether he'll ever understand his cat's thoughts and calmness.
NewsBTC is a cryptocurrency news service that covers bitcoin news today, technical analysis & forecasts for bitcoin price and other altcoins. Here at NewsBTC, we are dedicated to enlightening everyone about bitcoin and other cryptocurrencies.
We cover BTC news related to bitcoin exchanges, bitcoin mining and price forecasts for various cryptocurrencies.
© 2023 NewsBTC. All Rights Reserved.
© 2023 NewsBTC. All Rights Reserved.