Terra LUNA Classic price had a spectacular performance in August as speculation continued. The LUNC token jumped to a high of $0.00016, which was the highest point since June of this year. It has surged by over 240% from its lowest level this year, giving it a market cap of over $1 billion.
Terra LUNA Classic is the remnant of the original LUNA that collapsed in May of this year. It is an autonomous cryptocurrency that was abandoned by the developers as they shifted to Terra 2.0.
Terra LUNA classic and Terra Classic USD prices have performed well in the past few months as investors buy the dip. The theory is that the coins will ultimately rebound in the coming months.
Analysts also believe that the rally is part of a short-squeeze as buyers attempt to squeeze short-sellers. Short squeezes have become popular in the market recently. For example, we saw shares of Revlon surge after the company announced that it was filing for bankruptcy.
The same situation happened in 2020 when Hertz filed for bankruptcy. At the same time, the situation has happened regularly in the cryptocurrency industry following the collapse of Celsius and Voyager Digital. Therefore, while Terra Luna is a useless cryptocurrency, it is relatively risky for people to short it.
In the long term it is relatively difficult to make a case for both LUNA and LUNC. For one, in the past, the value of LUNA happened because of the strong market activity in its ecosystem which was also helped by Terra USD.
Now, the ecosystem, which was made of platforms like Astroport and Anchor Protocol has disappeared. At the same time, Terra USD, which was supposed to be stable at $1 has dropped to $0.02.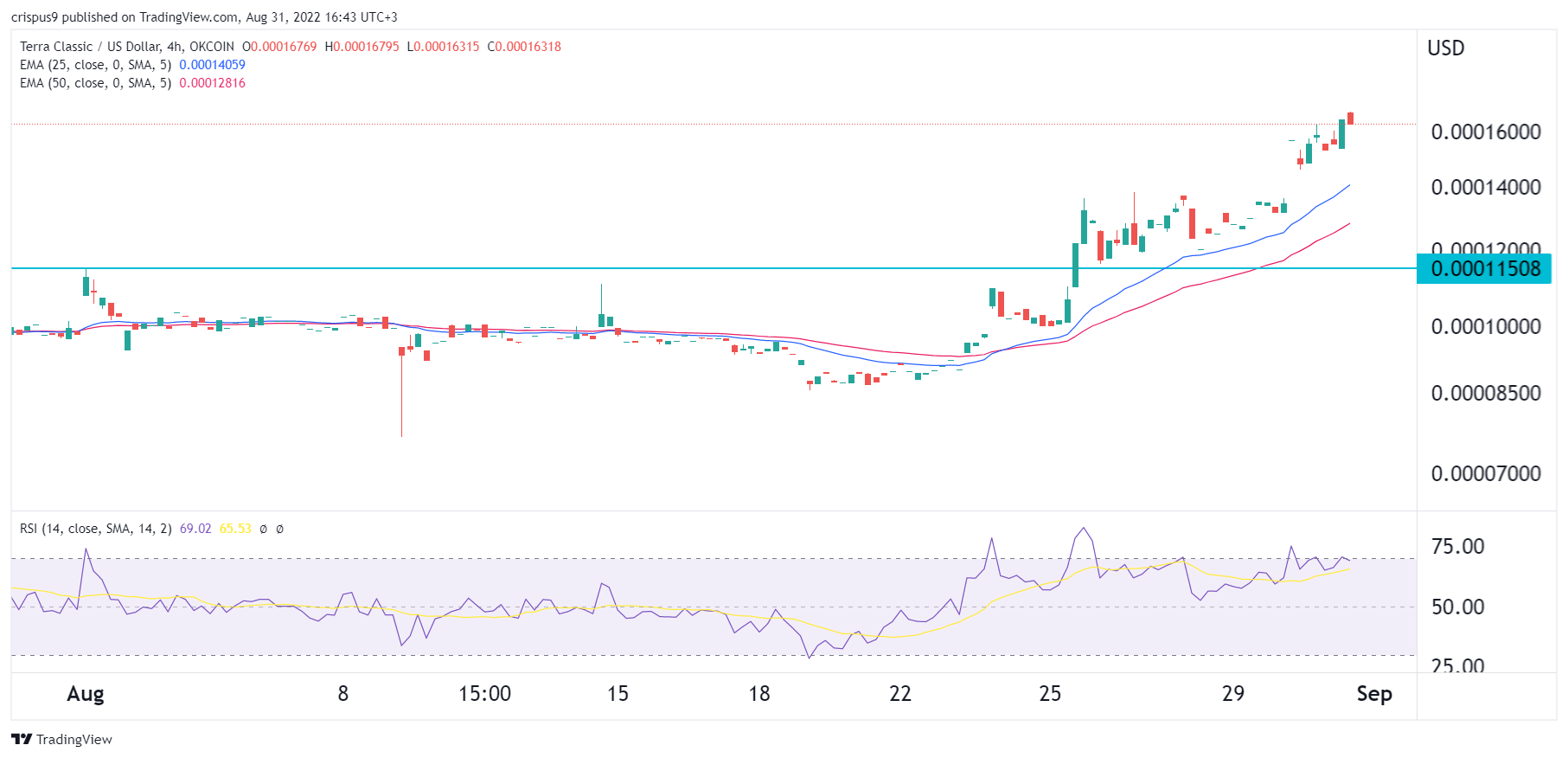 The four-hour chart shows that the LUNC price has been in a strong bullish trend in the past few months. As a result, the coin has managed to move above the important resistance level at $0.0001150, which was the highest point on August 1. It has rallied above the 25-day and 50-day moving averages while the Relative Strength Index (RSI) moved above the overbought level.
Therefore, Terra LUNA Classic price will likely continue rising as bulls target the next key resistance level at $0.00020.
Keep updated with our round the clock and in-depth cryptocurrency news
Keep updated with our round the clock and in-depth cryptocurrency news
Please be aware that some of the links on this site will direct you to the websites of third parties, some of whom are marketing affiliates and/or business partners of this site and/or its owners, operators and affiliates. We may receive financial compensation from these third parties. Notwithstanding any such relationship, no responsibility is accepted for the conduct of any third party nor the content or functionality of their websites or applications. A hyperlink to or positive reference to or review of a broker or exchange should not be understood to be an endorsement of that broker or exchange's products or services.
Risk Warning: Investing in digital currencies, stocks, shares and other securities, commodities, currencies and other derivative investment products (e.g. contracts for difference ("CFDs") is speculative and carries a high level of risk. Each investment is unique and involves unique risks.
CFDs and other derivatives are complex instruments and come with a high risk of losing money rapidly due to leverage. You should consider whether you understand how an investment works and whether you can afford to take the high risk of losing your money.
Cryptocurrencies can fluctuate widely in prices and are, therefore, not appropriate for all investors. Trading cryptocurrencies is not supervised by any EU regulatory framework. Past performance does not guarantee future results. Any trading history presented is less than 5 years old unless otherwise stated and may not suffice as a basis for investment decisions. Your capital is at risk.
When trading in stocks your capital is at risk.
Past performance is not an indication of future results. Trading history presented is less than 5 years old unless otherwise stated and may not suffice as a basis for investment decisions. Prices may go down as well as up, prices can fluctuate widely, you may be exposed to currency exchange rate fluctuations and you may lose all of or more than the amount you invest. Investing is not suitable for everyone; ensure that you have fully understood the risks and legalities involved. If you are unsure, seek independent financial, legal, tax and/or accounting advice. This website does not provide investment, financial, legal, tax or accounting advice. Some links are affiliate links. For more information please read our full risk warning and disclaimer.