Home News and Analysis All News How many binance coins are there? Your guide to BNB
By Nicole Willing
Edited by Valerie Medleva
13:34, 19 August 2022
The Binance cryptocurrency exchange was founded in 2017 and quickly became the largest in the world based on daily trading volume. Binance coin (BNB) is the exchange's official token. It's used to pay for trading fees and settling transactions in the Binance ecosystem.
At the time of writing (19 August), BNB is the fifth-largest cryptocurrency by market capitalisation, behind bitcoin (BTC), ether (ETH), and the tether (USDT) and USDC stablecoins. At times, it has overtaken the stablecoins to become the third largest.
If you're interested in BNB as an investment, you might want to know how many Binance coins are available on the market to buy.
So, how many Binance coins are there? Is there a difference between the maximum supply and the current circulating supply?
In this article, we look at how BNB works and find out who owns the most BNB.
The name Binance is a combination of the words Binary and Finance, chosen to represent the new type of financial services that blockchain technology enables. BNB launched in June 2017 through an initial coin offering (ICO), 11 days before the launch of the Binance exchange.
BNB initially ran on the Ethereum blockchain as a token adhering to the ERC-20 standard, but was transferred to the Binance Chain in April 2019.
BNB is also used on the Binance Smart Chain (BSC) smart contract blockchain, which launched in September 2020 as an alternative to Ethereum.
Binance was co-founded by entrepreneurs Changpeng Zhao (CZ) and Yi He. CZ previously worked at Bloomberg as head of tradebook futures development and had been involved with cryptocurrencies and blockchain technology since 2013. Yi was a co-founder of the digital asset exchange OKCoin and previously a vice president at mobile video app technology developer Yixia Technology.
The Binance blockchain ecosystem has expanded from the exchange to include Binance Labs, Binance Launchpad, Binance Info, Binance Academy, Binance Research, Trust Wallet, Binance Charity, non-fungible tokens (NFTs) and more.
The BNB token is used throughout the Binance ecosystem. Traders can save 25% on their spot and margin trading fees and 10% on their futures trading fees if they pay with BNB. Token holders can also use BNB to:
Save more on trading fees in Binance's VIP programme
Earn commission from Binance's referral programme
Stake BNB for rewards from the BNB vault and BNB Chain projects
Lend tokens on Binance Launchpool
Access exclusive token sales on Binance Launchpad
Pay for goods and services from over 60 million merchants worldwide using the Binance Visa Card
Send and receive cryptocurrency payments with Binance Pay
Apply for cryptocurrency loans from Binance Loan
Stake BNB to earn rewards and help secure the BNB Chain ecosystem
BNB was launched with a maximum supply of 200 million coins. The total number of Binance coins is gradually decreasing as the company committed to burning half of the total supply to prevent inflation and support the price.
So how many Binance coins are there in circulation now?
In the fourth quarter of 2021, Binance introduced an automated coin burning mechanism to determine the number of tokens to remove each quarter. "The BNB Auto-Burn mechanism adjusts the amount of BNB to be burned based on BNB's price and the number of blocks generated on BNB Smart Chain during the quarter. This offers greater transparency and predictability to the BNB community," according to the BNB Burn tracker.
BNB uses a real-time burning mechanism based on gas fees. A fixed ratio of the gas fee collected is burned in each block, with the ratio decided by BSC validators.
SOL/USD
ETH/USD
BTC/USD
COMP/USD
The mechanism was introduced in response to community feedback to replace the previous method, which burned tokens based on their usage and revenue generated on the Binance exchange.
According to Binance:
During the second quarter of this year, Binance completed its third quarterly automated BNB burn, which removed a total of 1.96 million BNB from circulation, equivalent to around $444.63m. That included 4,181.77 BNB burned from the Pioneer Burn Program.
The BNB Pioneer Burn Program is an "initiative that aims to help eligible users who lose tokens as part of mistakes they made while trying out the newly-launched Binance Smart Chain. Under the BNB Pioneer Burn Program, introduced in September 2020, Binance will cover users' losses for accepted cases and count the lost tokens under our quarterly BNB token burn activities instead."
How many Binance coins are in circulation since the latest burn? A total of 38.92 million BNB coins have been burned to date out of the original 200 million, leaving a circulating supply of 161.08 million, according to the BNB Burn website.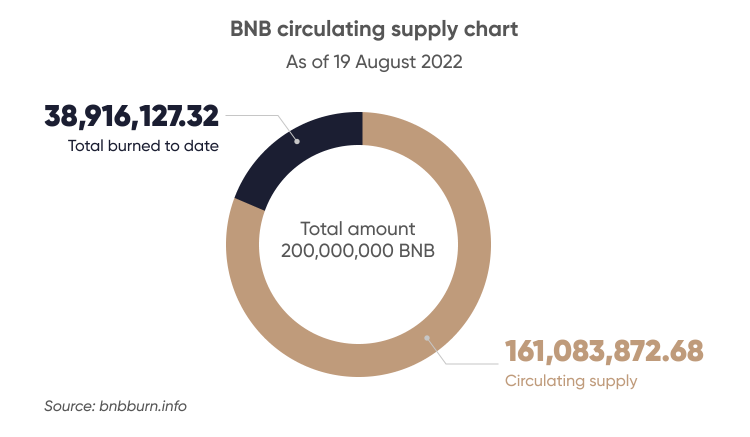 BNB Burn estimates that around 2.06 million BNB coins in total will be burned during the third quarter, valued at around $520.8m.
In an interview with the Associated Press in November 2021, Changpeng Zhao said that "the majority of my net worth is BNB". The only other cryptocurrency he holds is bitcoin. He is "a decent sized shareholder in Binance, if we ever want to realise the equity value someday."
According to Binance on-chain data from BSCscan, there are more than 2 million accounts in the world on the BSC blockchain holding 22.59 million BNB coins.
The BSC Token Hub is unsurprisingly the largest single wallet holding BNB coins, with a balance of 153.82 million BNB. The next largest wallet holds 4.93m BNB, accounting for 21.8% of the 22.59 million. Another 4.34 million tokens are held in a Binanace wallet for wrapped BNB (WBNB), which allows the token to be bridged to other blockchains.
Another unidentified wallet holds 1.04 million coins, and the fourth and fifth largest wallets are the Venus BNB (vBNB) wallet and the FTX exchange's wallet, with 436,508 and 307,741, respectively. Cryptocurrency mixer Tornado cash, which was recently added to the US sanctions list, holds 92,900 BNB.
Are you interested in becoming a BNB holder? If you are considering investing in the coin, we strongly recommend that you do your own research to develop an informed view of the cryptocurrency market. Look at the latest market trends, news, technical and fundamental analysis, and expert opinion before making any investment decision.
Remember that your decision to trade should depend on your risk tolerance, account size and trading strategy, and your experience in the markets. Keep in mind that past performance is no guarantee of future returns. And never trade money you cannot afford to lose.
BNB was created with a supply of 200 million coins, but a coin burning programme has left 161.08 million coins in circulation as of the time of writing (19 August).
Thousands of BNB coins have been lost when users made mistakes in transferring funds while trying out the Binance Smart Chain. Binance launched the BNB Pioneer Burn Program to reimburse users and cost the lost tokens. In the second quarter, 4,181.77 lost BNB were burned as part of the programme.
Unlike bitcoin, BNB is not mined. Binance runs on a delegated proof-of-stake (PoS) mechanism, so blockchain transactions are validated by staking rather than mining.
Binance founder Changpeng Zhao says he holds most of his net worth in BNB coins.

Markets in this article
Related topics
Rate this article
Rate this article:
Most traded
Join the 555.000+ traders worldwide that chose to trade with Capital.com
Contact us: call +357 25123646 • support@capital.com
CFDs are complex instruments and come with a high risk of losing money rapidly due to leverage. 79% of retail investor accounts lose money when trading CFDs with this provider. You should consider whether you understand how CFDs work and whether you can afford to take the high risk of losing your money. Please refer to our Risk Disclosure Statement
The value of shares and ETFs bought through a share dealing account can fall as well as rise, which could mean getting back less than you originally put in. Past performance is no guarantee of future results.
Risk warning: сonducting operations with non-deliverable over-the-counter instruments are a risky activity and can bring not only profit but also losses. The size of the potential loss is limited to the funds held by us for and on your behalf, in relation to your trading account. Past profits do not guarantee future profits. Use the training services of our company to understand the risks before you start operations.
Capital Com SV Investments Limited is regulated by Cyprus Securities and Exchange Commission (CySEC) under license number 319/17. Capital Com SV Investments Limited, company Registration Number: 354252, registered address: 28 Octovriou 237, Lophitis Business Center II, 6th floor, 3035, Limassol, Cyprus.
Start trading on BNB/USD.