The Apple silicon Mac Pro will not be among the new hardware announcements at WWDC 2023, Bloomberg's Mark Gurman believes.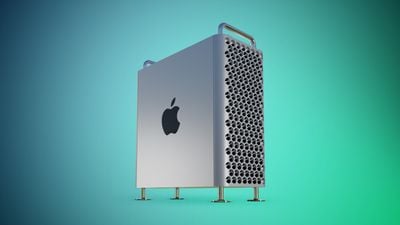 Speaking on the latest episode of The MacRumors Show, Gurman explained that while he still expects the new ‌Mac Pro‌ to launch this year, it is unlikely to emerge at WWDC in June. This is a significant delay over when the machine was originally expected to launch.
He added that the next-generation Mac Studio will likely not contain M2-series chips, with Apple postponing a refresh of the device until the M3 generation to avoid cannibalizing the new Mac Pro.
Gurman also said that the new 15-inch MacBook Air, which will contain an M2 chip, was originally supposed to launch last year. This apparently means that the 13-inch ‌MacBook Air‌ could run on a separate chip upgrade cycle to the 15-inch model, with the smaller device potentially set to receive the M3 chip well before it comes to the larger model. How Apple plans to align the chip upgrade cycle of the two devices in the long term remains to be seen.
Following up on an earlier report, Gurman said that he now expects the "in-air typing" text input method to be present on Apple's mixed-reality headset when it launches, despite its "finicky" experience. He added that the device's two-hour battery life may be likely to remain through successive generations of the mixed-reality headset, much like how the two standard Apple Watch model sizes have had no battery life improvements since their announcement in 2014.
For more of Gurman's latest thoughts on Apple's upcoming hardware announcements, listen to the latest episode of The MacRumors Show on YouTube, Apple Podcasts, or your preferred podcast player.

Our comprehensive guide highlighting every major new addition in iOS 17, plus how-tos that walk you through using the new features.
AirDrop over the internet, Apple Music favorites and playlist art, StandBy mode and Action button tweaks, and more.
Get the most out your iPhone 15 with our complete guide to all the new features.
A deep dive into new features in macOS Sonoma, big and small.
Updated with M3, M3 Pro, and M3 Max chip options, new Space Black color option on higher configurations, and more.
The new 24-inch iMac includes an M3 chip and supports Wi-Fi 6E, Bluetooth 5.3, and up to 24GB of memory.
The Apple Vision Pro AR/VR headset is set to launch in early 2024. It features dual 4K displays, gesture tracking, an M2 chip, and a $3,499 price tag.
M3 models in 13.6″ and 15.3″ sizes.
2 days ago by Tim Hardwick
2 days ago by Tim Hardwick
3 days ago by Joe Rossignol
2 days ago by Tim Hardwick
5 days ago by Tim Hardwick
 
MacRumors attracts a broad audience of both consumers and professionals interested in the latest technologies and products. We also boast an active community focused on purchasing decisions and technical aspects of the iPhone, iPod, iPad, and Mac platforms.