Apple usually releases a new entry-level iPad every year, so when does the company plan to launch the 11th-generation ‌iPad‌?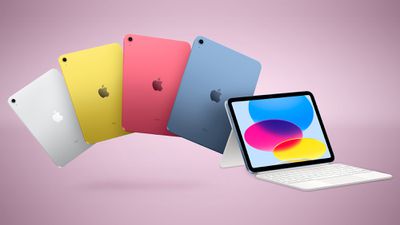 There have been few concrete rumors about the new entry-level ‌iPad‌ as yet, but Bloomberg's Mark Gurman recently said that an update this year with a minor "spec bump" is not out of the question. Apple introduced the 10th-generation ‌iPad‌ in October 2022, so the 11th-generation model is unlikely to emerge until October 2023 at the earliest.
When Apple announced the 10th-generation ‌iPad‌, it added the device to the lineup above the ninth-generation model from 2021. As a result, Apple currently sells both the ninth- and 10th-generation ‌iPad‌ for $329 and $449, respectively. It appears to be able to do this more easily since the devices are well-differentiated, offering different designs, chips, display sizes, ports, keyboard accessories, and more.
This year, Apple may be more likely to eliminate the ninth-generation ‌iPad‌ from the lineup and bump the 10th-generation model down in price, rather than release an 11th-generation model. Apple has launched a new entry-level ‌iPad‌ every year since 2017, so 2023 could be the first time in six years that the company neglects to do so.
The A15 Bionic chip is the most plausible upgrade for the 11th-generation ‌iPad‌, since each new entry-level ‌iPad‌ since the eighth-generation model from 2020 has gained a chip that is one generation newer. The 10th-generation ‌iPad‌ features the A14 Bionic chip, so the A15 is the most likely upgrade for the next model – not least because this chip is now widely used across devices like the iPhone SE, iPad mini, and Apple TV.
The entry-level ‌iPad‌ could, perhaps, also benefit from second-generation Apple Pencil support and a newer chip, but it is not immediately clear what else could justify offering a new version of the device this year. Since an 11th-generation ‌iPad‌ would be unlikely to have much new to offer over the 10th-generation model at the current time, a new model anytime soon seems unlikely.
2023 appears to be shaping up to be a quiet year for ‌iPad‌ hardware refreshes across the entire lineup, and while it is possible we could see some new models, the current picture suggests that new iPads this year are unlikely on the whole. 2024, on the other hand, is looking like it will be a much more significant year for the ‌iPad‌ lineup with a large number of new device launches.

Our comprehensive guide highlighting every major new addition in iOS 17, plus how-tos that walk you through using the new features.
AirDrop over the internet, Apple Music favorites and playlist art, StandBy mode and Action button tweaks, and more.
Get the most out your iPhone 15 with our complete guide to all the new features.
A deep dive into new features in macOS Sonoma, big and small.
Updated with M3, M3 Pro, and M3 Max chip options, new Space Black color option on higher configurations, and more.
The new 24-inch iMac includes an M3 chip and supports Wi-Fi 6E, Bluetooth 5.3, and up to 24GB of memory.
The Apple Vision Pro AR/VR headset is set to launch in early 2024. It features dual 4K displays, gesture tracking, an M2 chip, and a $3,499 price tag.
M3 models in 13.6″ and 15.3″ sizes.
3 days ago by Tim Hardwick
3 days ago by Tim Hardwick
4 days ago by Joe Rossignol
3 days ago by Tim Hardwick
6 days ago by Tim Hardwick
 
MacRumors attracts a broad audience of both consumers and professionals interested in the latest technologies and products. We also boast an active community focused on purchasing decisions and technical aspects of the iPhone, iPod, iPad, and Mac platforms.