Shiba Inu (SHIB) has recently found itself in a downward spiral. Over the past few days, the coin has been experiencing a steady decline, causing concern among its enthusiastic community of holders. The latest development indicates a potentially worrisome trend as sellers breach the lower support trendline of a bearish pennant pattern, hinting at further price drops on the horizon.
The bearish pennant pattern is a technical analysis chart pattern commonly used in cryptocurrency markets. It is characterized by a consolidation phase after a sharp price decline, resembling a small symmetrical triangle that slopes downwards. This pattern typically suggests that the selling pressure remains strong, and the asset may continue to experience losses.
As of the latest data from CoinGecko, SHIB is currently trading at $0.00000786, marking a 1.3% decline in the past 24 hours and a 3.2% slump over the past week. These numbers reflect the ongoing bearish sentiment in the market.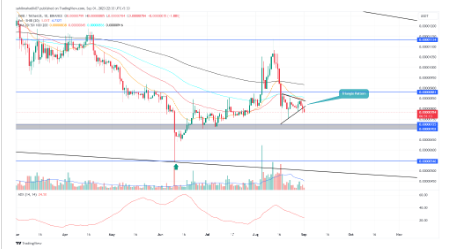 One notable aspect of SHIB's recent price movement is the low trading volume in the market. Low volumes often indicate a lack of conviction among traders, which can result in subdued price action. 
While this may suggest that the downward momentum is not particularly strong, it also leaves SHIB vulnerable to sharp price swings should a significant volume of trades occur. Traders are closely watching for signs of increased activity that could either exacerbate the decline or potentially reverse the trend.


Amid the uncertainty surrounding SHIB's price, there is a ray of hope for the Shiba Inu community. The successful relaunch of Shibarium, Shiba Inu's Layer 2 scaling solution, has garnered attention. Shibarium aims to address some of the challenges facing the Shiba Inu ecosystem by reducing transaction costs and increasing transaction speed. 
These improvements could make SHIB more attractive to users and potentially drive up demand for the cryptocurrency. While this development offers a counterbalance to the bearish technical indicators, its ability to reverse the trend remains uncertain.
SHIB finds itself at a challenging position as it contends with the bearish pennant pattern and declining prices. The cryptocurrency market's low volumes reflect a cautious sentiment among traders, leaving SHIB susceptible to potential price swings.
The relaunch of Shibarium brings a glimmer of hope for SHIB's future, as it seeks to enhance its utility and appeal. However, investors and traders are advised to exercise caution and closely monitor the market dynamics as SHIB navigates these challenging waters.
(This site's content should not be construed as investment advice. Investing involves risk. When you invest, your capital is subject to risk).
Featured image from Sunny Skyz
Christian is a journalist, editor and a former layout design consultant. Alongside his passion for writing, he is an avid fan of cryptocurrency and works tirelessly throughout the week. When he's not on his computer, you can find him tinkering with his old motorbike as a grease monkey, or lounging on the patio hammock while pondering about artificial intelligence and whether he'll ever understand his cat's thoughts and calmness.
NewsBTC is a cryptocurrency news service that covers bitcoin news today, technical analysis & forecasts for bitcoin price and other altcoins. Here at NewsBTC, we are dedicated to enlightening everyone about bitcoin and other cryptocurrencies.
We cover BTC news related to bitcoin exchanges, bitcoin mining and price forecasts for various cryptocurrencies.
© 2023 NewsBTC. All Rights Reserved.
© 2023 NewsBTC. All Rights Reserved.