Home News and Analysis All News MATIC / ETH prediction: Ethereum blockchain scaling solution Polygon hoping to benefit from The Merge
By Ankish Jain
Edited by Jekaterina Drozdovica
09:53, 15 September 2022
As Ethereum (ETH) transitions to Ethereum 2.0, crypto enthusiasts are hoping for a price surge.
Ethereum has now completed The Merge and shifted the Ethereum blockchain from the proof-of-work (PoW) consensus mechanism to proof-of-stake (PoS), drastically reducing its environmental impact.
The Merge could benefit Polygon (MATIC), a Layer-2 scaling solution and protocol stack meant to address Ethereum's scalability problems.
According to CoinMarketCap, as of 15 September, ETH was trading at $1,608, an increase of 5.68% over the previous week. MATIC was trading at $0.8573. ETH's year-to-date (YTD) losses were roughly 56%. MATIC's YTD losses were approximately 66%.
Here we take a look at the MATIC to ETH exchange rate, latest news and other factors that are shaping MATIC/ETH predictions.
Ethereum has been hindered by network congestion and transaction costs due to its popularity among developers creating decentralised applications (dApps), smart contracts, and decentralised finance (DeFi) protocols.
Moreover, Ethereum's transaction throughput is much slower than some of its closest rivals, such as Solano (SOL) and Cardano (ADA), and its gas prices have surged as interest in DeFi has skyrocketed.
The new Ethereum Merge upgrade is expected to help address these issues, keeping the network ahead of the competition.
Meanwhile, Polygon is a Layer-2 scaling solution for scalability and infrastructure development on Ethereum. The project intends to establish "Ethereum's internet of blockchains" by resolving the network's scalability concerns and providing developers with tools for building ultra-scalable and high-performance blockchains and dApps.
Similar to other multi-chain systems, such as Polkadot (DOT), Cosmos (ATOM) and Avalanche (AVAX), Polygon offers a multi-chain system.
The benefit of the Polygon multi-chain architecture is that it includes the security, lively ecosystem and accessibility of Ethereum.
Polygon is also the only scaling solution that supports the Ethereum Virtual Machine (EVM), which facilitates the flow of value and data across blockchains and removes the technical hurdles between them.
The Merge is anticipated to make Layer-2s more eco-friendly, with Polygon saying it would ultimately reduce their carbon emissions by 60,000 metric tonnes, or 99.91% of their present value.
The Merge will be erasing 60,000 Tonnes of #Polygon's Carbon Footprint.
Ethereum's transition to the PoS consensus will reverberate throughout the broader ecosystem in many ways, but it will have a singular impact on the carbon emissions profile of Polygon's network.????
[1/11] pic.twitter.com/RNkxvRQ1EL
Since their debuts, ETH and MATIC coins have pleased investors with 56,307% and 18,807% gains, respectively.
Between May and December 2019, MATIC enjoyed a positive price trend, surging by 1,241%. ETH price declined by more than 11%, representing a negative correlation between MATIC to ETH exchange rate over the period.
The ETH value reached $284.22 on 14 February 2020, before declining to $110.61 on 16 March, amid the Covid-19 induced market fall. Following a similar path, MATIC's price first reached $0.02683 on 7 March, before dropping to $0.008 on 16 March.
ETH gained strong momentum during the next months, closing the year at $737.8, up 567% from the March low. At the end of 2020, the MATIC value was $0.01763, up 120% from the March low.
In 2021 cryptocurrencies became a global phenomenon, with the market reaching trillions in value. As a result, both MATIC and ETH gained significantly.
The ETH price spiked from $730.37 on 1 January 2021 to the all-time high of $4,891.70 on 16 November 2021, a surge of nearly 570%.
During the same period, MATIC jumped from $0.01781 on 1 January to the record price of $2.92 on 27 December 2021, a phenomenal spike of 16,295%. According to CoinCodex, this was also the highest recorded price of MATIC to ETH, as the MATIC price reached its all-time high of 0.001800 ETH. ETH closed the year at $3,682. MATIC closed at $2.52.
This year has been a difficult year for the cryptocurrency markets as Bitcoin (BTC) and several other coins declined to fresh lows amid the crypto market collapse in June. As a result, ETH declined to a 52-week low of $896.11, and MATIC reached a yearly trough of $0.3228 on 18 June.
DOGE/USD
SOL/USD
XRP/USD
BTC/USD
As of 14 September, both ETH and MATIC have recovered slightly. ETH was trading at $1,608, up 80% from the June low. At the same time, MATIC was trading at $0.8573, up 165% from the low.
According to CoinCodex's MATIC to ETH price chart, between January and May 2022, the MATIC to ETH exchange rate considerably decreased, suggesting ETH's dominance over MATIC in the period.
MATIC, however, regained prominence. As seen on the price chart below, the current exchange rate as of 14 September was 0.000529, up more than 86% from 0.000284 on 13 May.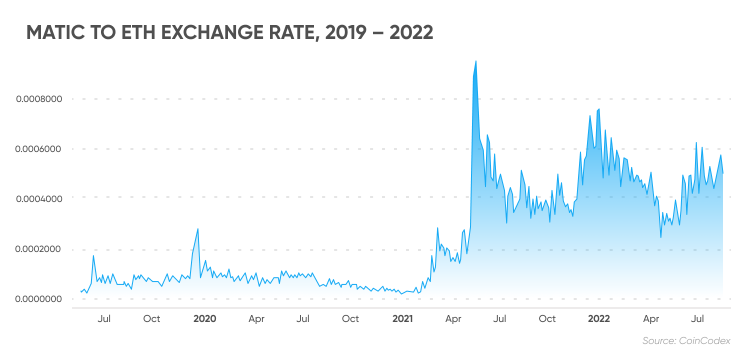 Past performance is not a reliable indicator of future results
In September 2022 Polygon announced that it's partnering up with coffeehouse giant Starbucks (SBUX). Polygon will equip Starbucks with the blockchain technology necessary for developing its newly announced Web3 experience, Starbucks Odyssey.
Starbucks hopes to accelerate "Starbucks Rewards" membership in new ways by giving them access to immersive coffee experiences, such as exclusive merchandise, artist collaborations and event invites.
Polygon confirmed that Ethereum's switch to PoS will favour the network's carbon emissions profile.
The yearly carbon emissions for the Polygon network through July 2022 were 60,953.26 tonnes of carbon dioxide equivalent (tCO2e), bringing the chain's total emissions since its inception to 94,782 tCO2e.
Layer 2 protocols such as Polygon augment the complexity of determining carbon footprint since they must account for emissions from their own network in addition to Layer 1 Ethereum activity.
According to estimations, 99.92% of Polygon's emissions are related to the chain's activity on the Ethereum base layer, leaving 50.13 tCO2e attributable to Polygon's own PoS network.
The Merge is predicted to eliminate 99.91% of Polygon's network carbon emissions, bringing the yearly total down to 56.22 tCO2e.
The MATIC to ETH price correlation has been negative and inconsistent, in contrast to the ETH to BTC price correlation, which has been largely positive. Even if Polygon is a scaling option for Ethereum, the exchange rates of these two leading coins seldom move in tandem.
Interestingly, a group of cryptocurrency miners initiated a campaign to prevent Ethereum's approaching integration by forking the Ethereum network and establishing ETHPoW, an alternative, still-minable version called ETHPoW (ETHW).
In addition, the team behind ETHW has announced the plan to launch the mainnet shortly after the Ethereum's Merge.
ETHW Core Announced the Plan for Mainnet#ethereum #ethw #ethereummerge #ethereumfork $ethw $eth #ethpow
1/n pic.twitter.com/cnYOW6l1iU
DigitalCoinPrice algorithm-based MATIC to ETH estimate, as of 15 September, had ETH trading at an average price of $2,143.67 in 2022 and $6,567.74 in 2025. Its MATIC projection saw the coin average $1.13 in 2022 and $3.55 in 2025.
Price Prediction expected ether to trade at an average price of $1,952.15 in 2022, $6,421.33 in 2025 and $39,995.93 by 2030. The forecaster's predictions for MATIC saw the coin trading at an average price of $0.87 in 2022, $3.50 in 2025 and $23.36 in 2030.
It should be noted that algorithm-based price predictions can be wrong. Forecasts shouldn't be used as a substitute for your own research.
Always conduct your own due diligence. Your decision to trade should be based on your risk tolerance, experience in the markets and other factors. Cryptocurrencies are high risk and highly volatile. Make sure to look at the latest news, commentary, technical and fundamental analysis. Never trade more money than you can afford to lose.
As the network completes Ethereum 2.0 upgrade, the market sentiment for ether is optimistic, which may have resulted in the strong momentum for ether.
The best time to trade MATIC to ETH would depend on your personal preferences. Cryptocurrency markets are open 24/7.
No one knows for sure. As of 15 September, market sentiment for MATIC to ETH, based on technical analysis, was bearish, according to CoinCodex, giving the pair a "sell" signal in the short run. Note that price predictions can be wrong. Whether the MATIC to ETH is buy, sell or hold, would depend on your risk tolerance, trading goals and other personal factors.
Markets in this article
Related topics
Rate this article
Rate this article:
Most traded
Join the 555.000+ traders worldwide that chose to trade with Capital.com
Contact us: call +357 25123646 • support@capital.com
CFDs are complex instruments and come with a high risk of losing money rapidly due to leverage. 79% of retail investor accounts lose money when trading CFDs with this provider. You should consider whether you understand how CFDs work and whether you can afford to take the high risk of losing your money. Please refer to our Risk Disclosure Statement
The value of shares and ETFs bought through a share dealing account can fall as well as rise, which could mean getting back less than you originally put in. Past performance is no guarantee of future results.
Risk warning: сonducting operations with non-deliverable over-the-counter instruments are a risky activity and can bring not only profit but also losses. The size of the potential loss is limited to the funds held by us for and on your behalf, in relation to your trading account. Past profits do not guarantee future profits. Use the training services of our company to understand the risks before you start operations.
Capital Com SV Investments Limited is regulated by Cyprus Securities and Exchange Commission (CySEC) under license number 319/17. Capital Com SV Investments Limited, company Registration Number: 354252, registered address: 28 Octovriou 237, Lophitis Business Center II, 6th floor, 3035, Limassol, Cyprus.