| Yusuf Mehdi, Corporate Vice President & Consumer Chief Marketing Officer, and Jared Spataro, CVP Modern Work & Business Applications
Updated November 15, 2023: To simplify the user experience and make Copilot more accessible to everyone, Bing Chat and Bing Chat Enterprise will now simply become Microsoft Copilot. For more information: https://aka.ms/BingIgnite
At Microsoft, we are working to provide a copilot for every person in their lives and at work. Earlier this year, we introduced the new AI-powered Bing, your copilot for the web, fundamentally reinventing search as a category with complete answers, a full chat experience, and features to unlock creativity. We also introduced Microsoft 365 Copilot, which combines the power of large language models (LLMs) with your data in the Microsoft Graph and Microsoft 365 apps to usher in a whole new way of working, using just your own words. Since then, we've seen millions of people incorporate Bing into their lives for the first time in new ways to unlock their creativity and gain a better understanding of the world.
And feedback from customers in our Microsoft 365 Copilot Early Access Program, is that Copilot promises to be a game changer for productivity.
Today at Microsoft Inspire, we're excited to unveil the next steps in our journey: First, we're significantly expanding Bing to reach new audiences with Bing Chat Enterprise, delivering AI-powered chat for work, and rolling out today in Preview – which means that more than 160 million people already have access. Second, to help commercial customers plan, we're sharing that Microsoft 365 Copilot will be priced at $30 per user, per month for Microsoft 365 E3, E5, Business Standard and Business Premium customers, when broadly available; we'll share more on timing in the coming months. Third, in addition to expanding to more audiences, we continue to build new value in Bing Chat and are announcing Visual Search in Chat, a powerful new way to search, now rolling out broadly in Bing Chat.
Bing Chat Enterprise — AI-powered chat for work
Employees are looking to use AI tools to help them unlock creativity and productivity at work — 70% say they would delegate as much work as possible to AI according to our Work Trend Index. But using AI tools that aren't built for the enterprise inadvertently puts sensitive business data at risk. As organizations adopt AI, they want to be confident their data is protected.
Bing Chat Enterprise gives your organization AI-powered chat for work with commercial data protection. With Bing Chat Enterprise, user and business data are protected and will not leak outside the organization. What goes in — and comes out — remains protected. Chat data is not saved, and Microsoft has no eyes-on access – which means no one can view your data. And, your data is not used to train the models. Whether researching industry insights, analyzing data, or looking for inspiration, Bing Chat Enterprise gives people access to better answers, greater efficiency and new ways to be creative.
YouTube Video

Just like Bing Chat, Bing Chat Enterprise is grounded in web data and provides complete, verifiable answers with citations, along with visual answers that include graphs, charts and images, and is designed in line with our AI principles.
Bing Chat Enterprise is rolling out in preview today and is included at no additional cost in Microsoft 365 E3, E5, Business Standard and Business Premium. And in the future, it will be available as a stand-alone offering for $5 per user, per month. You can access Bing Chat Enterprise using your work account wherever Bing Chat is supported — Bing.com/chat and the Microsoft Edge sidebar. And, in the future, Bing Chat Enterprise will also be accessible from Windows Copilot.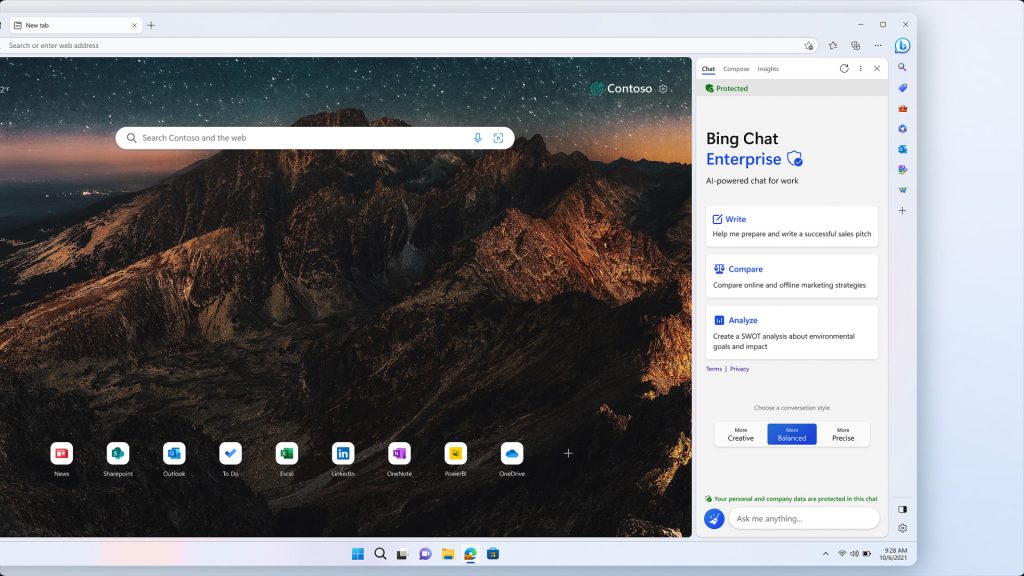 Announcing Microsoft 365 Copilot pricing for commercial customers
Bing Chat Enterprise unlocks generative AI for work. And Microsoft 365 Copilot brings a whole new way of working – reasoning over all your business data in the context of your enterprise, including the ability to ask questions and get answers from the web. Microsoft 365 Copilot will be available for commercial customers for $30 per user per month for Microsoft 365 E3, E5, Business Standard and Business Premium customers when broadly available.
Microsoft 365 Copilot is built on Microsoft's trusted and comprehensive approach to enterprise-grade security, privacy, identity, compliance and responsible AI — so you know it's enterprise ready. This means:
While some generative AI apps focus on a single capability, like real-time transcription or copywriting, Microsoft 365 Copilot is in a class all its own. It has all the capabilities of Bing Chat Enterprise, plus so much more. Copilot puts thousands of skills at your command and can reason over all your content and context to take on any task. It's grounded in your business data in the Microsoft Graph — that's all your emails, calendar, chats, documents and more. So, Copilot can generate an update from the morning's meetings, emails and chats to send to the team; get you up to speed on project developments from the last week; or create a SWOT analysis from internal files and data from the web.
Microsoft 365 Copilot is incredible on its own, and it's also integrated into the apps millions of people use every day. Copilot jump-starts your creativity in Word, analyzes data in Excel, designs presentations in PowerPoint, triages your Outlook inbox, summarizes meetings in Teams – whether you attended or not – and so much more.
In May, we announced the expansion of our Microsoft 365 Copilot paid Early Access Program to 600 enterprise customers worldwide, including companies like KPMG, Lumen, and Emirates NBD. We're learning that the more customers use Copilot, the more their enthusiasm for Copilot grows. Soon, no one will want to work without it.
Microsoft 365 Copilot: Thousands of skills. All your data. Infinite possibilities. Learn more here.
YouTube Video

Search with images — not just words — using Visual Search in Chat
In addition to unlocking the power of generative AI to people at work, we continue to deliver new features and experiences in Bing Chat to help people make the most of this technology. Part of this work is a focus on building visual features in Bing Chat. And today we're pleased to announce we're rolling out multimodal capabilities via Visual Search in Chat.
Leveraging OpenAI's GPT-4 model, Visual Search in Chat lets anyone upload images and search the web for related content. Take a picture, or use one you find elsewhere, and prompt Bing to tell you about it — Bing can understand the context of an image, interpret it, and answer questions about it. Whether you're traveling to a new city on vacation and asking about the architecture of a particular building or at home trying to come up with lunch ideas based on the contents of your fridge, upload the image into Bing Chat and use it to harness the web's knowledge to get you answers. Visual Search in Chat is beginning to roll out now via desktop and the Bing mobile app and we are working to bring this to Bing Chat Enterprise over time.
YouTube Video

There is incredible opportunity for our customers and partners to realize the promise of AI in life and at work – and do so in a way that meets the highest standards for enterprise, security, privacy, compliance and responsible AI. We're excited about what the future holds – and we're just getting started.
Editor's note: As of Aug. 21, we have extended Bing Chat Enterprise eligibility to Microsoft 365 A3 and A5 licenses for faculty. Read the official announcement at https://aka.ms/BCEforEDUFaculty
Tags: AI, Bing Chat Enterprise, Microsoft 365 Copilot, Microsoft Inspire, Visual Search
| Jared Spataro
| Frank X. Shaw
| Charlie Bell
| Jason Zander
| Antony Cook
Follow us: