Alphabet (NASDAQ:GOOG, NASDAQ:GOOGL) is one of my favorite big tech stocks. It's investing heavily in renewable energy. The company showed great resilience in 2020 when the ad market seemed doomed. It's expanding into several new areas at a fast pace while keeping the number one position in the online advertising market.
I wrote about Alphabet before in 2020 so consider this an addition to those. The main arguments for investing in Alphabet remain the same: it grows fast and it's reasonably priced. Some gems are hiding in plain sight like Google cloud services and YouTube, both growing faster than the company. The so-called moonshot or other bets could become catalysts over 5 to 10 years.
This article is about Alphabet's smart investments in renewables. It's part of a FAAMG series, as I covered Microsoft (MSFT) and Amazon (AMZN) before.
The advertising business took a hard hit in 2020. Companies cut their budgets and reduced marketing expenses. In 2021, Alphabet recovered a lot faster than expected. It beats expected EPS and revenue consequently by a landslide quarter after quarter. The latest quarter surprised analysts with a 42% higher EPS. It shows the strength and network advantages of Alphabet.
The positive earnings surprises are fueled by the strongest YoY growth by Alphabet in over a decade. This will slow down again but it's good to see that it still has the strength to make this kind of jump.
Alphabet's revenue comes essentially from advertisements. The strength of Google search and the Google advertising network is immense. YouTube diversifies the type of advertising and provides an enormous growth path. Still, it's mainly about ads. I believe it's important that Alphabet diversifies to non-advertising revenue streams as I've argued before. There is one graph I just updated: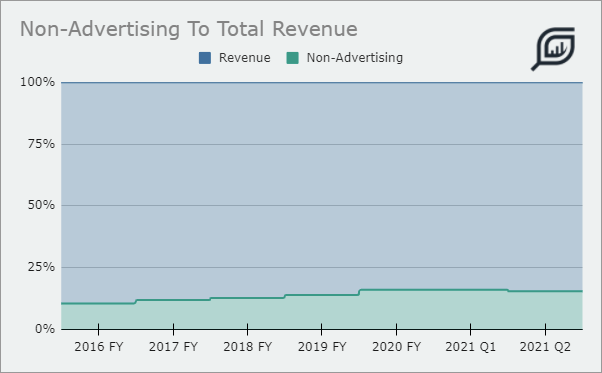 Source: Author based on SEC Filings
Google's non-advertising revenue lost a bit of traction in 2021 as the growth of advertising outpaced other revenues. I expect this will change again over the next couple of quarters. It's due to the enormous strength of Alphabet's advertising that it developed faster.
One of the important paths for non-advertising revenue is the Google Cloud solutions. These show strong growth but don't attribute to net income yet. This improves quickly as the operating loss of Google Cloud halved in the first six months of 2021. The two larger competitors, Microsoft and Amazon, have an operating margin of 43% and 29.5% respectively. A big difference with Alphabet's -12.8% margin. Google Cloud is still a lot smaller than these competitors. It shows the importance of scale in cloud services. There is probably only room for a couple of big cloud players. They need a global presence that requires large investments. At a growth rate of 52% in the last quarter, Google Cloud positions itself to be one of these players.
Data centers require a lot of electricity. Alphabet offset the emissions from this electricity at first. It's investing in renewables to power these data centers, both by purchasing power from new renewable projects and by building its projects.
First of all, I'm a financial writer, I'm not writing to promote renewables per se. I write to uncover potential high-growth opportunities with above-average returns. Investments in oil, gas, and coal may be profitable as well but don't offer the same compelling growth story as renewables. It's certainly not about politics for me.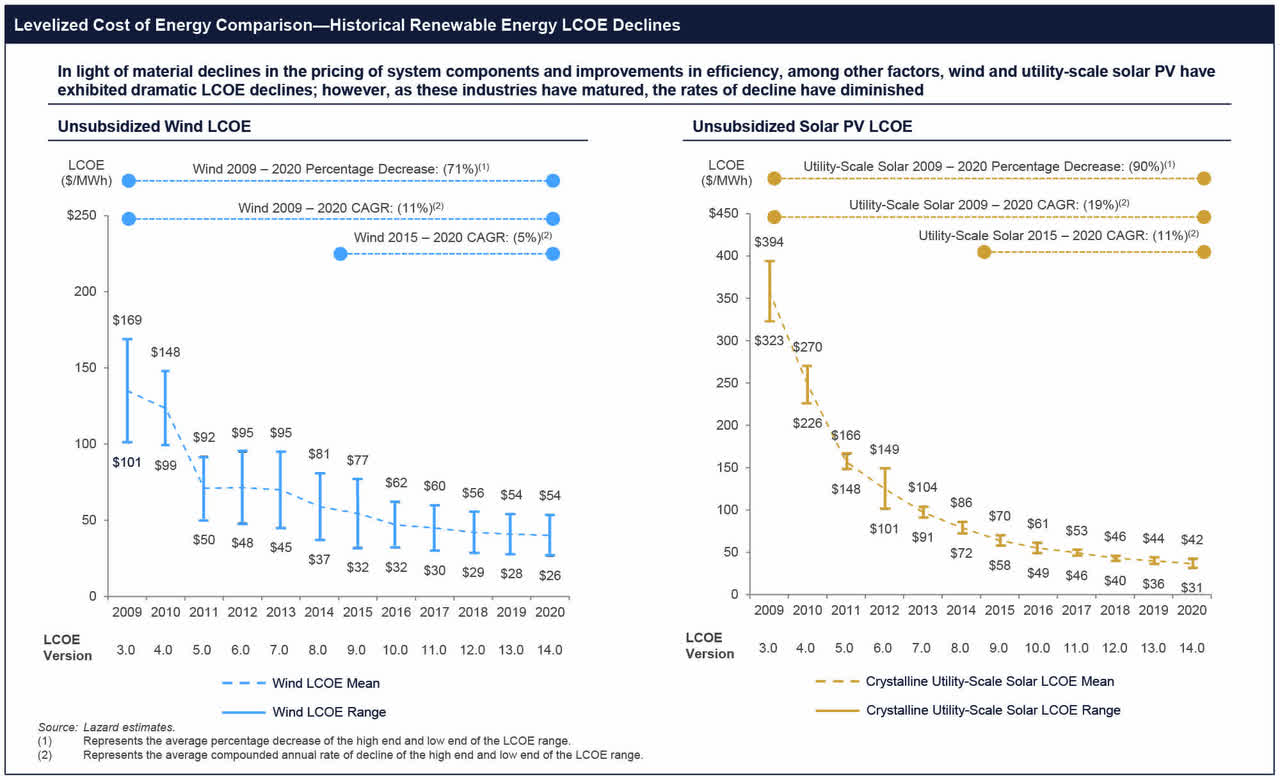 Source: Lazard
I do like to point out that renewables make sense economically. Unlike other sources of energy, the LCOE (Levelized Cost Of Energy) came down substantially for renewables. This makes new projects competitive with gas and coal generation. This is especially true for new capacity. Replacing existing conventional capacity needs subsidies to be economically viable.
The same is happening for energy storage. Battery costs reduce quickly as the technology and scale improve. Energy storage is a necessary component as solar and wind energy production is variable. Another fast-improving area in renewables is hydrogen which could be used as energy storage likewise.
Alphabet showcases the use of energy storage perfectly on its blog. It replaces diesel generators that don't add much value unless the power is out. Backup power from energy storage is flexible. When it isn't needed as a backup, it can be used continuously to support the grid. The investment pays itself back by supplying electricity when the price peaks.
Alphabet isn't unique in the movement towards renewables. It's more ambitious than the average company but they all move in the same direction. The PPAs (Power Purchase Agreements) closed by private companies support renewables as well. They often close these agreements with large renewable energy companies. This also increases demand on the production side of renewables. Solar and wind energy became cheap enough to become a natural large part of electricity generation additions. I've covered opportunities in renewables before in this solar stocks overview and hydrogen stocks outline.
Alphabet already matches all the energy it uses with 100% renewable energy purchased. This renewable energy isn't always available at the same time as when the company needs it. So it has a new goal in 2030: operate on renewable energy 24/7. It's achievable by balancing the energy usage with available energy. Alphabet performs more tasks when renewables are online. It also needs to store renewable energy and it's adding continuous renewable energy like geothermal energy.
It isn't easy to value any company. Metrics like PE, PS, and price to free cash flow give a sense of the companies' current position and can be compared to history or others. But it's not all relevant. The past doesn't matter for investments as an investor counts on future revenues, profits, and cash flows to come his way. Comparison with peers isn't perfect either as every company has its strengths and weaknesses. There are no two companies that are one-on-one comparable.
The value of these metrics is limited but gives a bit of guidance on how the market thinks about Alphabet today.
The PE ratio is roughly the same as 5 years ago and the price to free cash flow isn't out of the ordinary either. Alphabet kept costs under control during the pandemic which put a boost on net earnings. The PS ratio is well above the 5-year average and indicates some expansion on valuation metrics. Overall, it looks reasonably valued to me.
I compared Alphabet to Microsoft and Facebook (FB). They have different offerings and aren't exactly comparable but there is an interesting development.
Microsoft had a massive rally in its stock price. This is largely fueled by expanding multiples. Facebook's and Alphabet's increase happened without a large change in valuation multiples. Pure on valuation metrics, Facebook even got cheaper than 5 years ago. Alphabet kept more or less the same valuation.
Alphabet is an exciting big tech company with surprisingly strong growth in 2021. I feel like the non-advertising revenue becomes more important. The advertising side showed enormous strength recently. The company paves the way for more positive surprises.
The investments in renewables make sense economically. It showcases the use of batteries to replace diesel generators. Energy storage doesn't just save greenhouse gas emissions. It offers more use cases that strengthen the grid and renewables.
Valuation isn't everything, especially in high-growth companies. I do look at it to get a sense of the current share price. To me, Alphabet looks reasonably valued.



Join me at Green Growth for more hydrogen, solar, wind, and renewable investment ideas. I offer access to my model portfolio, Green Growth ideas, and a live chat. I cover high-growth opportunities that can change your life.
Discover my best ideas in the fast-growing green sector in the USA and the world. Don't miss out and subscribe today with a 14-day free trial!
This article was written by
In short: GARP, value, thorough analysis, and a lot of common sense. I look for stocks trading below their true value. Buying at the right time and holding them for a long time leads to attractive profits. I follow the basic principles of value investing and do my research through publicly accessible knowledge. I mostly use the Annual and Quarterly Reports of the company. For ratios, I use Seeking Alpha and similar websites to get ratios from sectors and individual stocks. All expressions are my own. I do not represent a company. I cover stocks worldwide, mainly in North America and Europe. All my experience from stock picking comes from reading a lot of books and articles. Any investments you would take after an article or discussions with me are your own responsibility. You should do your own due diligence before an investment.
Disclosure: I/we have a beneficial long position in the shares of GOOGL either through stock ownership, options, or other derivatives. I wrote this article myself, and it expresses my own opinions. I am not receiving compensation for it (other than from Seeking Alpha). I have no business relationship with any company whose stock is mentioned in this article.
Additional disclosure: Any investments you would take after an article or discussions with me are your responsibility. You should do your own due diligence before an investment.