The Samsung Galaxy S6 has placed Samsung back into the spotlight, as its latest-generation smartphones, including the Galaxy S6 edge, have won the appeal of numerous critics and fans alike.
The G4 hasn't shared the same fame, but LG has released a respectable smartphone that capitalizes and continues the company's success from last year's G3.
As usual, we here at Inferse like to put the top smartphones in a battle round against each other. Which smartphone will prevail? The GS6 or G4? We dare not answer this question until we dig deep. So, here we go.
Display
The Galaxy S6 has a 5.1-inch, Super AMOLED display with a Quad HD resolution of 2,560 x 1,440p and a pixel density of 577ppi. The LG G4, in contrast, has a 5.5-inch, IPS LCD Quantum Dot display with a Quad HD resolution of 2,560 x 1,440p and 538 ppi.
Samsung's AMOLED displays have been labeled the best on the market by expert company DisplayMate, and we don't see that changing with this year's displays. DisplayMate has said that Apple's iPhone 6 displays are the best LCD screens on the market and, if that's true, and Samsung's displays stand above them, LG's G4 display won't topple the S6. LG's G4 has a wider display, but Samsung's got its own answer to that in the S6 Plus.
Winner: Both displays have the same resolution, but the Galaxy S6 has the winning pixel density — though you won't be able to distinguish the pixel density difference. LG continues to use LCD screens and incorporate Quantum Dot technology, but Quantum Dot, while providing similar deep colors and dark blacks, doesn't quite mimic Samsung's Super AMOLED displays that make colors pop.
Build Quality
With each new year comes the question of design: what will rival manufacturers do to distinguish their devices from other rival manufacturers? LG went with a removable back this year (the leather being the most famous), but to have half of the phone sport leather or some other material, for instance, seems a bit out of sync with expectations of premium design for high-end smartphones that cost a pretty penny.
The Galaxy S6, however, is a thing of beauty. The phone itself is made out of aluminum 6013 metal, the same material used to build airplanes (and thus called "airplane metal"). On the phone's back exterior, Samsung wrapped the airplane metal with Gorilla Glass 4 to match the phone's display, matching the S6's display with that of the Galaxy Note 4 unveiled last September.
Winner: LG's decision to go with a leather back instead of a fully leather phone remains mysterious in our minds, but Samsung's airplane metal and Gorilla Glass 4 design are nothing short of gorgeous. Samsung's pulling something of a "Sony" here, and the S6's design seems to be better crafted than LG's G4 – where back covers appear to be more of an afterthought.
Cameras
The Galaxy S6 has a 5MP front camera with an f/1.9 camera aperture and a 16MP back camera with an f/1.9 aperture.
In contrast, the G4 has an 8MP front camera with an f/2.0 aperture, and a 16MP back camera with an f/1.8 aperture.
Winner: LG's 8MP front camera packs a larger zoom quality and greater detail, while its back camera, matching the megapixel count of the Galaxy S6, lets in more light with its slightly better camera aperture. In real use, reviewers give this competition a tie, but we'd love to see DxOMark do its own camera competition between these two. LG also offers a ton of professional camera settings in its camera app that aren't available on the S6.
Processor and Memory
The Samsung Galaxy S6 runs on Samsung's, 14-nanometer, octa-core Exynos 7420 processor with 3GB of RAM and has a minimum 32GB of onboard storage without a MicroSD card slot and expandable storage. For the first time, Samsung ditched the removable battery and MicroSD card slot for faster UFS 2.0 flash storage and fixed onboard storage. Samsung doubled the onboard storage of the base model this year as opposed to the Galaxy S5's 16GB of local storage for an additional $50 from last year's model.
On the other hand, the LG G4 offers 32GB of onboard storage, a MicroSD card slot with expendable memory up to 2TB (that's two terabytes!), and 3GB of RAM. LG has produced quite a powerhouse contender. However, the one drawback to LG's G4 is the smartphone's hexa-core Qualcomm Snapdragon 808 processor that doesn't outperform the Exynos processor of the S6.
Winner: LG's MicroSD card slot and local memory together make it a tough contender. Most consumers, even those who choose the S6, wish that Samsung had maintained some of the old-school features of the S5.
What will tip the scales in favor of Samsung, however, is the manufacturer's new 14-nanometer die that is said to be 30-35% more power efficient than the 20-nanometer die of Qualcomm's hexa-core processor. Adding to this is the fact that Samsung's Exynos processor has big.LITTLE architecture, ensuring that the larger cores operate for major, intensive tasks like gaming while the smaller cores operate for minor tasks — leading to improved battery life and reduced overheating.
The best way to think of the battle of the processors is like this: a car with 8 tires (4 that operate all the time, 4 that are utilized only in specific circumstances) will outpace a car that only has six tires. A car can only run on 4 tires, and a car with 6 tires will only have 2 remaining if the first 4 give way.
Both offer compelling packages here, but the octa-core Galaxy S6 gets the win here for its processor power, overheating reduction, and its core performance. The G4 can hold its own, but its processor puts it behind in this race.
Battery
Both the GS6 and the G4 have Quad HD displays, and, as usual, the question always comes down to battery life. The G4, however, maintains the 3,000mAh battery that was present in the G3 – which isn't really smart, when you think about the company's battery woes with the Quad HD display in the G3. LG does offer a free, additional removable battery, so you may not need to worry (if you keep your removable charged and with you for the battery-draining moments, that is).
Samsung went with a closed back cover this year, so there's no removable battery. The Galaxy S6 runs on a 2,550mAh battery (the GS6 edge with a slightly better one at 2,600mAh), and it, too, has been questioned about its battery life. Many a tech reviewer has noted that you won't get GS5-like battery life with the device, but there have also been some positive surprises with the S6 battery. For one thing, light users can expect up to as much as 3 days out of the S6 battery while heavy users may get a day (24-28 hours). The Galaxy S6's battery is sufficient for what users need, but the battery itself is underperforming when compared to the Galaxy S5 and Note 3. With the new Lollipop update, the Note 3 can get as high as 36 hours of battery life with moderate usage, so the Galaxy S6 seems underperforming in this regard (even though average users won't notice).
Samsung's Power Saving and Ultra Power Saving modes are part of the deciding factor here. Should someone decide to utilize these modes, he or she can get days (plural, not singular) of battery life. LG said with the G3's market entrance that the company has best optimized its devices for consumption, but Samsung places the control over battery life in the user's hands, rather than assume all of the responsibility itself. With that said, these battery modes can turn off the display when you're in a business meeting or at work and away from your phone, saving you hours of battery life. With LG, you're pretty much stuck with trusting LG's battery life (which is questionable at best) and hoping your device doesn't die at the wrong time.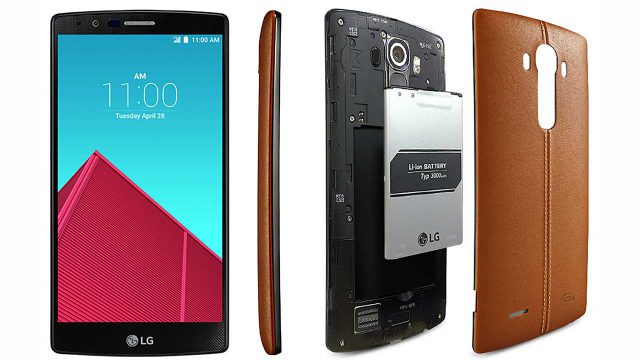 The nail in the coffin for the G4 here (and Samsung's Galaxy S6 knockout punch) is wireless charging. In a day and time in which few individuals use it, Samsung's Galaxy S6 has given us yet one more reason to trust Samsung as a trendsetter in the market. Samsung went with large displays when many people deemed them "tablets against the ear"; the company went with feature-packed software when Google continued to advocate a vanilla Android experience (Android M confirms Samsung's vision in this regard, not to mention the battery-saving mode Google added in Lollipop only after Samsung adopted a battery-saving mode of its own; this is the case despite HTC and Sony, whose battery-saving modes were virtually neglected by Google until Samsung's Galaxy S5 implementation). And now, the company is betting on wireless charging to be the future of charging, despite Google's microSD card support that is heading to Android M. Samsung's often been seen as an old-school manufacturer, but the S6 is the best phone to represent the company's cutting-edge personality that isn't afraid to shed the former mold for a new one.
Winner: Samsung wins by default in this category, due to the company's ability to optimize its own devices. As we've seen above, the Exynos processor is a major contributor to the zippy devices Samsung has produced, and LG's track record with battery optimizations isn't good at all – despite the company's insistence with last year's G3 that its under-the-hood optimizations would put an end to battery concerns.
Conclusion
The LG G4 stands out because of its removable battery, microSD card slot that could provide an additional 2TB of local storage, 8MP front camera, and f/1.8 aperture with its back camera. At the same time, however, the Galaxy S6 provides an f/1.9 aperture with its camera that is just as good (if not better than the G4), its top-notch AMOLED display for which the G4's Quad HD display can't compete, its stunning airplane metal (aluminum 6013) and Gorilla Glass 4 for the display and the back, and its cutting-edge wireless charging, not to mention its software features in TouchWiz that make the G4's experience seem dull by comparison.
Usually, when we bring you these spec comparisons, we tend to give analyses based on early statements while waiting for later tests to confirm. Fortunately, we've received word today that in the latest real-world tests between the Galaxy S6, LG G4, Asus Zenfone 2, Google-Motorola Nexus 6, HTC One M9, and the Apple iPhone 6, Samsung's Galaxy S6 dominated the categories of PDF load time, gaming performance, video editing, and even in Geekbench 3 benchmarking. The Galaxy S6 defeated the LG G4 in PDF load time, loading 95 seconds faster than the G4.
In camera load time, the G4 beat out the S6 by just 3 seconds, which is a nod to Samsung's Korean rival. In gaming performance, the Galaxy S6 tied with the iPhone 6 at a rate of 30 frames per second (fps), beating out the G4 (which came in at 28 fps). In video editing, the Galaxy S6 trimmed a 1080p video to 480p in a much faster fashion than the G4 (2 minutes, 35 seconds for the S6 vs. 4 minutes, 19 seconds for the G4). The real G4 shaming came in the Geekbench 3 benchmarking, where the Galaxy S6 scored 5,283 points compared to the G4's 3,548. The G4 was the runner-up in Geekbench 3 scoring – which indicates that there is no competitor on the market that can hang with the Galaxy S6.
In the end, the G4's hexa-core processor and its cameras will suit most users just fine, but LG's device won't keep the pace with the Galaxy S6. It is a stunning return to glory from a company who's never really left the spotlight. Even though the Galaxy S6 is a beauty and wins this contest for many reasons, the S6's design is not the "dessert" itself, but rather, the cherry on top.