Recently, Nikon sent out letters to owners of the D700/D800 owners, which states that these owners can participate in the "free maintenance service initiative". However, could this just been a sly way of issuing a recall on D700s/D800s that could possibly have a defect?
The message, which comes from Cory Devereaux, Associate General Manager of Operations, Service and Customer Relations, states that those who receive the letter have been selected to participate in the initiative. According to Nikon, the camera manufacturer wants these select users to send their D700s/D800s back, for Nikon to research how they can meet the needs of their consumers. The message is also accompanied by a survey, which I assume is to collect some preliminary information.
Nikon says the "free maintenance service" includes a free camera inspection by a trained technician. If the technician is able to find anything wrong with the D700/D800, they will fix the issue, which is also for free, excluding any device that voids the warranty in any way. Finally, Nikon will clean up the device before they return it to the user.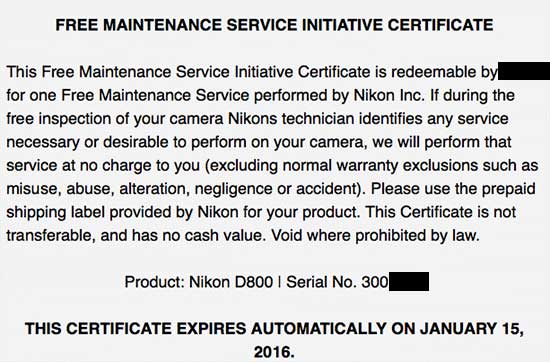 With the letter, Nikon issued a prepaid shipping label that can be printed directly from the message. This free maintenance can be used up until January 15, 2016. Nikon says that the maintenance will take about five to six days after they receive your D700/D800.
The maintenance service message includes a certificate, which states that the user can redeem for the free maintenance and pretty much reiterates what was stated in the message from Devereaux.
So, if this turns out to be an indirect approach at a recall, what could be the reason behind the recall? Some speculate that it is an issue with Nikon D800's left focus.
This issue has been acknowledged by Nikon but has been cropping up since the acknowledgment back in 2012. A misalignment in the autofocus is the cause of the problem and isn't something that can be easily corrected, so that might be the reason for the service initiative.
If this is the case, then why would they also include Nikon D700 owners in the service initiative? It could just be another clever way for Nikon to distract users from a specific problem in one model by including several models in the initiative. Maybe both models have a specific problem that Nikon is looking into. It remains unclear where the issue lies, as Nikon remains tight-lipped on the details.
No matter the problem or the truth behind the "free maintenance service initiative", Nikon is still offering a free service, which is something that eligible D700 and D800 owners should take advantage of.