Is your battery running out more quickly than expected? If that is the case, then it might be due to some of the apps that you are running. Some apps drain the battery more quickly than others, and AVG has a quarterly report of the apps that consume more battery. In this article, we have listed seven such apps that aim at making your phone run out of the battery.
Netflix
Netflix ranks at seventh position on AVG's battery draining apps rankings. That hardly turns out to be a surprise as it is essentially a movie app. It is an app that plays movies, and that requires more resources than most alternatives. That is especially the case when it is playing HD content.
Snapchat
Snapchat is also in the rankings when it comes to listing out battery draining apps. It is an instant messaging app that requires a lot of RAM and data. Consequently, it drains the battery more quickly than any other app at the moment. A Travel Mode has now been added to Snapchat that reduces the app's battery consumption, but it doesn't seem to have had much impact as of yet.
Samsung's WatchON
Samsung WatchON is a media app that remains among the top battery draining apps run by users. If you want to preserve battery on your Samsung smartphone, this is an app that you need switch off if you hardly use it. You can do that by disabling it via the Application Manager.
Clean Master
Clean Master is a system utility app that you can use to remove files, but it is also among top battery draining apps. It ranks at the fifth position of AVG's rankings for battery draining apps run by users and at startup. However, note that Clean Master also has a Task Killer that can help preserve the battery.
See Also: 5 of the best apps for sending group texts on Android and iOS
Facebook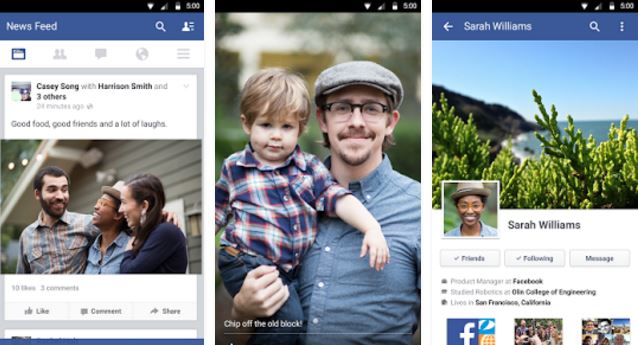 Facebook is an app having the largest number of users, but it also drains an enormous amount of battery portion. Facebook is regularly pushing necessary app updates to ensure it doesn't eat up much battery. However, it still consumes a lot of battery on the startup and data hogs. Switch off the FB notifications to save some battery.
WhatsApp
WhatsApp is another IM app that drains a considerable amount of battery. It has higher data usage than most other apps and uses audio streaming API. Consequently, it consumes lots of battery at startup. However, on a positive note, WhatsApp is more battery efficient than Facebook, which is higher in AVG's rankings.
Clash of Clans
Clash of Clans tops AVG's battery draining apps/games rankings. It might come as a surprise as Clash of Clans is not a game with 3D graphics. However, it does have a Running graphics engine and vivid colors. It is ranked just above Candy Crush and Farm Heroes Saga at the second and third place respectively.
There are several apps that usually fall under the list of battery draining apps. To preserve battery, check out some of the alternative apps you can add to your Android or iOS handset. If you have an app that is draining the battery, then let us know in comment section. You can also check out whether or not AppleCare+ cover water damage.