Microsoft earlier said that it'll introduce a new feature with Windows 10 that'll allow users to install their apps on SD cards, thus removing the hassles of limited internal storage. However, the Redmond giant has announced last minute changes and now says that the feature will be missing from Windows 10 when it launches on July 29.
"We have actually made the decision to postpone the apps on SD functionality to a later release. While I know this feature excited many of us, we didn't feel like it was ready for prime time. Our goal is to delight users with everything that we build, and we truly feel that that is what will happen once we have built our vision for this feature," said Microsoft in response to questions posed by a Windows Insider about the feature.
As of now, the Windows maker hasn't given any specific timeline as to when the feature will be rolled out, though it could likely be included in the Redstone update. Microsoft can also bring this functionality when it launches the new Skype messaging app for Windows 10.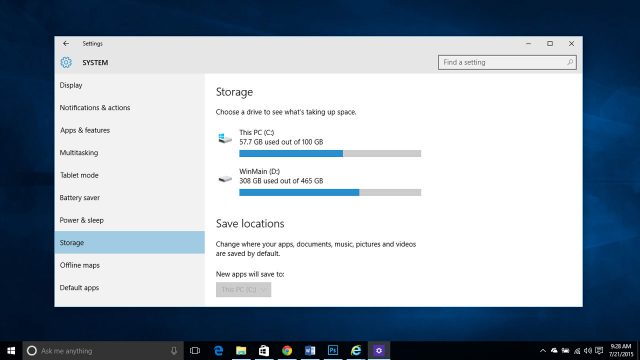 With this feature, Windows 10 would have finally removed the barriers to limited internal storage as users could transfer any app on their SD cards. However, now that the feature has been delayed, it'll likely affect the OS's overall appeal at launch.
Users who were specifically looking forward to buy an affordable Windows 10 tablet will have to wait a little longer to fully utilize this functionality. A slew of Windows 10 powered tablets are expected to hit the market once the OS becomes officially available on July 29, hence it'll be interesting to see if users will buy these new Windows 10 tablets now or wait until the functionality becomes generally available.
Cortana makes its way out-of Windows, Android (APK) version leaks
The Redmond giant wants to attract consumers across all platforms with its forthcoming Windows 10, and is certainly betting big on tablets. The new OS brings a plethora of neat features such as the new Continuum feature, which allows users to switch from desktop mode to touch by simply unplugging the keyboard from the device. Other new features would include the addition of Cortana, the new powerful Edge browser along with the addition other productivity tools.
Nevertheless, users! be rest assured that feature will be rolled out sometime later this year, just not at launch as announced earlier.