Google Hangouts gets a slight overhaul as the company finally rolls out Hangouts 4.0 for Android, which gets updated with the new material design making the messaging app look much slicker and user-friendly. The company announced that the new version of Hangouts app will sport the same material design philosophy first featured on Android 5.0 Lollipop, adding that the app now offers new and intuitive ways to navigate between tasks making the whole experience more fluidic.
With the new update, Hangouts now features a floating 'Compose' button housed at the bottom right corner of the screen, which allows users to initiate new chats and or group conversations. The contacts page has also been spruced up and now appears to be much more streamlined, making it easier for users to find contacts. Another noticeable change is the new layout for adding attachments, which gives users a preview of images and notes they'd like to include. In addition, users will find it rather easy to share emoji's, GIF images and user location.
Apart from design tweaks, Hangouts 4.0 also introduces an Outbound Caller ID on the hangouts dialer, which allows users to set which numbers or contacts they'd like to block. While users can also receive and respond to group MMS messages using Google Voice.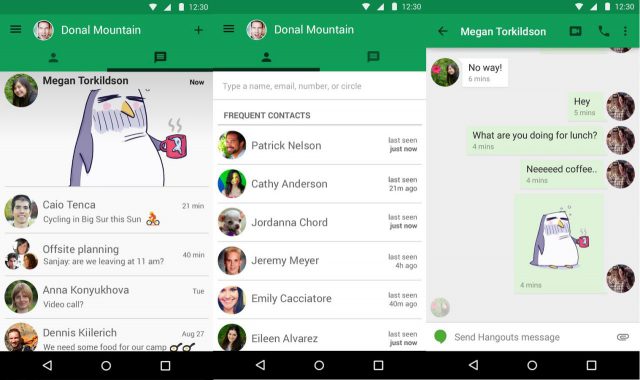 Meanwhile, Hangouts for Android Wear also gets an update. Users can now set custom status and send message by simply saying 'OK Google, Send a Hangouts Message' voice command. Right now, the update is rolling out in the US and will be reaching other parts of the globe in the coming weeks. Its iOS counterpart already exists as it was announced around a month back also got many of the same updates.