Water damage. It's the most dreaded situation in which you can find yourself. Now, there are smartphones such as the Samsung Galaxy S5, S5 Active, and the Galaxy S6 Active, and Sony Xperia Z3 and Z4, all of which are water-resistant and dust-resistant, but smartphones such as the iPhone 6 and 6 Plus, the Galaxy S6 and S6 edge, LG G3 and G4, and the Nexus 5 and Nexus 6 are not water-resistant. Water resistance, by the way, is not the same as "waterproof." No smartphone (yet) is waterproof, but a few are water-resistant. Once your non-water-resistant phone hits the water, you know what you have to do: repair a water-damaged phone.
If you want to repair a water-damaged smartphone (and it is one of these or a device that lacks water resistance), you're going to have to do it the "old-fashioned" way.
What not to do:
1. Do not start your phone immediately after taking out of water and avoid pressing any keys or buttons, as it increased the risk of water entering the body. Also, avoid any kind of heat like blow dryer.
2. Don't blow dry it.
Here's how to repair a water-damaged phone:
1. After taking it out of the water as soon as, remove all the "loose" components such as battery, SIM card, and microSD (if your phone has one). If your device was charging when it fell into the water, you'll want to either remove the phone and detach the charging cable or call a certified electrician for help. If your smartphone has a removable back cover, you'll want to take it off in order to dry out the back of the device. Removable back covers and removable batteries are convenient for some customers, but they also bring with them the concern of water seeping through them to affect the phone battery.
2. Next, get a plastic or clear bowl or container, fill it with dry, uncooked rice, and place the phone in the bowl on top of the uncooked rice. If you don't have access to dry rice or a clear bowl or container, you can always purchase a phone-drying pouch to repair a water-damaged phone. Phone-drying pouches can be found at Amazon and other online retailers. We recommend the container and uncooked rice option because these products are more accessible than phone-drying pouches; phone-drying pouches, however, are more convenient. Which you select is up to you.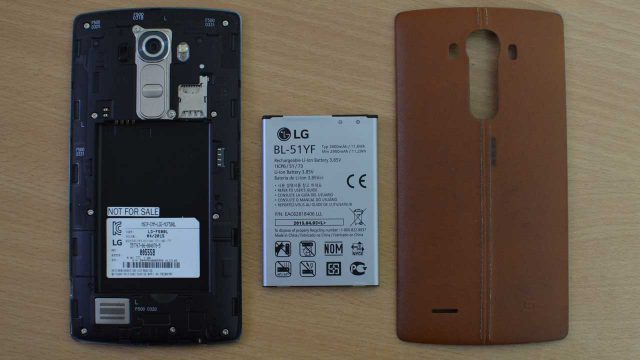 3. You'll want to wait a day or two to see if the device dries out. Depending on how much time your device was in the water (whether sink, toilet, etc.), it may mandate only 24 hours in dry rice.
4. Once the device has been resting in rice or the phone-drying pouch for a day or two, you can take it out and test the phone to see if the water has dissolved. Place the battery into the device and see if the phone still has power. When first testing the device, do not place the SIM and microSD back into the device; if the phone is still holding water, it may damage your SIM and microSD cards. If you want to examine whether or not the phone shows any signs of water present, you can always look over the device, touch the open areas, and so on.
5. If you have manually dried the phone with a small hair dryer, and notice that the phone will still not turn on, you'll need to likely take it in to your local carrier or mail it back to the manufacturer. If you have a phone insurance plan, it is recommended that you return the phone to the carrier right away. If you have no phone insurance, it is recommended that you 1) try to repair the water damaged phone yourself as a first resort to save money, or 2) take the phone to a phone repair store and pay a fee to repair a water-damaged phone.