Vine app today launches for the watchOS. Apple Watch users can now download the updated Vine app that allows them to play tiny videos on their wrists. The app has been updated with two feed for the watchOS – Favorites and Features.
With Favorites, users can view posts from creators they've selected while Features allows them to watch selected videos across genres like Comedy, Music and Sports. As long as six-second looping videos can be watched, while users can also set their total loop count as a complication on certain watch faces to keep themselves updated with the number of times their videos have been looped.
To get the Vine app for the Apple Watch, users need to update to the latest version (4.4.0) of the app on iOS. Once updated on iOS, you'll need to open the Watch app on your iPhone, and then activate the "Show App on Apple Watch" in the Vine app from your iPhone.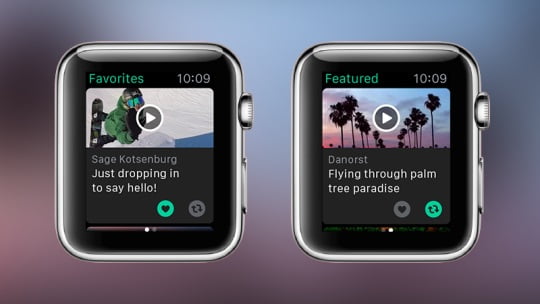 Vine gave us a teaser of its watch app on stage during Apple WWDC held back in June, as the Cupertino giant wanted to showcase the ability to playback videos in watchOS 2.
"When we set out to build Vine for the Apple Watch, we focused on making sure that you can quickly access the content on Vine that is most important to you — accounts that you have selected as a Favorite and posts that are getting lots of views," Vine iOS Engineer Simon Corsin wrote in a blog post. "We hope you like it."
While those of you who don't have the Apple Watch, Vine has also updated its iOS app giving users newer ways to discover videos. By just swiping left on any video, clips related to the video will start showing. This feature for now is only available on iOS, though we'd expect it'll be coming out for Android devices soon.