Which was the best smartphone of 2015? One way to find out is to check out Antutu's performance benchmarks revealed in January. Now, Antutu has just published its latest rankings of the best performing mobiles from last year.
The surprise top phone on the rankings was the iPhone 6S Plus. That was perhaps a little surprising given that the iPhone 6S Plus does not have the highest specifications compared to others on the list. The Apple handset topped the rankings with an average score of 132,600 points, which makes it the fastest phone ranked.
That placed it someway ahead of the second place phone, Huawei Mate 8, which ranked in with 92,746 points. The Mate 8 has better specifications than the iPhone 6S Plus. The handset boasts 4 GB RAM and a 2.3 Ghz chipset. In comparison, Apple's iPhone 6S Plus has 2 GB RAM and a 1.84 GHz A9 chip. Both the phones have the same 1,920 x 1,080 display resolution.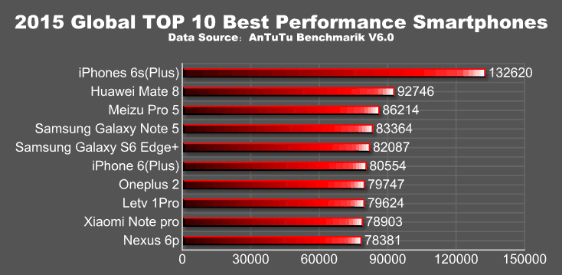 What set this year's ranking apart from others is that it compares both Android and iPhones. The rankings include the iPhones for the first time. The iPhone 6 also made some headway in the charts where Antutu ranked it sixth.
Phones that include Samsung chipsets were also among the top ranked. In third, fourth and fifth place were the Meizu Pro 5, Galaxy Note 5 and the Galaxy S6 Edge. All of those include the Exynos 7,420 chipset.
Phones with Snapdragon 810 did not have so much impact on the Antutu rankings. Xiaomi's Note Pro and Huawei's Nexus 6P both include a Snapdragon 810 chipset, but rank in at ninth and tenth. The Note Pro had a 78,903 score, and the Nexus 6P clocked up 78,381 points. Little wonder Samsung abandoned the 810 in favor of Exynos chips for its handsets.
Samsung Electronics to manufacture Qualcomm's Snapdragon 820 processor
These Antutu rankings certainly generate some intriguing debate. It will be interesting to see how handsets with the Snapdragon 820 chipset are going to rank on the next Antutu chart. Then it might include phones such as the Sony Xperia Z6, Samsung Galaxy S7, LG G5 and Apple iPhone 7.