The Galaxy S7 is the hotly anticipated Samsung phone most expect the company to reveal soon. There have been plenty of rumors about the potential specifications for this phone. The rumors have been consistent, and recent AnTuTu benchmark leaks have now revealed some of the phone's specifications.
An AnTuTu benchmark on Weibo included specifications for the Galaxy S7. The leaked specifications pretty much reveal what the rumor mill has suggested the phone might have. For instance, the AnTuTu benchmark shows that the S7 will have a Snapdragon 820 processor. Furthermore, with that chipset, it's going to have an Adreno 530 GPU.
A Snapdragon 820 chipset for the Galaxy S7 had been widely rumored. Note that another recent AnTuTu benchmark also highlights there will be a version of the handset with an Exynos 8890 processor. The Snapdragon version will more likely be a North American model. While, the Galaxy S7 will have 4 GB RAM and 64 GB internal storage.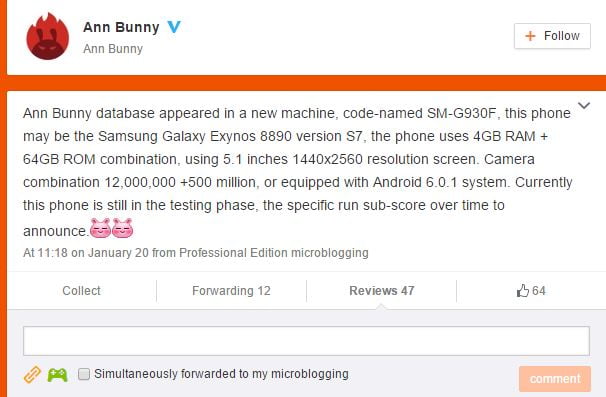 One thing to note is that the camera resolution specifications on the AnTuTu benchmark are a little less than some might have anticipated. Rumors suggested that the S7 could have a 20-megapixel primary camera. However, the AnTuTu specs for the phone include a 12-megapixel rear camera and 5-megapixel front snapper. In fact, that's a lower resolution than the Galaxy S6 camera.
The only other specification included is for the S7's display. The AnTuTu benchmark highlights that the phone is going to have a 5.1-inch display with 2,560 x 1,420 resolution. So the phone's resolution is pretty much as expected. However, it's interesting to note a 5.1-inch display spec on the AnTuTu benchmarks, which is less than the 5.7 and 6-inch display some had forecasted for the Galaxy S7.
Samsung Galaxy J5 (2016) visits GFXbench, confirms expected specs
Most analysts have forecasted that Samsung will reveal the Galaxy S7 in February. Then the company could showcase its latest S phone at the Mobile World Congress. A leaked China Mobile image that included a presentation slide further highlighted that will be the case.
So Samsung will probably unveil the Galaxy S7 as an official phone at the Mobile World Congress. With a Snapdragon 820 processor, this handset will be more comparable to upcoming LG's G5 and Sony's Xperia Z6.