Facebook has rolled out a new tool which aims to extend help to those who might be going through a suicidal phase in their lives.
The entire thing is based on the role of friends and the way they react to a post that might contain subtle hints of deep distress that someone might be enduring, enough to drive them to commit suicide. And all that the friend needs to do is flag such posts so that it comes to the notice of the Facebook moderation team. Facebook has also ensured friends get to flag such posts anonymously, a nice thought that no doubt works great in tricky situations such as these.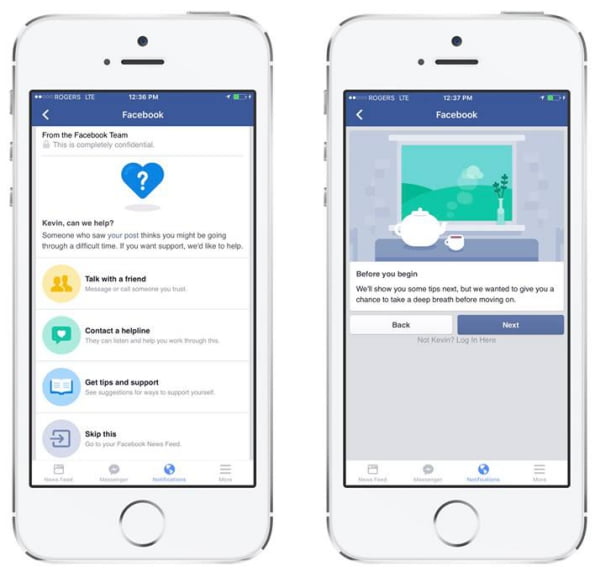 Also, Facebook's move to launch a suicide prevention tool has its roots in a finding by anti-suicide charitable organizations such as Samaritans and National Suicide Prevention Lifeline that claims most acts of actual suicides precedes with an online plea for help.
"We worked with organizations including Samaritans to develop these tools, and one of the first things they told us was how much connecting with people who care can help those who are struggling to cope – whether offline or online," said Facebook's Safety Policy Manager, EMEA, Julie de Bailliencourt.
As such, with Facebook emerging almost as the default platform for people from the world over to discuss even their personal issues, this no doubt makes for the ideal place to hunt for those battling suicidal tendencies and do the needful.
See Also: Facebook finally launches video comments
Also, it's here that Facebook's special team comes into the picture. Available 24X7, the team reaches out to the person concerned with several options such as reading materials, tips or anything that might alleviate their situation. That also includes means to communicate with organizations trained to deal with people with suicidal thoughts, something they hope might offer the last ray of hope to those who might have lost it all.
The tool was initially available in countries like the US though it is now being made available worldwide.
With life becoming increasingly fast paced, this has taken a heavy toll on people's emotions and their ability to handle stress. Now with Facebook coming onto the scene to play its part in battling suicides, that again is a reaffirmation of a role that the company will have no qualms in playing, that of serving as the single biggest representation of people from all walks of life and every part of the world.