Apple is back at the top so far as the sale of wearables is concerned, much of which can be attributed to the success that the Apple Watch 3 received. According to data released by Canalys, Apple shipped 3.9 million of the smartwatch during Q3, with Apple Watch 3 accounting 800,000 of it.
Canalys also maintained the shipment figures for the third-gen Apple Watch could have been much higher but for constraints in the supply chain. Apple had launched the Apple Watch 3 in the third week of September and happened to be the first to have its own integrated LTE cellular connectivity, thereby negating the need to be tethered to an iPhone device.
The Apple success story also assumes considerable significance in light of the 2.8 million shipments the firm achieved during the same period just the previous year. Now with 3.9 million shipments achieved in Q3, Apple also has 23 percent share of the market, which puts its ahead of Xiaomi, albeit slightly given the Chinese firm's 21 percent market share.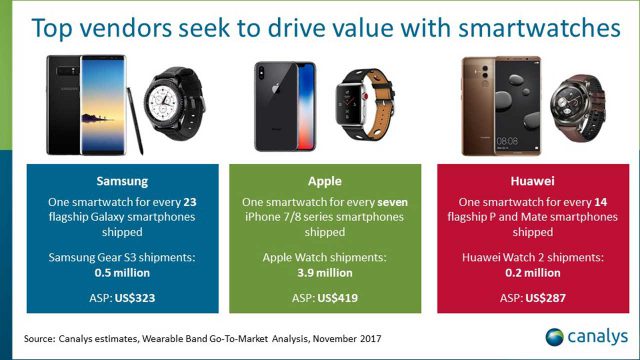 Fitbit too closes at third with 20 percent market share. Huawei and Samsung make up the fourth and fifth slot with 6 and 5 percent share respectively.
Experts believe the biggest factor that helped Apple Watch 3 achieve the sort of success it did is its integrated cellular feature. This enabled buyers to venture out with just the Watch 3 without worrying about lugging around a compatible iPhone as well. The Watch 3 itself allowed for making or receiving calls and such. A consistent focus on the health apps is another reason that has contributed to the success of Watch 3.
Apple owes up to Watch Series 3 cellular connectivity issues
In fact, the growth of the Apple wearable division can be the harbinger of even bigger news considering that the holiday shopping season is just around the corner. The Q3 is also when most buyers hold on to their purchases, instead opting to wait out for the holiday season. As such, Apple is only expected to extend the lead given the solid start it has made in Q3.