In what is turning out to be a routine rather than an exception, it is now the Motorola Razr foldable phone that has been leaked weeks ahead of its official launch. And the credit goes to serial leaker Evan Blass who is also usually pretty much accurate with his leaks.
So, from what is evident from the leaks, the upcoming Razr phone is going to sport roughly the same form factor as its famous predecessor. That includes a rather thick bottom end which is also seen housing what undoubtedly is a home button. The real magic though lies with the display, which is going to be all touchscreen and above everything else, will be foldable this time.
The upper portion would fold down and sit flush with the bottom plastic portion, as it used to be with the Razr of yore. However, while the old Razr phone had a keypad at the bottom portion and a display on the upper half, the new age Razr will have touchscreen all through that bends horizontally roughly along the middle.
Such a Razr phone will also put Motorola in the same league as Samsung and Huawei both of which have showcased foldable phones in the form of Galaxy Fold and the Mate X respectively. Of these, the Galaxy Fold ran into some seething design issues initially though those have since been resolved and are back on store shelves. The Mate X though is yet to see a commercial launch.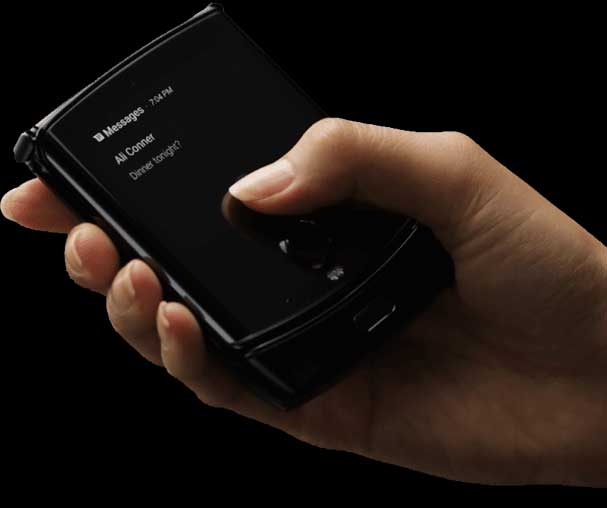 Also, unlike both Samsung and Huawei who have positioned their respective foldable phones as flagship offerings, Lenovo owned Motorola seems to have a slightly scaled-down approach with its Razr offering. That includes the fitment of an upper mid-range Snapdragon 710 chipset combined with 4 or 6 GB of RAM, as some rumors had earlier predicted. The choice of storage could range between 64 GB and 128 GB.
The same rumor streams had also claimed the presence of a smaller display at the front, citing Motorola's patent designs that got leaked earlier. That should serve to keep the user apprised of important notifications, thereby negating the need to flip open the phone each time.
Extensive UI modifications should also be evident to take into account the expanded viewing area that also bends along the middle. As for its price, that likely could be in the vicinity of $1500, which makes it cheaper than the $2000 Galaxy Fold but is still pricy considering it has a relatively smaller viewable area compared to the Fold.