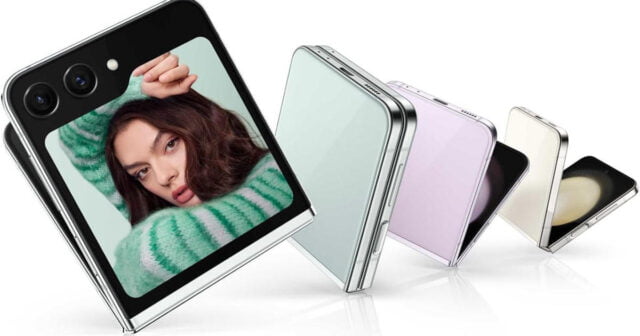 Samsung is building excitement ahead of the Galaxy Z Flip 5's launch by teasing its new hinge system, which promises to eliminate the "hinge-gap" seen in previous models. A recent teaser video released by Samsung India on Twitter showcases the Galaxy Z Flip 5 in three colorways: Lavender, Mint, and Cream. The video demonstrates the device's opening and closing movements, offering a clear view of the redesigned hinge.
The Galaxy Z Flip 5 has undergone a significant design overhaul, featuring a 3.4-inch cover screen that allows users to access more detailed widgets, mini-apps, and a full on-screen keyboard for message replies. Rumored specs include a Snapdragon 8 Gen 2 processor, 8 GB of RAM, 128 GB / 256 GB storage options, an improved 12 MP primary camera with OIS, a 12 MP ultrawide camera, a 10 MP selfie camera, and a 3,700mAh battery with 25W fast charging. Stereo speakers and an IPX7 water resistance rating are also anticipated.
What do you think this symbol means? Drop a comment below!#JoinTheFlipSide #SamsungUnpacked pic.twitter.com/tvNWTLaQoM

— Samsung India (@SamsungIndia) July 21, 2023
A major highlight of the Galaxy Z Flip 5 is its revamped hinge design, which addresses the dead air space seen in its predecessor when closed. The new hinge system appears to offer a tighter tolerance, resulting in a more squared-off appearance when shut. Unlike the previous model, Flip 5's screens and frame seem to align seamlessly without any noticeable gaps.
While it's important to note that marketing videos are often edited for perfection, the lack of any visible gap in the teaser video indicates a significant improvement in the hinge design. Promotional materials for the previous model did not hide the gap, so consumers can reasonably expect the Flip 5 to maintain its seamless appearance upon release.
Samsung's teaser concludes with Galaxy Unpacked event details, confirming the launch date as July 26. As an added incentive, the company is currently running a promotion that offers $50 in credit for those who reserve a pre-order spot for free. With its enhanced hinge design and other rumored upgrades, the Galaxy Z Flip 5 is undoubtedly generating excitement among tech enthusiasts.