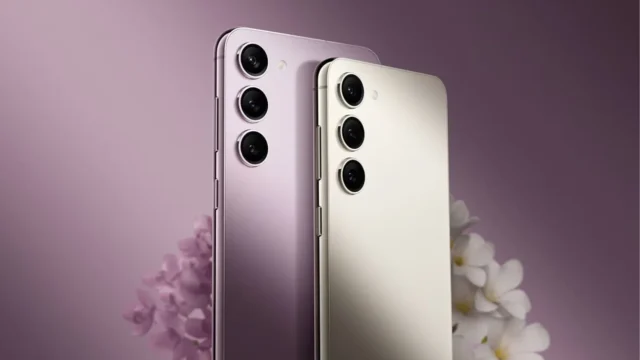 In a surprising turn of events, fresh leaks have unveiled the design of Samsung's upcoming Galaxy S24, and it's turning heads for more reasons than one. The latest revelations suggest that the tech giant is taking a page out of Apple's design book, with some distinct features reminiscent of the iPhone.
Key Highlights:
New flat edge design similar to Apple's iPhone 14 series.
Display bezels slimmer than Apple's iPhone 15 Pro.
Base Galaxy S24 dimensions: 147 x 70.5 x 7.6mm with a 6.17-inch display.
Galaxy S24+ and S24 Ultra dimensions also revealed.
Battery capacities: 4900 and 5000 mAh for the bigger models, 4000 mAh for the base model.
The recent leaks, sourced from SmartPrix and OnLeaks, provide CAD-based renders of the Galaxy S24. At first glance, the design seems largely similar to its predecessor, the Galaxy S23. However, a closer look reveals subtle yet significant changes. The most notable alteration is the frame of the device. The new flat edge design, reminiscent of Apple's iPhone 14 series, offers a sharp transition between the display and the side. This departure from Samsung's traditional rounded frame design is both bold and refreshing.
Another major highlight is the challenge Samsung has thrown at Apple's new edge-to-edge iPhone 15 Pro displays. Apple recently made waves with its ultra-slim bezels, but Samsung is set to outdo them. While Apple's total bezel measures 2.7mm (1.7mm on the display), Samsung's Galaxy S24 is rumored to feature a total bezel of 2.5mm, with 1.5mm on the display.
Dimensions and Specifications:
The base Galaxy S24 model is slightly different in size compared to the Galaxy S23. The new dimensions are 147 x 70.5 x 7.6mm, while the S23 was a tad shorter and wider. The display size for the base model is pegged at 6.17 inches. As for the larger models, the Galaxy S24+ is expected to measure 158.5 × 75.9 × 7.7mm, and the Galaxy S24 Ultra at 162.3 × 79 × 8.6mm. The battery capacities for these models are 4900 and 5000 mAh, respectively, with the base model housing a 4000 mAh battery.
In conclusion:
The Galaxy S24 is shaping up to be a game-changer in the smartphone market. With its iPhone-inspired design elements and a commitment to slimmer bezels, Samsung is clearly looking to set new standards. As the tech world eagerly awaits the official launch, these leaks have certainly set the stage for a riveting showdown between the industry's giants.