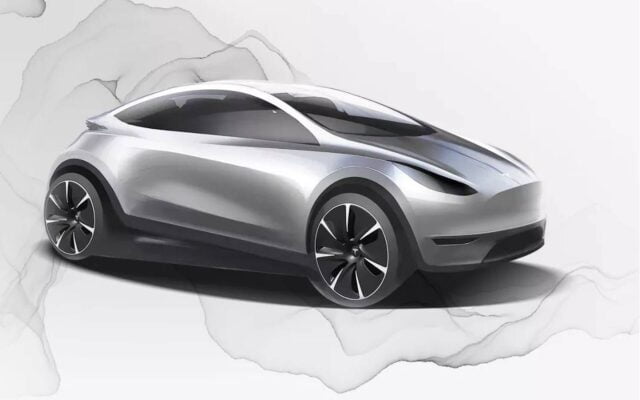 If you want to predict how much Tesla's cheapest car will cost at any given time, you just have to know one thing: the average price paid for a new vehicle in the U.S. Only $300 or so separates the two figures, on average.
It's been that way from the start, according to a new analysis of pricing data compiled by Bloomberg. When the Model 3 went into production in 2017, Elon Musk touted a $35,000 starting price that almost exactly mirrored the $34,944 average cost of a new vehicle at the time. Five years and a burst of inflation later, a Model 3 costs $46,990, versus the $47,692 average in the U.S.
Tesla's floating-price strategy is unique among car companies. It was made possible by Musk's rejection of two century-old traditions: First, he eschewed the franchised dealership model, putting Tesla in control of the final price paid by customers. Second, he's bucked the industry norm of setting prices at the start of each model year, then mostly keeping them static. Tesla changes prices frequently, often multiple times a year.
As electric vehicle demand soars and established manufacturers chase after Tesla, carmakers including Ford and Volvo are beginning to move toward more centralized control over EV sales and pricing. Musk's strategy also will be under more scrutiny than ever before after several quarters of disappointing deliveries has led some analysts to question whether Tesla will need to cut prices in order to keep growing as quickly as it's projected.

Tesla doesn't price cars the same way other automakers do.
Every year, beginning around August, car manufacturers lock in features and prices for each vehicle they sell. The 2023 Toyota RAV4 Prime, for example, starts at a manufacturer's suggested retail price of $41,590, and MSRPs for the various versions of the sport utility vehicle are unlikely to change again until the 2024 model year.
Dealerships will offer incentives, charge additional fees, cut deals or haggle over options and financing, but the MSRP stays steady.
It's a beautiful car with no carbon emission, and initially, I was proud of owning it and being seen driving a vehicle that displayed my concern for the environment.
Dec. 28, 2022
This annual season for setting vehicle prices dates to a mid-1930s policy to stabilize jobs for the holiday shopping season during the Great Depression. Old traditions die hard.
In Tesla's early days of Model S and Model X production — from 2012 to 2016 — the company justified many of its midyear price changes by offering new features or performance upgrades. It might, for example, increase the battery range of a base model by 17 miles, or offer a discounted model with certain options disabled by a software lock.
By the time the Model 3 reached mass production in 2018, however, all bets were off. Pricing sometimes changed week to week, with or without changes to the model lineup. At times, this didn't go over well with customers.
Musk still gets chided for selling the Model 3 at the $35,000 price that he hyped only briefly before taking it off the menu. Over time, though, consumers seemed to accept that Tesla prices are always subject to change. This has given Tesla flexibility to boost demand by dropping prices, or adjust to parts shortages by outbidding competitors and passing the added cost on to customers.

Ford and Volvo are trying to move in a similar direction.
The basic rules of how U.S. dealerships conduct business were created by Henry Ford more than a century ago and later codified into law in most states. One of those rules is that although manufacturers set the recommended price, only dealerships can negotiate the final terms with customers.
The California's Air Resources Board, who have been mandating emission standards for decades, recently voted to stop selling new gas cars in the state by 2035. But in this political climate, can California continue to lead the way?
Dec. 12, 2022
This has become a problem as demand for EVs outstrips manufacturers' ability to build them. Early last year, reports started popping up of dealerships charging thousands of dollars more than the MSRP for models including Hyundai's Ioniq 5, or even tens of thousands extra for Ford's F-150 Lightning. Such extreme markups are negotiated by dealerships, with no financial benefit to the manufacturer, and can undermine trust in the brand.
In September, Ford Chief Executive Jim Farley met with dealer representatives and issued an ultimatum: They would have to agree to no-haggle pricing and make significant investments in charging infrastructure, or at the end of 2023, they'll lose the right to sell any of the company's electric vehicles. Dealers had until November of last year to decide, and almost two-thirds signed on.
Volvo is making similar moves, announcing last year that all of its electric cars will be sold online, with transparent, non-negotiable prices. As has been the case with Ford, the changes have put some dealers on edge.

Inflation turned MSRP strategy upside down.
Midyear changes to MSRPs have always been rare among traditional automakers, said Ivan Drury, an analyst for the car-shopping guide Edmunds. Consumers want to feel like they're getting a good deal, so MSRPs are intentionally set a smidge high, with incentives then used to bring the price down to whatever the market will support.
This rule of thumb that new cars were almost always sold at a discount has been turned on its head since the pandemic. With demand strong and manufacturers unable to keep up because of widespread supply chain issues and higher costs of raw materials, automakers largely withdrew their incentives, saving hundreds of millions of dollars. Some dealers created new fees and tacked on mandatory services. For at least six consecutive months last year, the average U.S. consumer actually paid more than the MSRP — the first time that's happened since Edmunds started tracking prices 20 years ago. The inversion lasted until November, when more of the new 2023 MSRPs kicked in.
Transparent, no-haggle pricing is ideal for manufacturers when demand is high, but less so in a downturn. At those times, dealers want negotiating flexibility in order to move cars off their lots.
"That's why they have targeted the dealership changes literally only for the EVs," Drury said of automakers. "Because that's where they see the demand, and where they see it continuing for years."
Ford flexed its new EV pricing control by changing the MSRP of its new electric pickup truck, the F-150 Lightning, three times last year. The base model now sells for almost 50% more than its debut starting price of just under $40,000.

EV wait lists are the new normal.
The prices of many EVs remain stuck in the stratosphere because manufacturers are still struggling to keep up with demand. Most of the bestselling models have wait lists, with some customers waiting six months or more to get new cars and trucks.
Last year, Tesla raised prices or changed its model offerings on a half-dozen occasions. During its second-quarter earnings call in July, Musk acknowledged the swings were unusual.
"We've raised our prices quite a few times. They're frankly at embarrassing levels," the chief executive said. "But we've also had a lot of supply chain and production shocks, and we've got crazy inflation. So I'm hopeful — and this is not a promise or anything — but I'm hopeful that at some point we can reduce the prices a little bit."
As wait times lengthened early and midway through last year, Tesla even halted sales of two of its most desired models: the Long Range Model 3 and the Standard Range Model Y. "Waitlist is too long," Musk said of the Model 3 in August. "Will enable again as we ramp production." There's no word yet on when that might be.
Wait times for most Tesla models have virtually evaporated in recent months as the company has increased production at its newest factories near Berlin and in Austin, Texas. Musk also has flagged several macroeconomic head winds hitting demand.
Tesla even pulled out some old-school incentives to juice sales, offering $7,500 to U.S. buyers who took possession of their new vehicles before Jan. 1, when new federal tax credits took effect. Deliveries still fell short of expectations, with the company handing over 405,278 vehicles in the last three months, well shy of the 420,760 average estimate compiled by Bloomberg.
How to predict Tesla's new-vehicle prices.
Musk is also raising expectations for a new entry-level model, which he said in October will slot in below the Model 3 at roughly half the cost. Two years ago, he said the smaller Tesla would cost about $25,000. If the Model 3 price history is any guide, that target will end up being aspirational, and may need some inflation-based adjusting.
On Monday, the company said the generation 3 platform will be on the agenda for an investor day it's scheduled for March 1.
Customers also are waiting for updated pricing on the delayed Cybertruck, the pickup the company plans to start delivering in the coming months. When Tesla began taking reservations for the vehicle in 2019, the all-wheel-drive version was priced at $50,000 — almost exactly the average price paid for a large truck that year. The average large truck today goes for more than $56,000.
With Tesla continuing to dominate the U.S. market for electric cars, competitors will want to account for the price of these vehicles when setting their own MSRPs — but they're almost certain to find a moving target.