Samsung Electronics has officially announced its thinnest and lightest tablet of its size with the Galaxy Tab S2. The new tablet will be available in two variants – an 8-inch version while the other boasts a 9.7-inch screen size.
"The Galaxy Tab S2 is not only our thinnest and lightest tablet of its size ever, it also gives users quick, easy access to a wealth of superior viewing and productivity features," said JK Shin, CEO and President of IT & Mobile Division at Samsung. "We believe the Samsung Galaxy Tab S2 is the most complete personal visual device designed for consumers to carry and use anywhere."
The Galaxy Tab S2 gets a metal frame and is a mere 5.6 mm in thickness. As with most flagship devices from Samsung, both variants are equipped with a Super AMOLED display that the Korean manufacturer touts "94% of natural tones to show true-to-life colors (Adobe RGB color standard)."
In terms of specs, the Galaxy Tab S2 8.0 is powered by an octa-core processor (quad 1.9GHz + quad 1.3GHz) and comes with 3GB of RAM along with 32/64GB expandable internal memory options. It packs an 8-inch Super AMOLED with 1536 x 2048-pixel resolution while juicing up the device is a 4000mAh battery.
Optics on the device features an 8MP primary camera along with a 2.1MP front shooter while the 8-inch variant weighs in at 265g.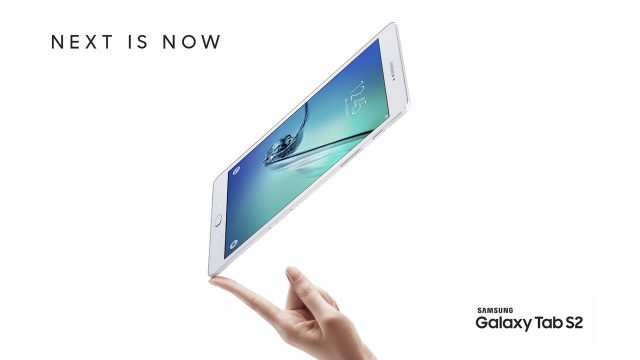 Meanwhile, its larger sibling the Galaxy Tab S2 9.7 sports a larger 5870 mAh battery and weighs a bit heavier at 389g, rest of the specs on the device remaining the same as that of the smaller 8-inch variant. Both variants will come in just Wi-Fi, along with a variant that features both Wi-Fi and LTE capabilities. The tablets also sport a touch enabled Fingerprint Scanner and Multitasking.
In addition, both variants also come with Microsoft Office 365 pre-installed offering up to 100GB of free cloud storage on OneDrive for two years. It is also compatible with the Advanced Book Cover Keyboard, which comes with a built-in trackpad, adds Samsung.
In terms of availability, the new tablet is expected to hit global markets next month in August, though there is no word on its pricing yet.