Angry Birds Go! is likely one of the last Angry Birds games to go rival, although Angry Birds Stella and a few others have stood out for some gamers, too. Rovio, the company behind the famous Angry Birds Go! racing game, was on a roll with the game series – but started to lose its shine over time. With the need to wait in order to continue games after using up so many bird lives, for example, users found little reason to continue picking up the game to play. And as of late, the Web has been rather pessimistic about Rovio's return to the top of the mobile gaming world.
Well, don't underestimate the power of a new game! Rovio is now back with Angry Birds 2, a game that takes the experience you remember but adds more vitality and splash than you've known before. There are 3D animations in the game, as well as some new motions alongside of new, vibrant colors that place the game on another plane entirely. The game has seen 10 million downloads in just 3 days (from July 31-August 3), according to game maker Rovio.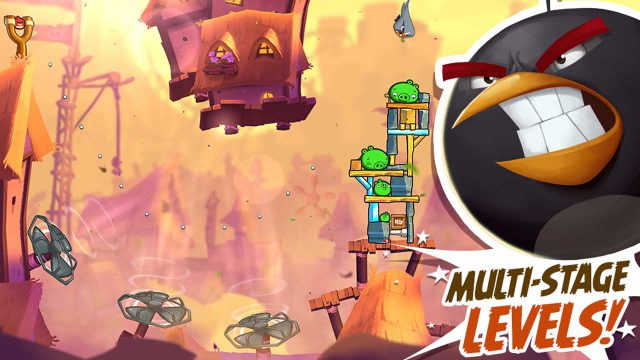 The gaming effects are a big deal, and Rovio's done nicely, but there is still the free-to-play (or freemium) game setup that is nothing short of annoying. What good is it to "wait" when you're in the middle of a game, and it turns interesting? That's what has become the standard for mobile games: in order to attract as many users as possible, one need only provide an initially free download that features in-app purchases with the goal of forcing or manipulating users into buying it. The problem with Angry Birds 2, however, is that the free-to-play or freemium model wants you to grow inpatient with waiting – so much so that you'll pay any amount to continue the game right away.
Unfortunately, that is not the case; what happens is that most players usually grow bored with waiting and move on to something else. Think about it: if someone is playing the game on their lunch break, they're going to play until time runs out (whether in the game, their lunch break ends in real life or both). With gamers who have more free time, however, they are likely to abandon the game and go on to something else that allows them to pay an up-front cost without the waiting that comes with Rovio's freemium setup.
In the end, Angry Birds fans will enjoy the change and pace of the new game, but hardcore gamers may see it as nothing short of "money racketeering." Yes, Rovio wants to make money; that goes without saying. At the same time, Rovio wants to make money continuously, and the more you game, the more potential money Rovio could stand to make. Unfortunately, many current gamers are old-schoolers who remember paying once for a game, not twice, or ten, or twenty-five times in order to experience a game each day. The freemium setup may look enticing for gamers initially, and Rovio ultimately, but it detracts from the gaming experience instead of enhancing it.
And it is the gaming experience that will dictate whether consumers stick with the game, or download Angry Birds 2 while it's new but never play it again. Rovio's financial future depends on the former and will die with the latter.