Stellar Data Recovery Technician is a software tool developed by Stellar Information Technology Pvt. Ltd. that is designed to recover lost or deleted data from various types of storage media, including hard drives, memory cards, USB drives and from RAID servers. It is primarily intended for use by IT professionals and businesses that require advanced data recovery capabilities. The software provides features such as RAID data recovery, RAID recovery from encrypted drives, and support for various file systems including NTFS, FAT, and exFAT. It also includes features like disk imaging, cloning, and the ability to create a bootable recovery disk. Stellar Data Recovery Technician is available for both Windows and Mac operating systems, and it offers a free trial version to allow users to test its capabilities before purchasing the full version.
However, before delving further into the outstanding capabilities of the Stellar Data Recovery Technician, here is a few words about data recovery as a whole so that you get to have a complete picture of the entire thing.
What is Data Recovery?
At times, data that is stored in physical drives such as internal or external hard disks and pen drives can be lost, deleted, or formatted due to various reasons. Those can range from virus or malware attacks, unintentional deletions, software glitches, power outages, or the accidental use of the SHIFT + DELETE keyboard button sequence. To retrieve the lost data files in such cases, data recovery software is employed. This software-driven process of data recovery enables you to recover and restore any files that are lost, deleted, inaccessible, corrupted, or damaged. This way, you suffer minimum downtimes and are able to get back to your normal routine quickly enough.
As we increasingly rely on data in both our personal and professional lives, safeguarding our data systems has become increasingly crucial. With the rapid evolution of the digital landscape, the risk environment is also constantly changing. To mitigate the damage caused by such threats, data recovery can play an essential role in restoring lost or damaged data. However, it's equally important to guard against more common incidents like accidental file deletion, corrupted files, and incompatible third-party software like SaaS.
In case any of these issues affect your systems or files, data recovery allows you to revert your systems to a specific point in time before the incident took place. This process can significantly reduce the amount of time and money lost due to system downtime, which can ultimately strengthen your brand and keep your productivity levels up.
Here is a brief introduction to RAID data Recovery that will help you have a better understanding of it all.
What is RAID Data Recovery?
RAID data recovery refers to the process of recovering and restoring data from a RAID storage system. This involves using a mix of automated and manual recovery procedures to extract and restore data from one or more RAID drives and storage components. RAID data recovery can be performed on both hardware-based and software-based RAID systems.
RAID data recovery is a specialized type of data recovery that differs from standard recovery processes due to the unique and complex way that data is stored and extracted within the RAID storage architecture. RAID data recovery can be performed for any of the RAID levels, including RAID 0, 5, 6, 10 and nested RAID like 10, 50, and 60. Recovery may be necessary due to technical errors such as: Faulty hard disk, Faulty controllers, Data overwritten, Application/software corruption, Reformatting.
Recovering data from a RAID system typically involves reconstructing all RAID storage arrays to their original or most recent good settings and configurations. To achieve this, the individual or software performing the recovery must possess a thorough understanding of the RAID configuration at the hardware, software, and firmware levels. Identifying the correct RAID array is a critical step in the RAID recovery process. It is here that the Stellar Data Recovery Technician tool comes into the picture.
Stellar Data Recovery Technician
Stellar Data Recovery Technician is an advanced tool that can recover data from RAID arrays that have been logically corrupted, rendered inaccessible, crashed, or have failed for various reasons. This software is designed to facilitate seamless data recovery from RAID volumes or disks that have been affected by accidental deletions, file system corruptions, malware attacks, logical errors, software malfunctions, or power outages. This software is specifically designed to facilitate the smooth recovery of data that has been lost from RAID volumes or disks.
Data loss can occur when read/write errors occur while accessing data, such as receiving error messages like 'Can't read data from RAID disk' or 'Unrecoverable Read Error'. These types of errors can render RAID volumes unreadable and make the data within them inaccessible. However, by using the Stellar Data Recovery Technician software, it is possible to restore data from volumes and disks that have become inaccessible due to RAID errors.
What makes Stellar Data Recovery Technician special
Stellar Data Recovery Technician is a software tool that can retrieve data from logically corrupt and inaccessible RAID 0, RAID 5, and RAID 6 and From Hybrid volumes RAID 10, RAID 50, RAID 60 and partitions. The software is designed to work on Windows systems without requiring a RAID controller card. It scans for lost or deleted RAID volumes and can recover data from RAW and missing RAID volumes.
Solid-state drives (SSDs) used in RAID systems can fail due to various reasons such as RAID controller failure, software glitches, power outages, RAID errors, worn-out SSD connectors, overheating, and more. The Stellar Data Recovery Technician software can be used to recover data from RAID systems that use SSDs with RAID 0, RAID 5, or RAID 6 arrays. It supports recovery from formatted, deleted, or logically corrupted SSD RAID drives. The software automatically rebuilds a virtual RAID array and allows you to save the recovered data to an internal or external disk.
It can perform the recovery process successfully even if you do not know the RAID parameters for reconstruction. So, even if certain parameters such as block size, file system, number of disks, and parity order are unknown, the Stellar Data Recovery Technician can still rebuild a possible RAID configuration. Selecting the 'Don't know' option and providing estimated values for Strip Size, Parity Order, Parity Delay, and other parameters, the software automatically identifies patterns and determines the RAID parameters. It can recover data from hardware-based RAID servers without the use of controller cards.
The Stellar Data Recovery Technician software is also capable of recovering RAID data even if the Windows system is unable to boot. It can also be used to create a bootable USB media that can be used to start up the Windows system and perform RAID data recovery. It can recover lost data from NAS devices that are configured with RAID 0, RAID 5, or RAID 6. It can retrieve data from inaccessible and corrupted NAS servers that are RAID-based, such as Iomega StorCenter, Buffalo Terrastation, LinkStation, Synology, LaCie, QNAP, and other Linux-based NAS devices.
Steps to Use Stellar Data Recovery Technician
1. Click on the 'Next' button after choosing the data type that you want to recover.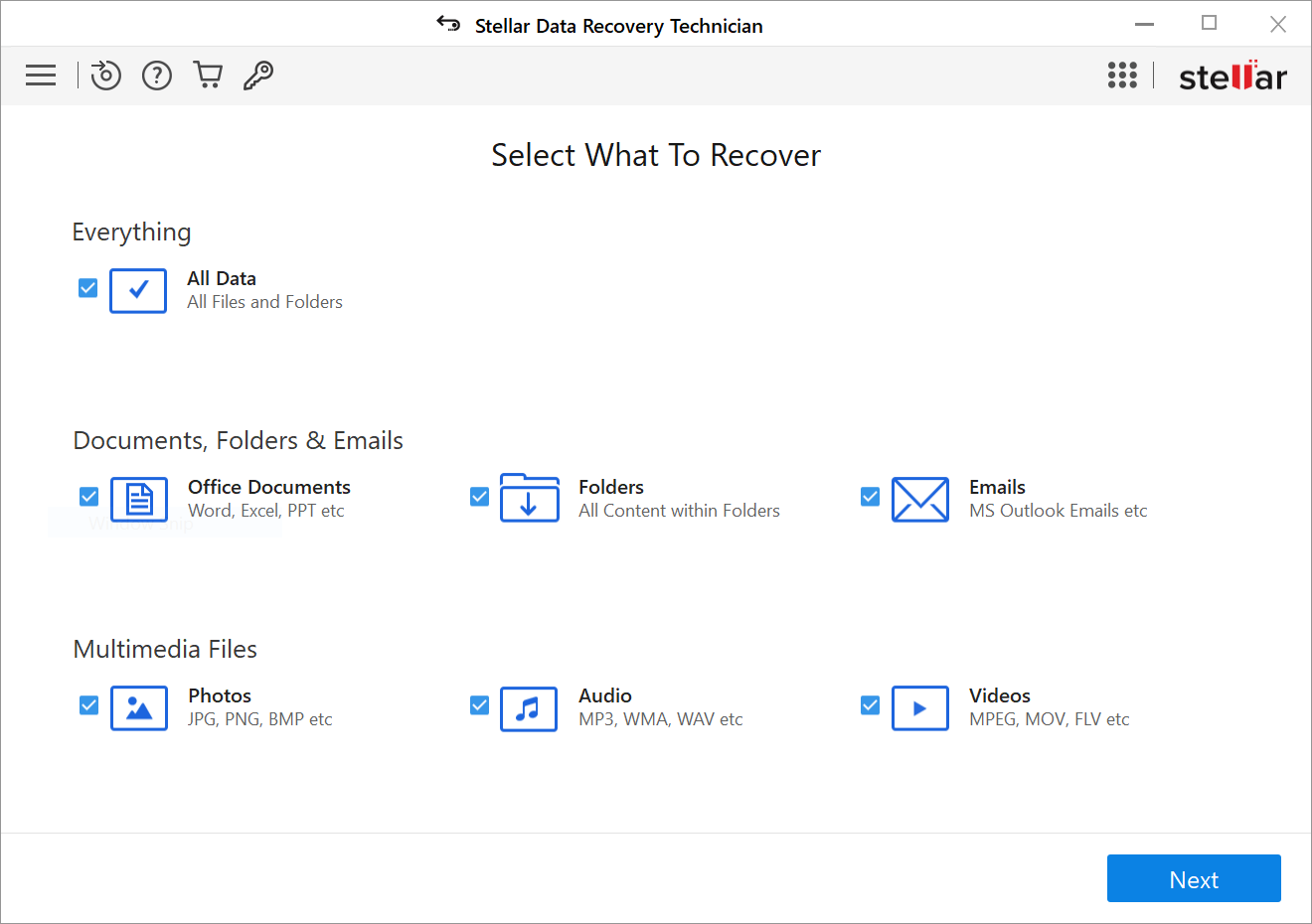 2. Choose the option 'Raid Recovery' to initiate the recovery of RAID arrays.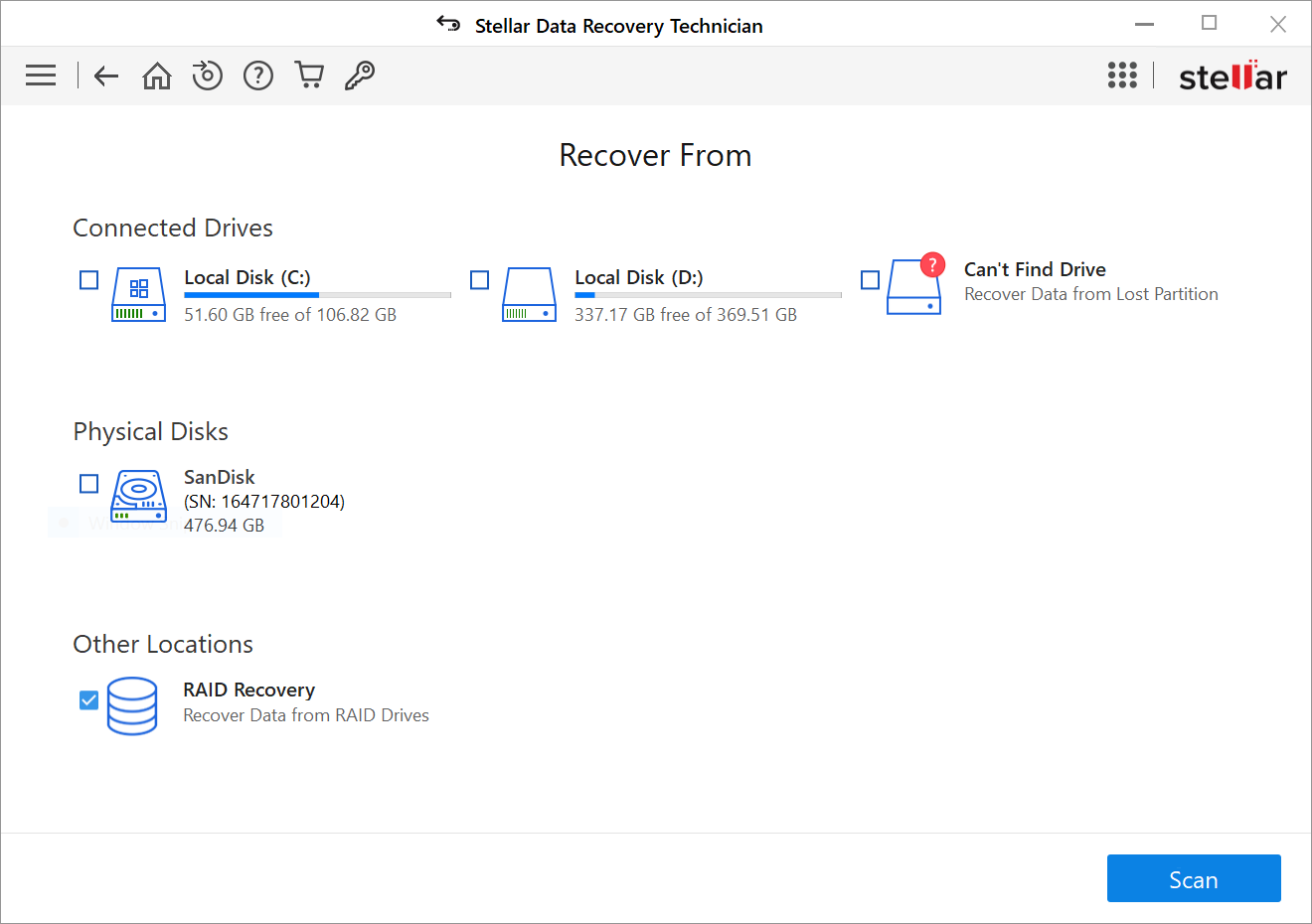 3. Use the arrows to assemble the possible RAID configuration by choosing the Hard Drives that are set up in the array.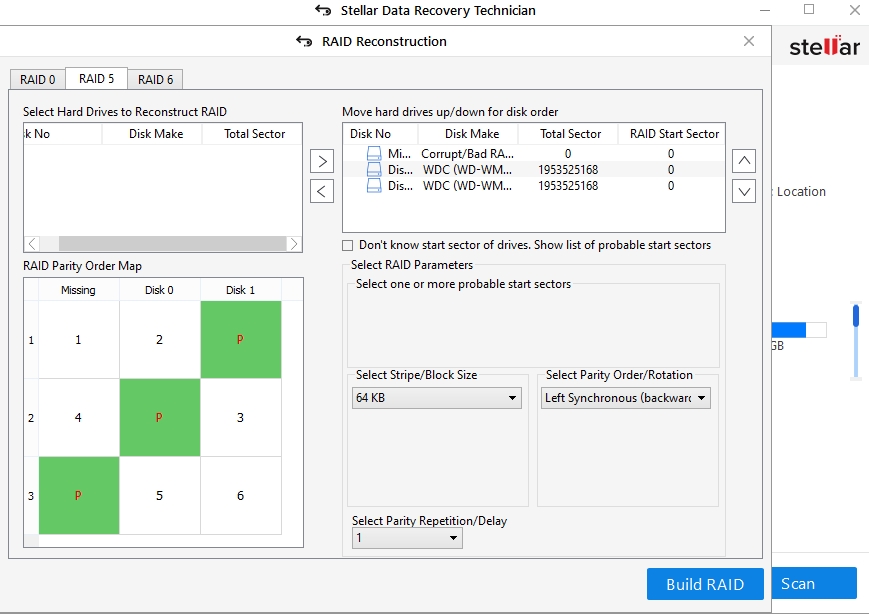 4. You will be able to see the recoverable files and choose whether to recover an entire folder or a single file.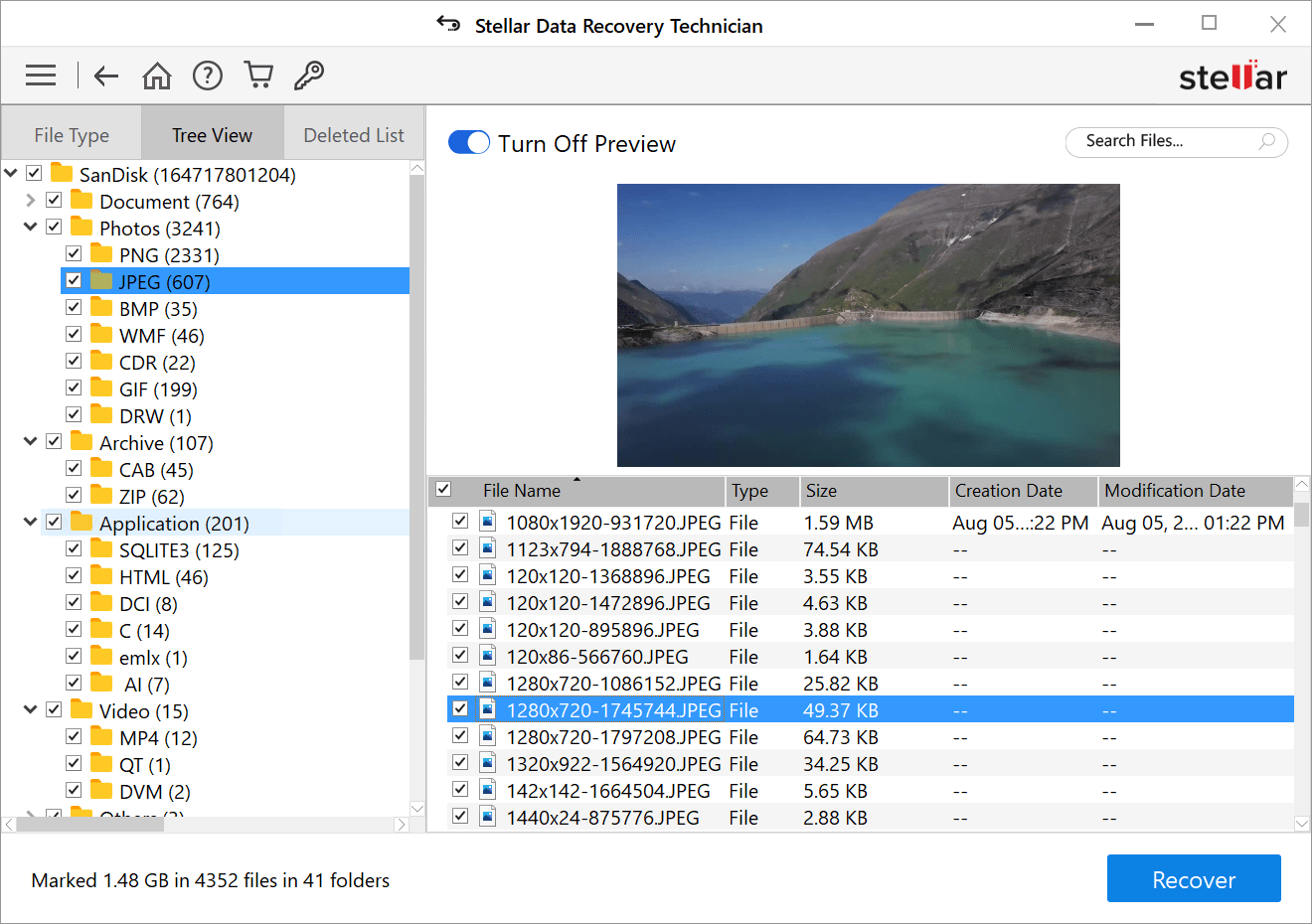 5. After selecting the files or folders to recover, the software will prompt you to specify the destination where you want to save the recovered data. Once you enter the path, the software will proceed to save your data to the specified location.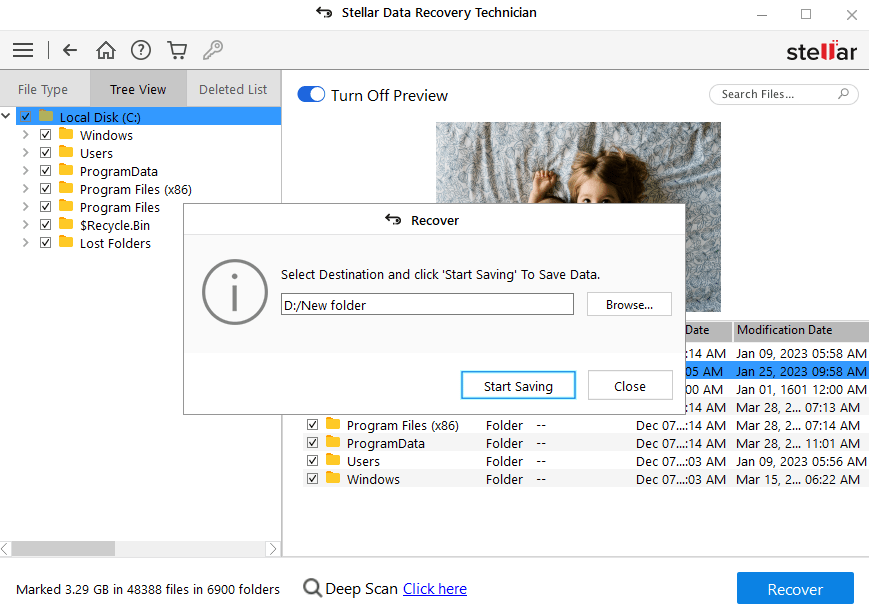 Conclusion
Stellar Data Recovery is a user-friendly yet robust RAID data recovery software that provides recovery options ranging from basic for home users to advanced usage in businesses. The tool is among the best data recovery solutions available, featuring highly customizable search functions, an extensive library of supported file types, and deep scanning capabilities.