Amazon announced a host of new Alexa powered devices which ranges from the now-familiar Echo range of speakers and their variations to new stuff where the smart digital assistant will be making its presence felt for the first time.
Here is a brief introduction to all that Amazon had announced during its Alexa event.
Echo Dot with Clock:
It's the same little Echo device but has a digital clock on the front. So apart from the usual functionalities that one would expect out of an Echo Dot, the new Clock enabled speaker will display the time and will also serve as a digital alarm or a countdown timer as well. The clock can be dimmed too if the user so desires. The Echo Dot with Speaker comes with a $10 premium over its Dot counterpart, which makes it priced at $59.
Echo Bud: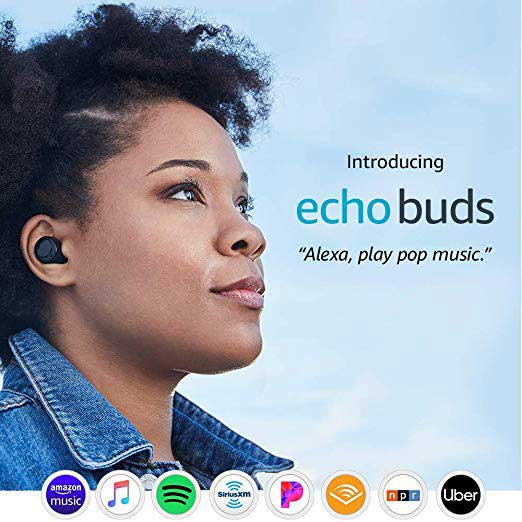 As if the Alexa hasn't been personal enough, it's now got right into your ears, so to speak. It offers 5 hours of music playback, or 4 hours of talk time and is included in a case that again can serve as a charger with the capability to hold three charges. Another standout feature of the new Echo Buds is the Bose Active Noise Cancellation tech it features which should allow for pure listening pleasure. The Ear Buds otherwise are capable of pulling off all that one would generally expect of Alexa via voice commands. Price – $129.
Echo Glow: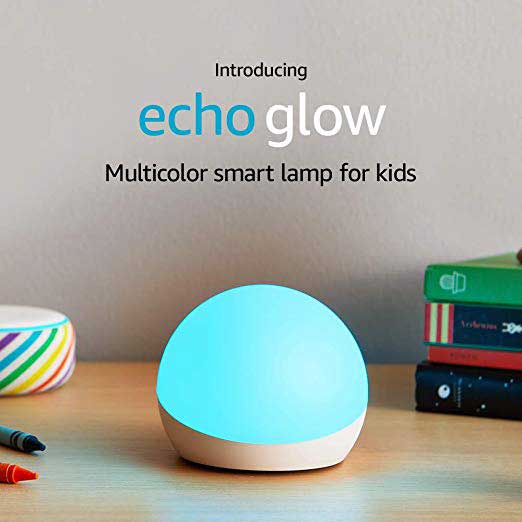 It's sort of a fun device with a spherical top that glows and can change color. It can even flash to the music being played, making it fit for the kids as well. Price – $30.
Echo Flex:
The new Echo Flex is a smart speaker that can be plugged into any power outlet. Plus, it can be mated to a host of smart accessories as well, which includes Smart Night Light or Motion Sensor that would come for another $14. Otherwise, the Echo Flex can function as a regular smart speaker. Price:- $24.99
Echo Studio:
At $199.99, the Echo Studio is one of the more pricy devices Amazon had lined up for launch during the event. And the device does justify its pricing with superior audio abilities. The Echo Studio offers 3D audio besides also supporting Dolby Atmos technology. Delivering the sound are five drivers – a 5.25-inch downward-facing woofer, a 1-inch tweeter located at the front along with three 2-inch mid-range speakers aligned along with different directions. Couple those with 24-bit DAC and the new Echo Studio should have enough punch to fill an entire room, or maybe a mini party as well.
Echo Show 8:
It's the same old Echo Show but with an 8-inch HD display. That makes it quite comfortable for watching videos. There is a built-in camera as well and will be up for sale for $129.
Echo:
Here again, is the same old Echo speaker but having colorful exteriors this time. Amazon is also claiming better audio capabilities too but for the same price tag of $99. Among the color options available with the new Echo include Twilight Blue, Charcoal, Heather Grey, and Sandstone.
Echo Frames & Loop:
Here is something new and exciting Alexa powered stuff that Amazon came up with that were introduced to an invite-only gathering. Also, as should already be discernible, the Echo Frames happens to be a pair of smart glasses and comes with four micro speakers tucked inside the frame. So that's another way to avail of hands-free Alexa functionality.
For those who believe smart glasses are already becoming commonplace, there is the Loop which essentially is sort of a ring. So that's something that can be slipped into a finger. Also, with 2 microphones packed within, users can always have their questions answered or make short duration calls. Price – $129.99.
Eero mesh router:
It's a new generation Eero Wi-Fi that Amazon introduced during the event and boasts of better Alexa support. This enables the router to be controlled via voice commands and the Wi-Fi can be shut off or paused accordingly. The router is priced $99 apiece while a three-piece pack will come for $249.
Amazon Smart Oven:
The Alexa powered oven is a convection oven, microwave, air fryer, and food warmer all at once. The $250 oven can be mated to an Echo which will enable it to receive voice commands to perform tasks such as warm the food, preheat the oven and so on.
Ring Stick Up Cam Elite:
It's a new version of the Ring Stick Up Cam, one that comes with a camera that can be controlled over the Ethernet and is priced higher at $199. The Ring Stick Up Cam meanwhile has its price reduced to $99 while there also is the wired Ring Indoor Cam price even lower at $60.
Amazon Sidewalk & Ring Fetch:
The Amazon Sidewalk is another future-oriented device that Amazon has come up with, one that can be used to connect and control all other IoT devices present in the home. It's designed to operate in places where even Bluetooth or Wi-Fi isn't reachable.
The Ring Fetch can be considered to be an offshoot of the Sidewalk and is designed to serve as a dog tag. This way, users can set a geofence for the dog to be within and will issue a warning if the fence is breached.